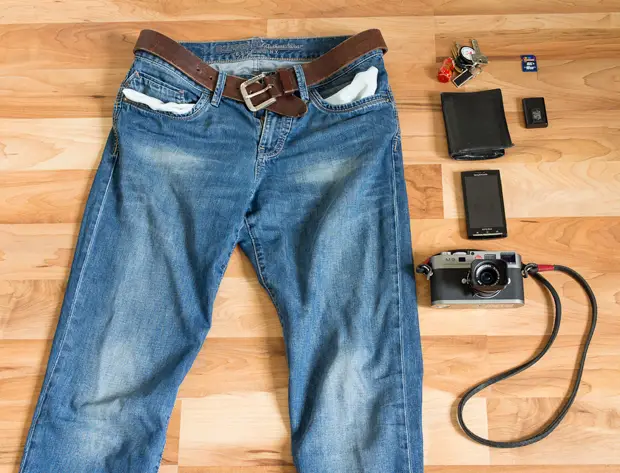 In your bag number 157, Christian Herzog
In your bag….wait…In your pants? Todays, er, bagshot is a bit different. Very different in fact.

Ladies and Gentlemen of the internet, I give you: my bag
As social convention requires me to wear one of those anyway I thought I'd put it to good use!
What's in it? Mostly pocket-lint! Apart from that: Camera (M9 in this case, but could be a Bessa R2A or an OM-D) with just one lens for the day, spare battery, spare SD card (or roll of film), wallet, keys, cell phone, done. Sadly, the camera has to go around my neck or shoulder – one downside of this intricate carrying system is that the pockets are quite small, too small for dedicated cameras. Undoubtedly, a fascinating design flaw for a camera bag! On the other hand though the camera is always at the ready so you don't miss that decisive moment!
I have used this system (not necessarily this exact bag though) for many years now and it has yet to let my down, I urge you to give it a try!
Further comments:
Do I have another bag?
Yep. I've got a Billingham to carry my laptop, more lenses, chargers etc across international borders. I hardly ever run around with it all day though.
Who's noeffred?
He's an Austrian (mountains, no kangaroos) , walking-around, taking pictures of stuff style photographer, who – according to his passport – goes by the name Christian Herzog.
You can see pictures here:
http://www.flickr.com/photos/noeffred
Now that you all had a thoroughly good look at the contents of my pants, I wish you all the best of luck in your photographic endeavours! ;)
Ha ha, that is absolutely brilliant! Thanks for sharing your pants with us Christian. It was bound to happen sooner or later.
Please comment and tell us all what you think of the 'pants-shot'.
Keep them coming folks, we need more submissions, so get your bag on Japancamerahunter.com. Send me a hi resolution image of the bag (please make sure it is horizontal) and its contents, with some details about yourself and what you shoot. Oh and don't forget your contact details (twitter, flickr, tumbler et al). Send the bag shots here.
Cheers
Japancamerahunter