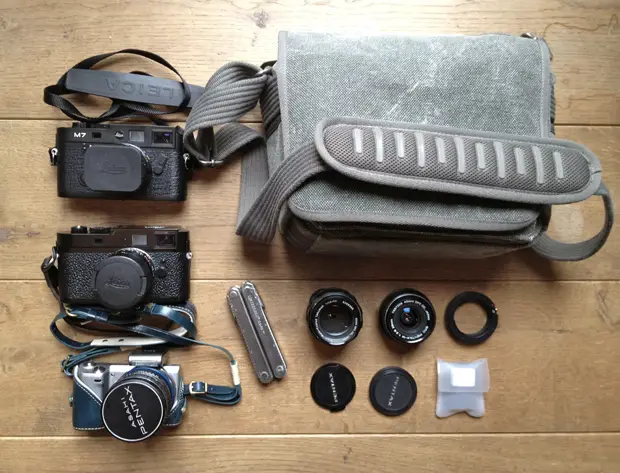 In your bag number 103, Richard May
Good day to all the gearheads, today we have a lovely bag for you, not just because of the bag itself, but the contents too. A pretty impressive haul. So over to Richard to tell us more…

About me? I've applied myself to a number of creative ventures over the last 15 years, including a long stint as a freelance illustrator; a few years co-founding film and animation company Wyld Stallyons… and being a landlord, which is the polar opposite of nearly all things creative, so perhaps the less said about that the better.
I've been taking photographs for the last few years and have concentrated mainly on documenting my elderly father who isn't in the best of health following a serious stroke and a botched operation for prostate cancer. Documenting his life, such as it is, helps me remain detached and objective in order to care for him.
I use an M9-P and M7 with Leica glass and a Nex-5n with Leica and Pentax lenses. I've owned a Pentax K1000 for many years and it's great to be able to use all the older lenses on the Nex. The Takumar f1.4 / 50 is just super-lovely wide open and focuses right down to 0.45 meters… much, much closer than the 50 Summilux.
I had a brief love affair with a 0.95 Noctilux but it was used so rarely (due to it's weight) that it was essentially a very, very expensive paperweight.
You can view my photography portfolio here: richiemay.com
My Flickr account is here: www.flickr.com/photos/richardmay
My old illustration portfolio is here: www.flickr.com/photos/richardmayarchive
Wyld Stallyons are here: www.wyldstallyons.com
Here's a rundown of what's in my bag, the contents of which vary from time to time but with the M9-P and 50 Lux a constant. A lot of the time I'll go out with only the M9-P in a much smaller Joost bag which is far more convenient on a daily basis, but the Think Tank bag accommodates all the essentials.
Think Tank Retrospective 5 bag in Pinestone.
Cameras:
Black Leica M9-P with black Artisan & Artist wrist strap and black Thumbs-Up
Black Leica M7 with Dag Camera black dot and Leica strap
Silver Sony Nex-5n with Kaza blue leather half case and strap
Lenses:
Leica Summicron f2.0 / 35 ASPH
Leica Summilux f1.4 / 50 ASPH
Asahi Takumar f1.4 / 50
Asahi Pentax-M f2.8 / 28
Asahi Pentax Fish-Eye f4 / 17
Other essentials:
Novoflex Nex to Pentax K-Mount adaptor
Novoflex Nex to Leica M-Mount adaptor
Spare M9 battery
Spare M7 batteries (not pictured)
Spare Nex battery (not pictured)
As many rolls of Provia 400x reversal film I can fit in at any one time (not pictured) for the M7.
Leatherman Core multi-tool
A brilliant bag and a brilliant write up. This is the sort of thing I love to see, a well thought out description of what you use and why. Thanks for sharing this bag with us Richard.
Keep them coming folks, we need more submissions, so get your bag on Japancamerahunter.com. Send me a hi resolution image of the bag (please make sure it is horizontal) and its contents, with some details about yourself and what you shoot. Oh and don't forget your contact details (twitter, flickr, tumbler et al). Send the bag shots here.
Cheers
Japancamerahunter