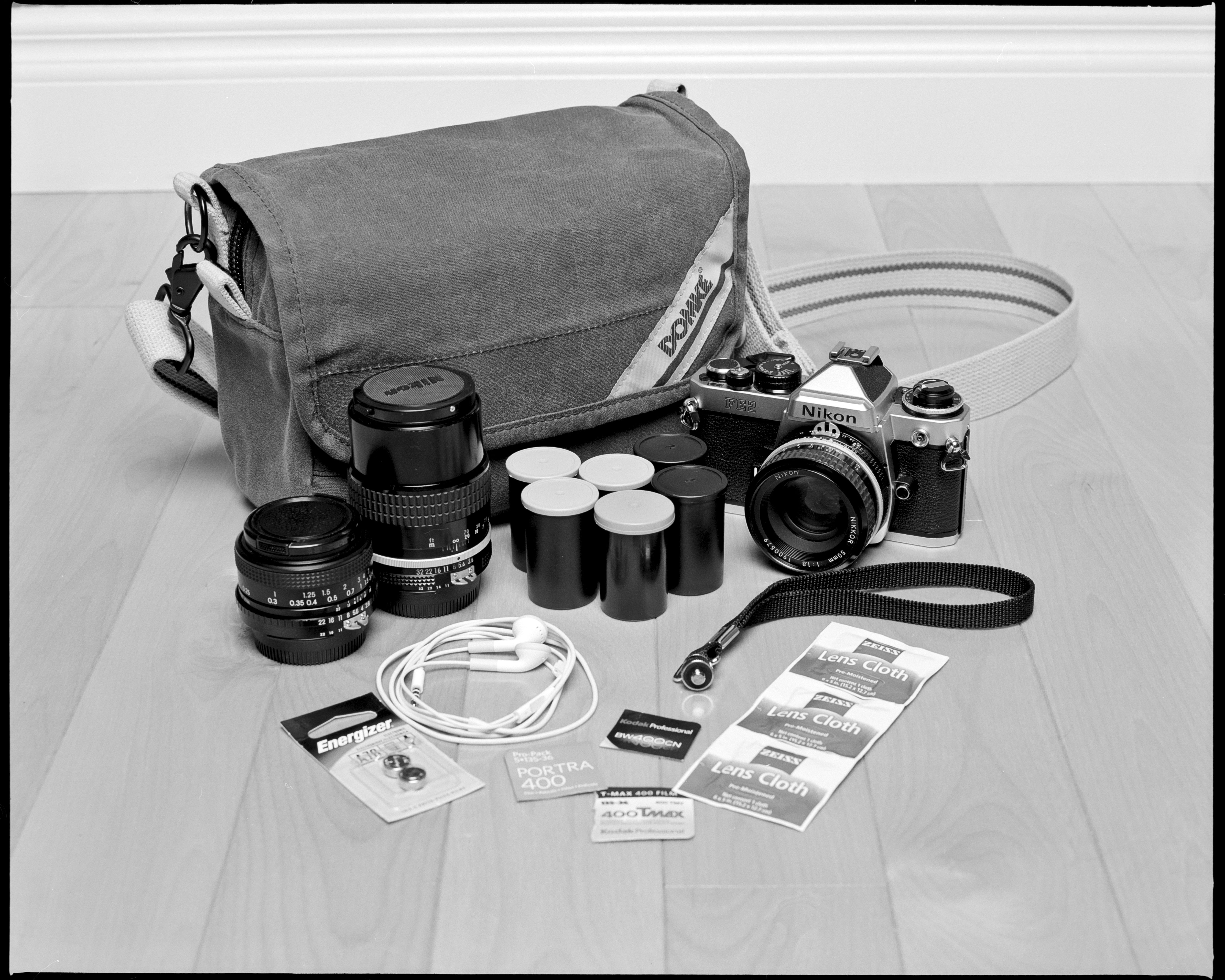 Bag shot number 4 and we have an interesting B&W shot for you
Thanks to Matt Luttmer for sending todays bag shot in. Matt is a photographer from Calgary, Alberta, Canada. He shoots medium format and 35mm film. This is Matt's everyday bag, so lets see what is inside.
In Matt's own words…
Lets start with the bag itself. It is a Domke F5XB. Its a smaller bag than most but that's why I bought it. I don't have a lot to carry around so the F5 seemed perfect. It holds all you see and a bit more with smart packing. I don't care what bag you own, if its not a Domke, you can do better. lol Best bags ever and that's not an opinion!
My camera is a Nikon FE2, you will also see a Nikkor 50mm AI-s f1.8, A Nikkor 135mm AI f3.5 and a Zeiss Jena 28mm f 2.8. I think I have all my bases covered.
A couple of rolls of Kodak 400TX and 100TMX.
Kalt wrist strap.
Zeiss lens cleaners.
Spare batteries.
iPhone head phones.
Film tabs of various types for the camera back
Well there you have it. Every thing that goes with me day to day.
Matt has a blog that you can see his work on here (turn down your speakers if you are at work, there is music).
Twitter
Flickr
Another great bag, another interesting insight into what makes a photographer tick. Thanks for sharing this with us Matt.
Keep them coming folks, get your bag on Japancamerahunter.com. Send me a hi resolution image of the bag (please make sure it is horizontal) and its contents, with some details about yourself and what you shoot. Oh and don't forget your contact details (twitter, flickr, tumbler et al).
Cheers
Japancamerahunter