Your First Camera, by Dan K
Dan seems to be on a bit of a roll at the minute, and who are we to complain? This time he talks about his beginnings in his photographic journey, and how things have changed for the current generation. I still have my first camera, and it is still working!
I come from a long line of enthusiast photographers, so while my parents didn't do much coaching, they had good intuition as to what camera I should use. Around when I was 7, they bought me a Polaroid One Step and gave me enough pocket money to buy one pack of film per week. Flash bars were something I saved up for.
The advantage of the Polaroid was that I had instant feedback as to whether I took a good photograph or not. Being a full auto camera, I concentrated entirely on subject, composition, timing, context, angle and having sufficient light. That's already a lot for a child to handle. Focus and exposure and the rest of the operation process differ between cameras anyway, and I might have lost interest if I couldn't get any to come out right.
With only 10 shots per week, I wouldn't spray and pray. Every photo had to be a keeper and I took my time over it. If there wasn't enough light or if the subject was wrong I just wouldn't shoot. It slowed me down and made me think. Today, I take one shot. I'll take another if someone insists, but I know I already have the shot, and the second will be the same, except less spontaneous.
Years later, I have tried a variety of Polaroids but Impossible Film would jam or burst or not come out right and I never felt the same joy that I did before. Instax comes close, but I miss the square format and the excellent detail that I used to get. We do use Instax at my kids' parties, because nobody wants to wait for scans and everyone cherishes a physical photo.
Today's Child
Today's typical child is exposed to photography at a younger age. Usually the first camera they use is a parent's smartphone or tablet. There is nothing wrong with that and indeed I think it may be the ideal start. Just as with my Polaroid One Step, the child will concentrate on timing and composition and the overall effect visual effect it has. Feedback will be instant and that is the best way to learn, especially if you are there to guide them and provide feedback. Teach them what a good photo looks like and don't be jealous if they take a better photo than you got with your Leica Monochrom.
I'm OK with kids using face distorting filters and stuff like fake cross-processing and even HDR (a pet peeve of mine). It just adds to the enjoyment and they will learn that post-processing changes the feel of a photo.
For my kids, the next step was a basic digital compact, because they are cheap enough to lose and there's no risk of them draining your battery playing games. I gave my daughter a Yashica that was on sale, then a Pentax Optio for the same reason.
Once they could pre-visualise a photograph, I let them borrow my film cameras. It's definitely a step up, because you have to wait to get the film back before you can see the results and the child has to be cognisant enough of what they did in order to learn from mistakes. But, me being the film fanatic that I am, it had to be done.
Let me tell you a story about when my daughter was six or seven. She approached me as I was getting ready for work with an important question to ask.
"Daddy, will you live forever?"
"No, love we all pass on sometime, but I expect to live for many years yet."
"OK, but when you die, can I have your Canon P? It's got a great finder."
So that's a camera I can never sell…
When my daughter went to her primary school leaver's dance, at the end of the party her friend's dad passed her his heavy M240 and asked her to take photo of the parents group shot. Poor girl stood there trying to get it to autofocus in live view. My daughter took it from her and nailed it. "It's just like an M4", she explained, as if that made any sense to her friend. My point is, if you don't teach your kids how to use your camera, they'll have to learn it all from scratch themselves. My daughter can't ride a bike properly, but she can rock a Noctilux. 
Even her little brother, who is not as technically inclined as his sister did awesomely well at three, street shooting in Macau with a Zeiss Ikon ZM rangefinder and a pre-zone-focussed and stopped down 35mm. He has no social anxiety and would just walk up to girls on the street and say "Smile!". He returned half a roll of pretty women giving adorable smiles.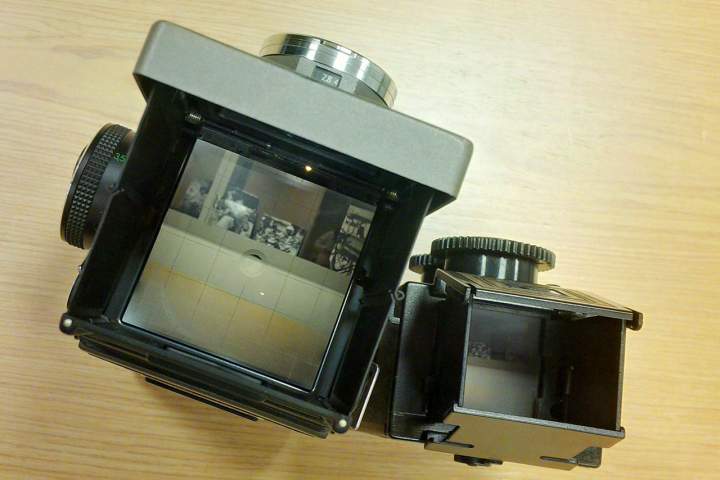 I also started teaching my kids about the workings of a camera because I think it helps them to understand better what a camera actually does and how to make a picture with it. I started by building a kit camera a plastic Recesky TLR. My daughter actually got pretty good at it, which is amazing because even I can't shoot it well.
One day I brought back a Rollei 2.8GX and handed it to her to check out. "Oh. my. GOD!" she exhorted. "It's so easy to focus (compared to her Recesky). It's even got a split prism and a meter. This is cheating!"
Here's a picture she took of Eric Kim that same night.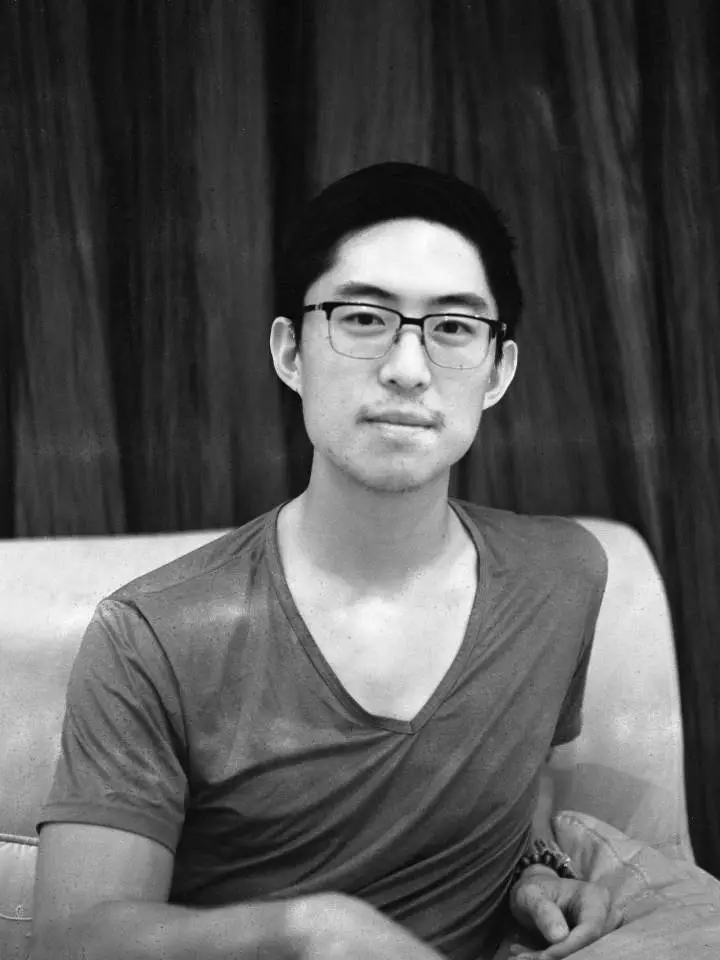 I have also demonstrated and tried to get my kids involved in black and white film processing, but they are currently too easily distracted by the telly to do the agitation and chemical changes at exactly the right time, which is a shame, because employing child labour would save me a lot of work. Let's pretend that's a joke.
If in doubt, just get your kid a means of making a photo and teach them how to use it. Share the joy of taking photos and coach them. Whether they follow in your footsteps or just take in the experience, you'll probably get more joy out of their achievements than you receive from your own.
Other People's First Camera Experiences
Here are some experiences submitted to me on twitter:
Box Cameras
Rangefinder and Viewfinder
Twin Lens Reflex
110 and 126 Cartridge
Point and Shoot
SLR/DSLR/Mirrorless
Handphone
Disposable or Single-Use
The responses show a great diversity of first cameras. What camera people received depends partly on when they were born and whether their parents were enthusiasts. Some had more success with their first camera than others did. The general theme seems to be that it was a major formative experience and a great joy that lasted for many years, up to the present day. 
YOUR Experience
I would love to hear about your first camera, and how you got on with it. Was it difficult or easy to use and did it start a life-long interest in photography? How have you introduced your kids to photography and how much success have they had to date? Feel free to brag ;-) as I found it impossible not to. Please share everything with us in the comments below. And if you fancy a challenge and inspiration, get a camera similar to your first one and shoot it! See how much you have improved.
Dan K is a life-long enthusiast photographer. He celebrated his return to film by collecting just about every quality camera and lens that he could lay his hands upon. Along the way he has developed an encyclopaedic knowledge of film cameras and film processing. Follow him on twitter for a humorous look at photography techniques and technology from all eras. Follow him on Tumblr for his images, journey of photographic discovery and a generous helping of gear-porn.
Past articles that he's written on similar topics:
https://www.japancamerahunter.com/2013/05/film-for-the-digital-photographer-cameras-by-dan-k/
https://www.japancamerahunter.com/2013/06/dan-ks-top-10-manual-film-slrs/
Text © Dan K. All rights reserved.
Tumblr http://zdp-189.tumblr.com/
Twitter http://twitter.com/ZDP189
He was also on 'In your bag'
You can read all of Dan's other articles here
JCH