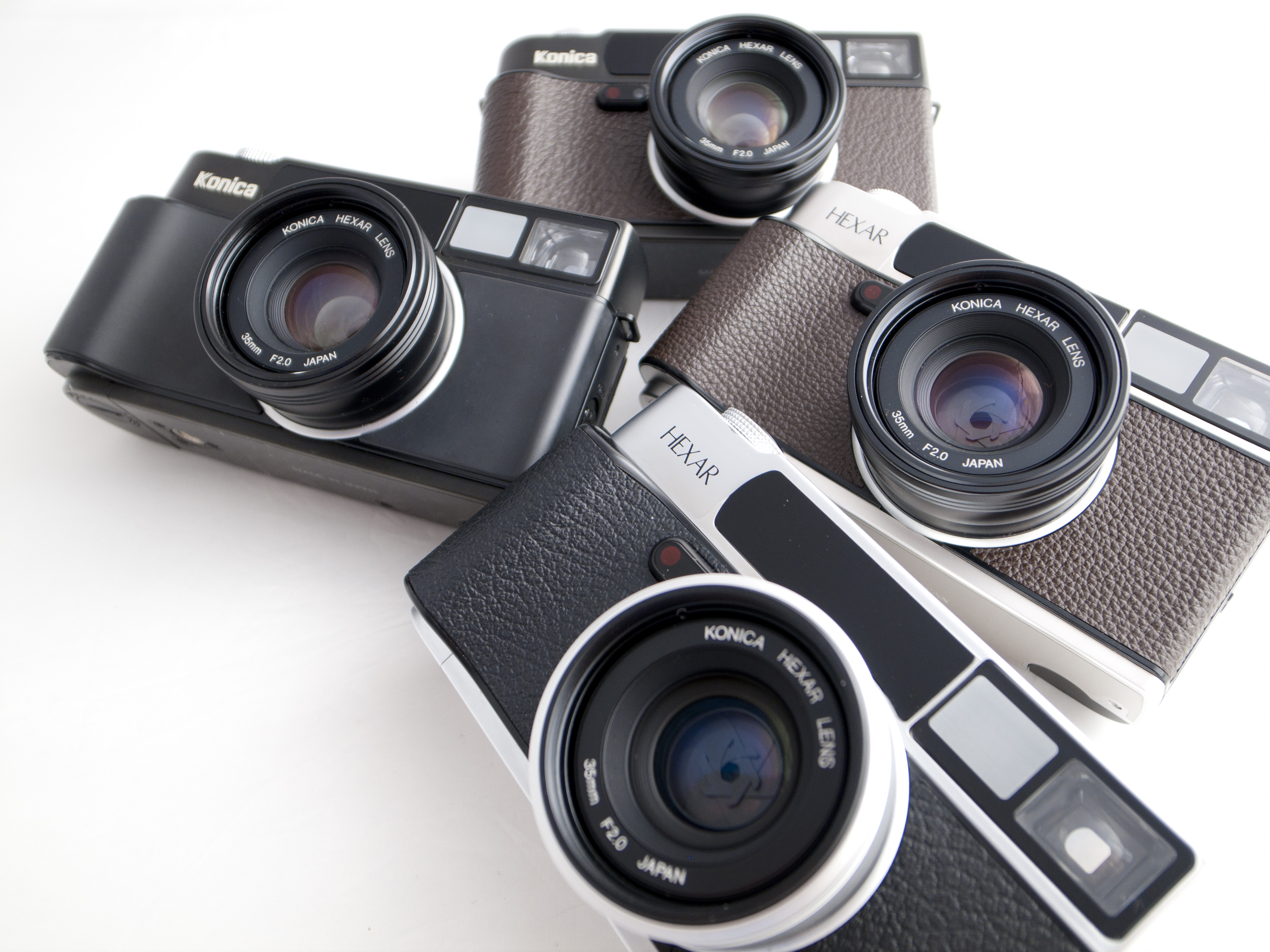 The Konica Hexar AF has many talents, most of them hidden
Now, before people go and get their knickers in a twist, I do sell all of the cameras you see on this site, and that includes these fine Hexar's, just contact me and you can find out how to have them for your very own.
Right then, now that all of the niceties are out of the way, cast your eyes on some lovely camera porn showing the charms of Miss September, the Konica Hexar AF.


This is the Hexar Af, not the rangefinder, but the autofocus version. This camera was first released in 1993 and was sold throughout the nineties as a point and shoot camera, although I feel that is an unfair classification, as it is more of a rangefinder than a p&s.
This camera runs with a 35mm f2 lens, that is considered by some to be one of the best street point and shott lenses available, though I would beg to differ, that spot should really be reserved for the Ricoh GR1V or the GR21.
Though this camera is no slouch, the 35mm lens is very sharp indeed. Some have said that it was modelled from the Leica Summicron F2, but that is not actually the case. Still, it is a very fine lens, and not the sort of thing you would expect to find in a 'compact' camera.
Now for some details, this camera uses an infrared focusing system, which can also be switched to manual. The focus is snappy and fast, and so far through my tests it has shown to be accurate too. The meter is actually on the camera body, as opposed to TTL metering, so be careful not to put your finger over the meter.
The camera body itself is made from cast aluminium, and you can certainly see the influence of cameras like the Leica in the design. The grip is Hexar all of its own though and fits quite nicely in the hand.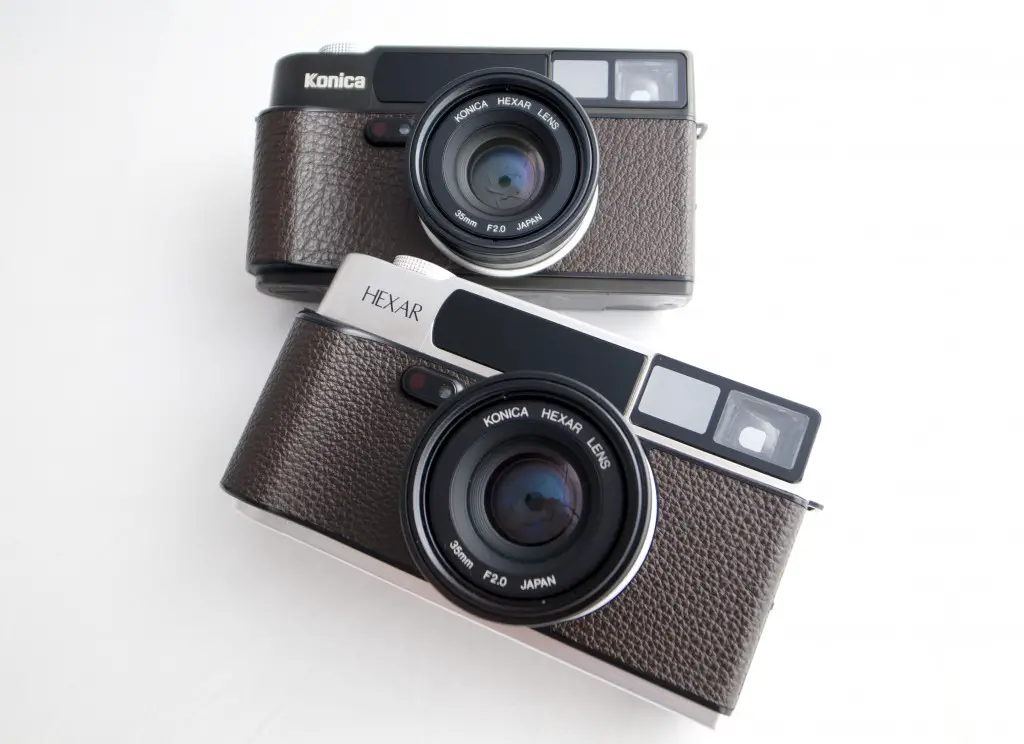 Just begging for your sweet caress
But I hear you bleat "what about the silent mode"? Yes yes, I am getting to that, be patient. It is true, this camera does come with a 'silent' mode.
Now the Silent mode on this camera is what really sets it apart from the rest of the rabble. Officially the silent mode only came on some of the cameras, as there was talk of copyright infringement, but the mode is on all of the cameras, you just need to find it through the arcane menu system. When operated the Hexar is more than just quiet, it is barely noticeable, you many even think that you have not taken a shot, as the auto focus, shutter and film advance are all covered by the silent mode. If you have ever shot a Leica then you know how quiet cameras can be, but this thing even trumps them.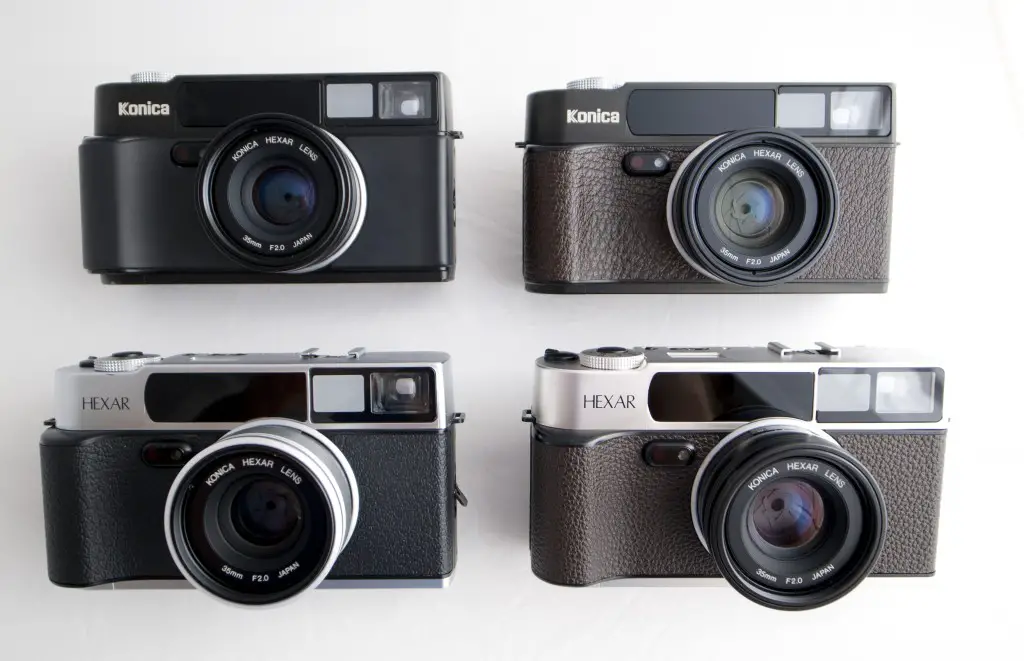 Resplendent in their finery
The Hexar was officially released in several models, the most common being the black and the silver versions. There was also a 'classic' silver version released, to commemorate 120 years of camera manufacture by Konica, this one is as rare as rocking horse poop, as only 2000 were made. If your silver one says 'classic' on the top, then keep it and let no-one have it.
There was also a gold Hexar released for the same occasion, though only 500 were made and it is highly unlikely that they were used. Again, this is a case of if you have it, keep it.
One production sample that found its way onto the market was the Rhodium finish, which has a slightly pinkish hue (you can see it in the pictures). This camera was sometimes called the Titanium in some markets, but that label is incorrect as Rhodium and Titanium are completely different metals.


Unofficially there were a couple of models that were 'released' (by that I mean they were samples that found their way out of the factory). The brown leather finish black model, that you can see in these pictures was never officially made available for retail, but some pieces were passed to retailers to gauge customer response. Also the Hexar Half Frame found its way out onto the market. There was an official Half Frame RF, but never an AF, or so it is said, but I have seen one here in Japan with my very own eyes.
Now after all of this there is a downpoint to this camera, and it is a rather glaring one if you ask me…It has a maximum shutter speed of 1/250th of a second! Oooer blimey, that is pretty restrictive, but different folks like different strokes, so I am sure it makes plenty of people happy.
So that is it….Oh wait, one more thing. A lot of people think that you can no longer get this camera serviced or repaired. That is not true, not true at all. You can still get it done in Japan by Konica themselves. If you have a Hexar that is buggered, then drop me a line and we can work out how to get it back to you all shiny and working.
There you go, the Hexar, the quietest and possible most un-compact compact camera ever made.
Cheers
Japancamerahunter