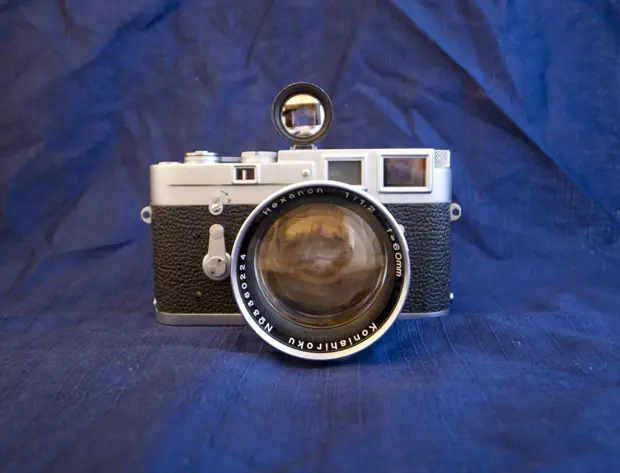 The Konica Hexanon 60mm F1.2 L-mount
I get to see a lot of lenses, and if you are a regular reader of this site you will have seen some of the amazing items I have been able to get my hands on in the past. I have loved all of them. But there has been one that has eluded me for far too long, like a wily Bengal tiger only seen in the shadows. By, like any good hunter I bided my time and finally I was able to corner my quarry. And here it is, the incredible Konica Hexanon 60mm F1.2 L-mount.

When you hear the name Konica, some of you may think printers. The older amongst you would remember the range of films that they used to make (none of which were particularly amazing). But Konica was not always a camera/imaging company, their humble beginnings were as a pharmacy in Tokyo, selling photographic materials in the late 19th century. The company started to make cameras and throughout the 20th century produced some very unique items. History lesson over.
The 60mm Hexanon was one of the companies crowning achievements. Originally Konica produced 3 L mount lenses, but the 60mm was the real gem. Ultra fast for the time it comprises of 8 elements in 6 groups. The lens barrel distancing is marked in feet, with a relatively long close focus of 3.5ft.


The lens comes in a beautiful leather carry case, velvet lined with space for the lens to be screwed in, original filters, and a slot for the viewfinder. There is even space for an extra film canister in the case. At the time of release in 1955 this lens was very expensive at 78,000 yen, which was a huge amount of money at the time. This lens came snapping on the heels of other fast lenses released around the same time, including the Zunow fast 50mm lenses and the Fujinon 50mm 1.2 But this may be the rarest, with an estimated 300 or less produced.

The Hexanon 60mm was re-released with a new optical formula and design. This lens was made again in L-mount and immediately gained a cult status. Only 800 pieces were made and they have all been completely snapped up by collectors. But we are not talking about that lens. Rare as it is, it is not the original. And this one is rare.
I am not joking when I say I have been hunting constantly for it for over 2 years. The Hexanon is by far my most requested lens. I get about 5 mails a week asking for this lens, and it is always the same answer 'sorry, there is pretty much no chance'. But this time it is different. I found one! And I have made one collector very very happy.
I have tested the lens and I will be posting test shots from the lens in the next piece. It is a joy to use and has some interesting quirks. I will fill you in on the next post.
I hope you enjoy these pictures as much as I enjoyed getting this. I feel like I have been able to strike one off the life list by getting this lens. Oh and before you ask, I cannot say how much it cost. But put it this way, it would make a Wall Street banker sweat.
Thanks
Japancamerahunter