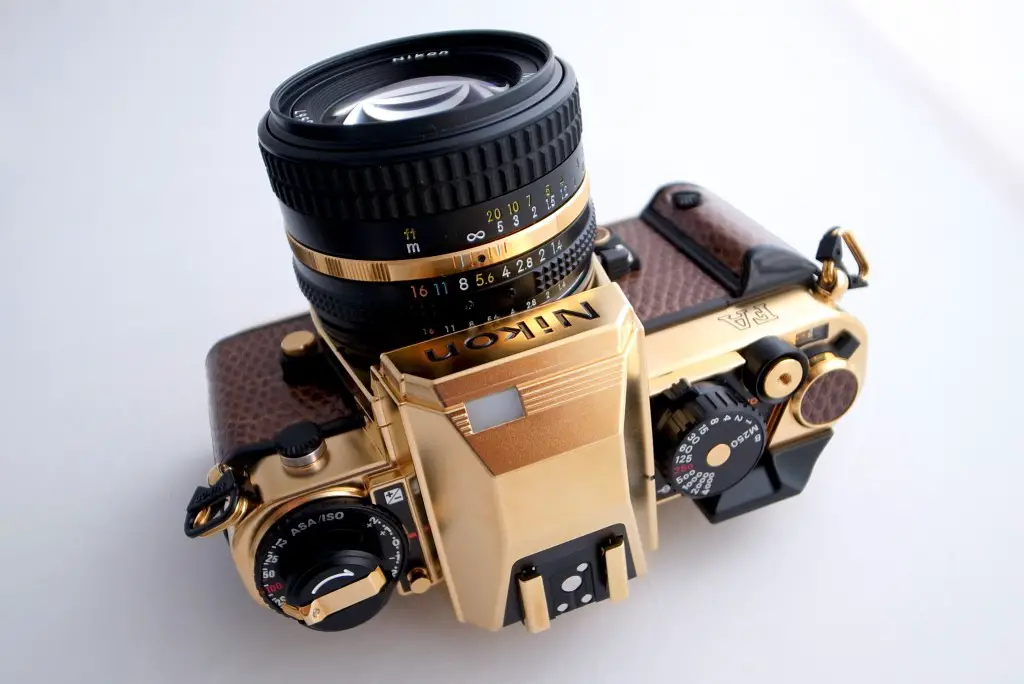 You have to wonder what Nikon was thinking when it made this camera
This camera was produced by Nikon to commemorate the Nikon FA's selection as the winner of the camera industry's most prestigious award, "The Camera Grand Prix '84".


This camera is slathered in gold, and I do mean real gold, it actually features a 24 Karat gold plating over all of the main body parts of the camera. Even the lens cover has gold plated lettering, it is a pretty impressive piece of workmanship. The lens also features a gold ring. This is complemented by a covering of lizard leather on the grip of the camera.
This is not really the sort of camera that you could actually use in any realistic sense, unless you consider yourself to be the ultimate showoff. The camera looks as if it is waiting to be scratched and mangled, which is a shame, as it is actually an excellent camera.


When this camera was released the camera came with Nikkor club membership, a branded Nikkor chamois leather, a Nikon wallet and was presented in a stunning Paulownia wooden presentation box with purple velvet. As it goes it was a very impressive presentation and gave you the impression of workmanship and class. Until you realized you had actually bought a gold camera.
This is not what you could call a run of the mill camera, but it does have its own appeal and is very popular amongst collectors. This is not actually the first of these that I have found, as there are a number of collectors who have requested it. But, I found it, and by jingo it is a nice one.
Remember, if you need anything camera related, just let me know and I can find it for you, as I am JapanCameraHunter.
Cheers
Japancamerahunter