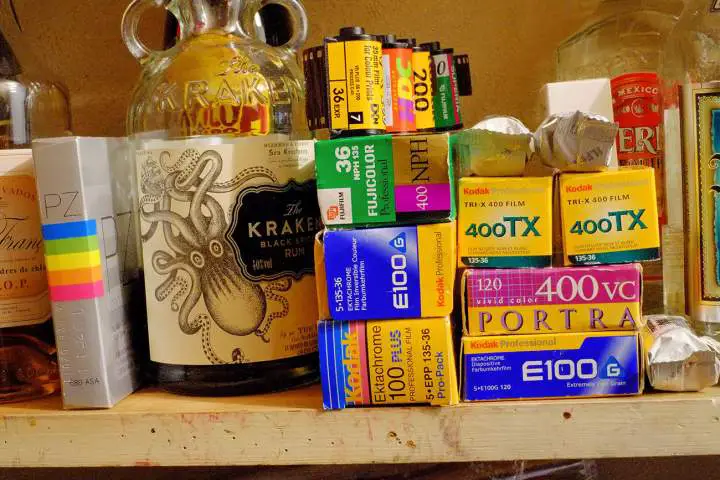 Show us your film: Woman in Silver
A few more lovely submissions have come in. But we always need more. Come and check these out and then maybe rummage through yours and share it with the world.
Angela Solis
Hi Bellamy,
After having my bags being featured (bag 15 and 367), I thought it is time to show my film stash.
My stash is made to look small by the size of my fridge (I had to store two levels per shelf). I bought a used (but almost new) wine fridge from the online classified site Kijiji. I love this fridge but it is time to get a bigger storage, especially that I am moving cities to join my soon-to-be spouse who also shoots film.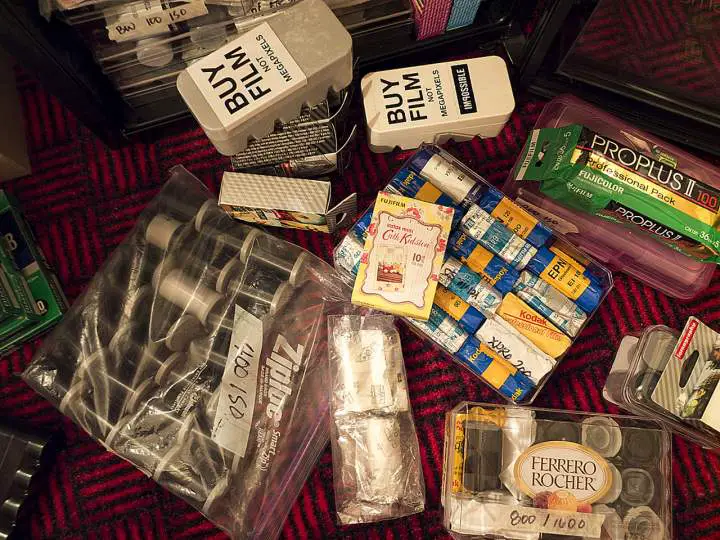 I carry mostly 35mms from various brands – Kodak, Fujifilm, Solid Gold, Lucky, Konica, Lomo, DNP, Ferrania Solaris, Agfa, Fomapan, etc. But as you can see I also have peel-aparts and medium format. Oh, not to mention instant film but they are not really shown here. I also tend to use up my Fuji Instax films pretty quickly so I tend not to keep a lot of them on hand. (I love the printed borders btw)
Cheers from Canada
Angela
www.derpinsel.com/noone/
twitter.com/derpinsel
Ivan
I don't even know where to begin.
It started with a Canonet QL19 and a roll of Tri-X 400 which got me buying film. The local classifieds were just flooded with cheap old film, so that's when the hoarding began.
I mostly shoot Superia 400 due to it's availability. Keeping the good stuff for more professional work of course!
Mostly 35mm, a few 110mm and 120mm. Still debating when I should use the 110mm… and I need a medium format camera!
Next came the instax. Mostly wide because I found a great deal for a whole box!
As for cameras… I have too many. It became a slight obsession to own the best cheaper compacts, manual SLR's, automatic SLR's. I'm a Canon guy. ;)
Favourite? Konica Hexar of course. The Olympus Stylus Epic for compact size.
I plan to shoot each camera I own once, then keep the favourites.
It'll be a good few years before that goal is accomplished lol.
Thomas Pedersen
hi, greetings from Copenhagen, Denmark!
I looked at people's film stash on the website and thought there was a lot of beer in their fridges, so why not show that film can also be stored with booze :) My film is not in the refrigerator, but in my cellar which maintains a constant temperature.
I currently only have expired film. It's fun to see the unpredictable results of my shooting with all these different old rolls…
It is evident from the picture which films are my favorite. When I am not bying Portra, Ektacrome and Fuji 400H/NPH, I buy mixed films at flea markets and at my local photo pusher in Copenhagen: oneofmanycameras.com.
Have fun shooting everybody!
"Almost analog" pictures taken with my Fuji X-PRO1 at ISO 6400.
https://www.flickr.com/photos/thomaspedersen/sets/
Br
/Thomas Pedersen
Have you shared your stash yet? Your hidden fridge? Come on, get involved.
Want to see the previous stashes? Check this link https://www.japancamerahunter.com/category/show-us-your-film/
Also, please make sure you submit your film through the link below, otherwise I might miss it (I get an awful lot of mail).
I would love to see your collections, so if you want to send them in feel free. Perhaps you can include a couple of shots taken with your favourite films, that would be fun. Click here to send your stash. Please make sure you send the submissions to this link, otherwise they will not be featured.
Thanks
JCH