Show us your film: Phew, it's a scorcher
The summer has been a belter, and it seems to be getting hotter. So let's look at something cool instead.
David Harrison
You asked to see our film, and I'm happy to oblige.
I'm originally from the UK, but now living a trans-Pacific life between Hong Kong and San Francisco (much less glamorous than it sounds).  There's a bit of everything (including some street-pan) in the freezer, mostly because I like to try new things.
I shot film a lot in secondary school and university.  Unfortunately my DDR manufactured SLR died in the early 2000's and I switched to digital for about 10 years before beginning again with film in about 2012.
I very much enjoy the articles on your site, especially the 'visual interviews'.  There's some great work there.  I'm also looking forward to seeing the rumored JCH colour film (what rumor?)
David Harrison
Andy
Hi Bellamy and Fellow Film Users,
I am Andy from Vicksburg, Mississippi, USA. I am a retired geologist and have been taking photographs since the mid-1960s (possibly I am a bit older than some of you…). My dad taught me to compose with his Leica IIIC, which I still use regularly. My own first serious camera was a Nikkormat FTn that I bought in 1968. When the digital tsunami overwhelmed us in the mid-2000s, I went through a period of experimenting with various formats and brands. But I kept taking black and white film photographs during that time. Digital just does not look right to me, and in the last 2 or so years, I have returned almost 100 percent to using film.
My favorite B&W film is Kodak's famous Panatomic-X – now gone. My favorite color negative film is Ektar 25 – also now gone. Sigh, why didn't I fill the freezer with these when I could?
My main theme is urban and rural decay, and I use Leica M, Leica IIIC, Hasselblad, Rolleiflex, and A Fuji GW690II (I know, too many cameras at home…). Thank you for reading.
Andy
Vicksburg, Mississippi, USA
Stéphane

Simply hidden in the wine cellar fridge.
Simplement caché dans la cave à vin.
Stéphane
France, Champagne
Simon King
Recently took inventory after a productive few weeks and remembered to snap a picture of my film placed very feng-shui. What's interesting is more what's not pictured than what is – I've been shooting primarily black and white which is why my supply of those is depleted. But from this you would assume that I mainly shoot colour as that is what I have the most boxes of!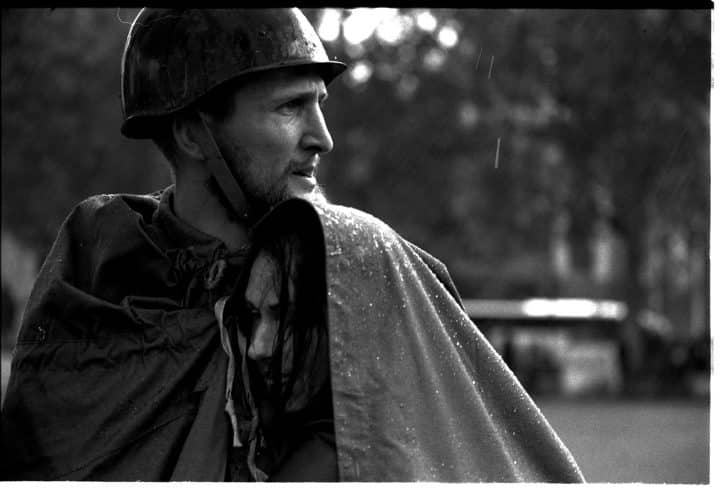 I'm a London based Street Photographer and Photojournalist; rangefinder cameras as my everyday, all purpose tools.
Happy shooting!
Have you shared your stash yet? Your hidden fridge? Come on, get involved.
Also, please make sure you submit your film through the link below, otherwise I might miss it (This is vital as I get an awful lot of mail).
I would love to see your collections, so if you want to send them in feel free. Perhaps you can include a couple of shots taken with your favourite films, that would be fun. Click here to send your stash. Please make sure you send the submissions to this link, otherwise they will not be featured.
Thanks
JCH