SHOW US YOUR FILM: LOCKDOWN STASHES PT. II
The last lockdown post seems to have stirred something up in people, as I have had a massive influx of submissions. So many that I have been awed by what people have put together. So I have decided to keep the Lockdown Stashes series going. Come and enjoy part II.
Abdulla Rashid
Dear Bellamy and fellow photographers,
I have been shooting Digital my whole life as a hobby, about 3 years I have had an interest in film photography. My first film Camera was and still is a Nikon F3. I instantly fell in love with it!
A problem that i have faced was developing the film rolls as we do not have places that do that anymore here in Bahrain. I was hesitant at first but then i took the first step and have "successfully " developed my first roll!!
If anyone has any doubts about trying to develop film themselves, DONT!! For me developing film has become like a meditation which I really enjoy!
Then I started collecting film.. the rarest film stock that i have is polaroid instant 135. It should take a minute but takes me 8-12 lol thank you very much Bellamy for helping to keep film alive! Also I would like to thank anyone that you have inspired to take up film photography. Here's a pic of my mini fridge. Thank you very much once again!
#filmisnotdead
Abdulla Rashid
James Rhodes
Here is my film stash photo! And some photos taken with some of the film.
TriX @ 320iso in Rodinal 1+100
Fuji Pro 160ns @ 100iso
Cheers,
James
Hector Flores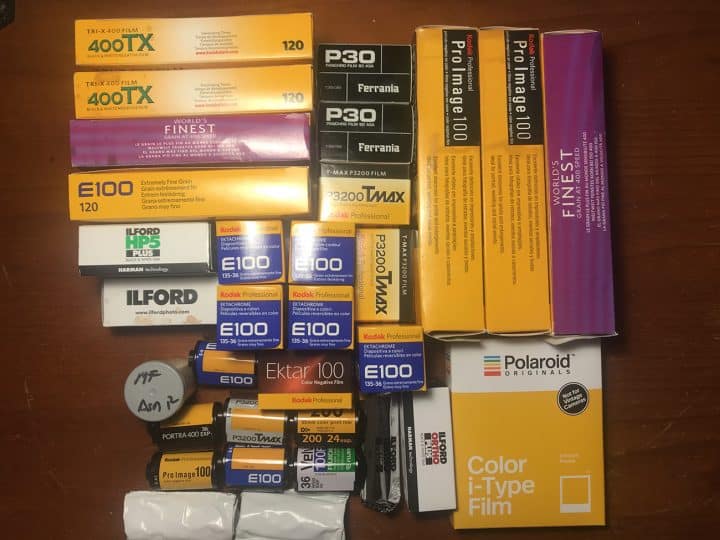 This is my stock, i just finish my trix on 35 cause i started I project with pure B&W & I continued with 120film until I ended up making portraits of my family & partners of the job
I take both pictures with Tri-X just after new year
Saludos !
Pedro Santos
Here it is my contribution 😉
From since I was a small boy that I remember to play with cameras.
I shot a bit of everything (film and cameras) and do all the development etc at home… but I don't store my film properly "shame"
Primarily I love all the mechanics of the thing… play with cameras, go outside to burn some film and see the results in the end.
I don't bother if it's a good photo, or if I'm a good photographer.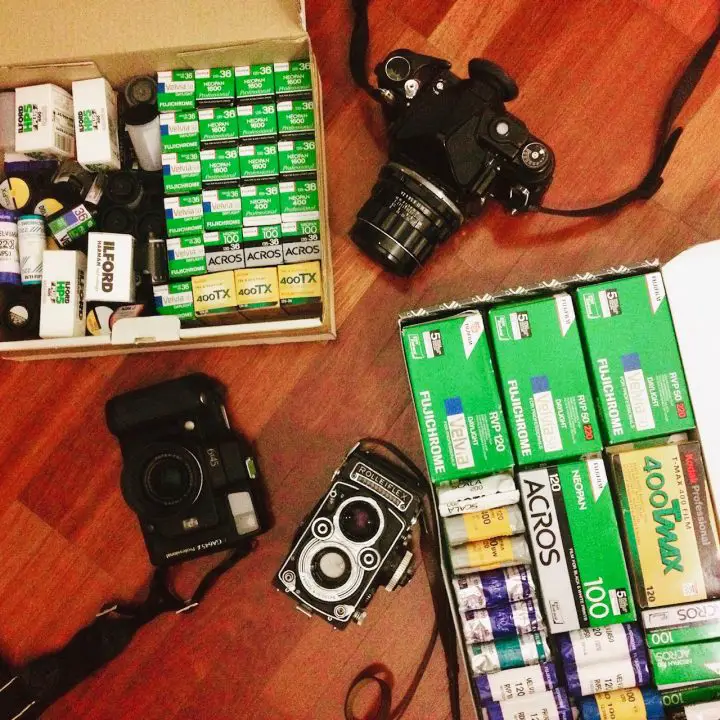 Cheers from Portugal
Pedro Santos
Marqelexsis Amaro
So you want to see my film stash… lol.  I spent 2018 and part of '19 accumulating film as part of my goal to shoot more medium and large format film stocks.  I suppose I wanted to find a way to continue to shoot but, also raise my creative difficulty since the actual output and results are delayed.  On top of this I wanted to self develop and therefore work the whole process from shooting through to dev'ing and scan.  In either case I think I may have gone a little overboard.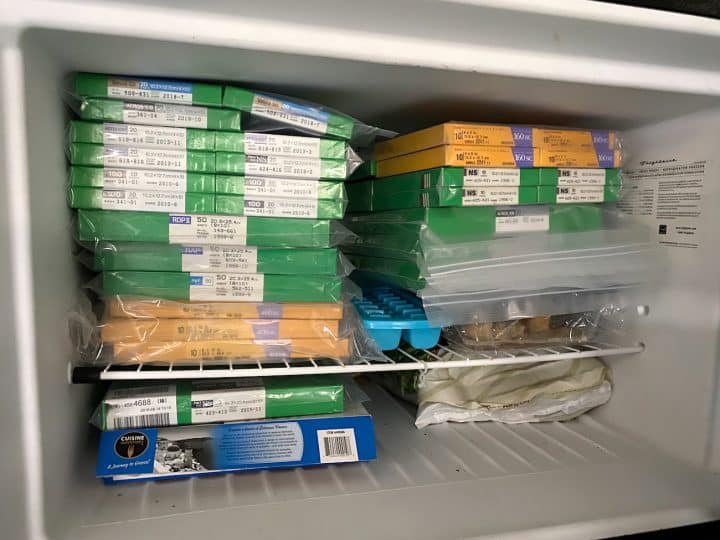 YES – there is still the occasional room for food – film is edible is it not?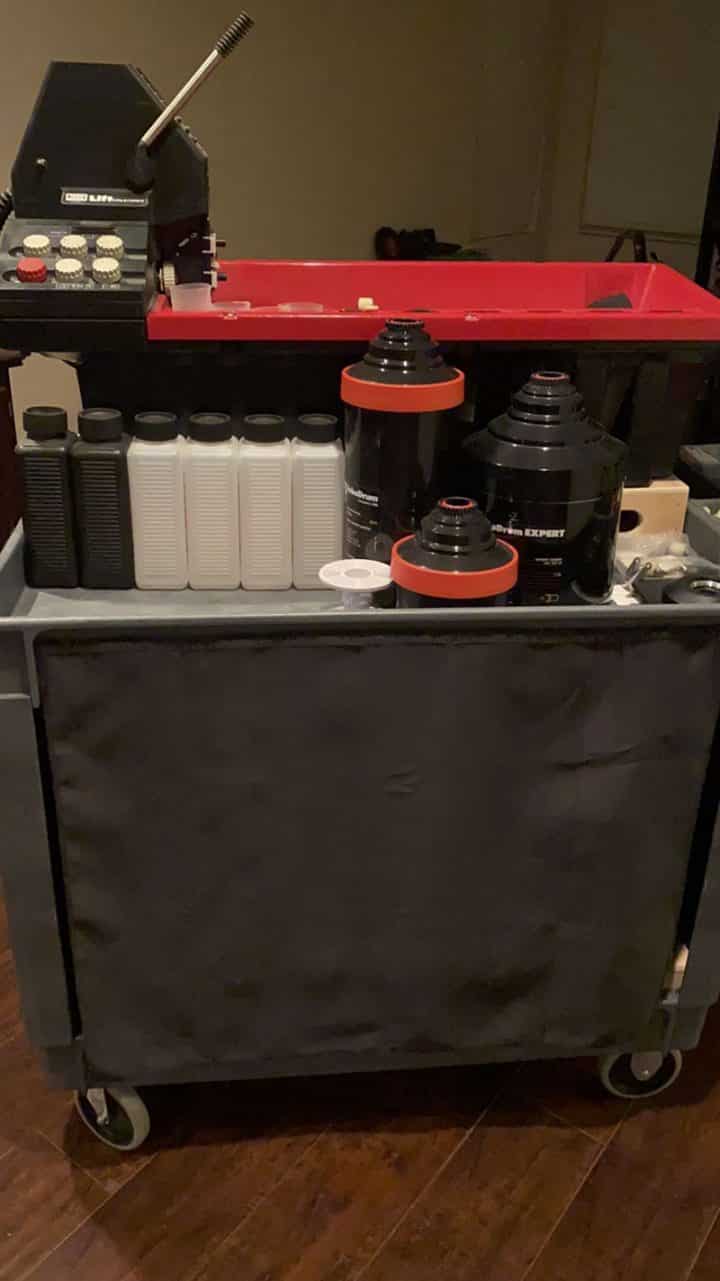 And figured I'd share the roll-away DEV-STATION
😈
In terms of some shots check out the insta – I spent the month of March developing and sharing BW photos on different stocks from my Rolleiflex 2.8f, Mamiya 6 and RZ67.  I then turned around in April and decided to dev and share the C-41 rolls of various stocks, I have shot with the same cams.  I wish we weren't in quarantine as I really would have like to follow-up with a month of portraits (i.e continue a theme per month).
So here is one in BW (
Rolleiflex 2.8F – 80mm Planar | Fuji Acros   | XTOL 1:1
) and the other in color
(
Rolleiflex 2.8F – 80mm Planar | Fuji 160NS | FlexiColor C-41
) both self dev'd and scanned.
All the best and thank for letting the community participate!  
🖖🏾
Daniel Neuhaus
Hi there, submitting my film and some sample shots! Colour is portra 160 or 400. Black and white is HP5 on Hexar Af. squares are hasselblad, rectangles are Mamiya 7ii. Cowboy on horse is Nikon F90x
M.H.
This is my film stash freezer with some space for my coffee.  The majority at this point is expired with my oldest being a 100ft can 35mm nitrate film from 1932 with a partial case of 120 Kodak Safety film from 1948.
Lots of cans of 35mm B&W bulk rolls from Kodak, Fuji, Tasma, and Svema.  The large can in the center is a 3,000ft roll of Fuji Etena that is giving interesting results. The grey boxes are designed for baseball cards but work perfectly for 35mm and 120 roll film.  I have every thing from 16mm to 4×5 and even, gasp, Advantix hiding in there.  There are some new purchases that have not been added yet. At last count there was 6k rolls and 18k feet of bulk film.  Several friends benefit from free film thanks to this stockpile.
I develop all my own film at home in my kitchen and mix up my own B&W, C41, and ECN2 chemistry.  It definitely helps when you have to figure out how to develop some of the available film stocks out there that were not designed for modern chemistry.
As for cameras my go to is my f6b Widelux.
Others in my rotation are
Nikon F100
Minolta 9000
Chinon Bellami
Widelux 1500
Fuji GSW690II
Mamiya 645afdii
Crown Graphic
RB Graflex modified by 20th Century Camera
M.H.
Thanks to everyone for getting involved and sharing your stashes. I hope you are all staying safe and have found fun new projects to get into. Please feel free to comment below. And don't forget to share.
Have you shared your stash yet? Your hidden fridge? Come on, get involved. Let's see what you have uncovered during the lockdown. 
Also, please make sure you submit your film through the link below, otherwise I might miss it (This is vital as I get an awful lot of mail).
I would love to see your collections, so if you want to send them in feel free. Perhaps you can include a couple of shots taken with your favourite films, that would be fun. Click here to send your stash. Please make sure you send the submissions to this link, otherwise they will not be featured.
Thanks
JCH