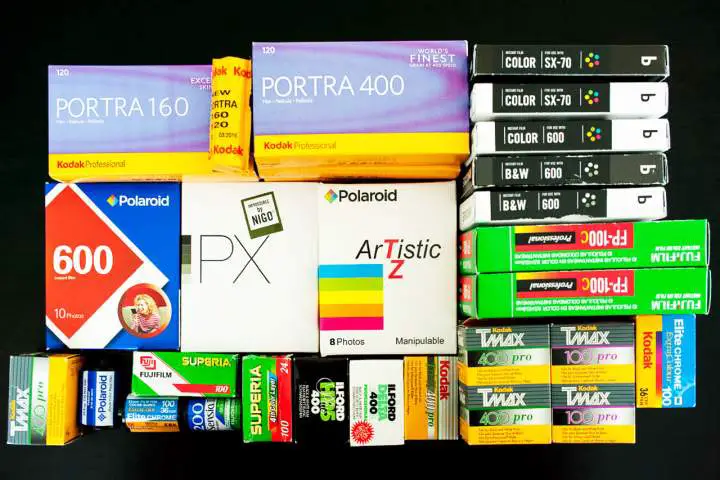 Show us your film: Kickstart 2016
2016 is gearing up to be a great year for film, with the Cinestill 120 funding (only $11,000 to go!) and other new releases coming later in the year. So here is a collection of outstanding film stashes for you all to drool over. Check them out.
Jake Horn
Just received my film haul for this year's photography happenings. I'd like to share with the JCH community. As you can see, I have gone cold turkey on all things Fuji"film". 
My favorite for shooting landscapes is Ektar 100.
Please check out my portfolio and projects at jakehornphotography.com. You can also visit my Instagram feed at jakehorn_photography. Please feel free to drop me a line.
-Jake Horn
Carsten Schouler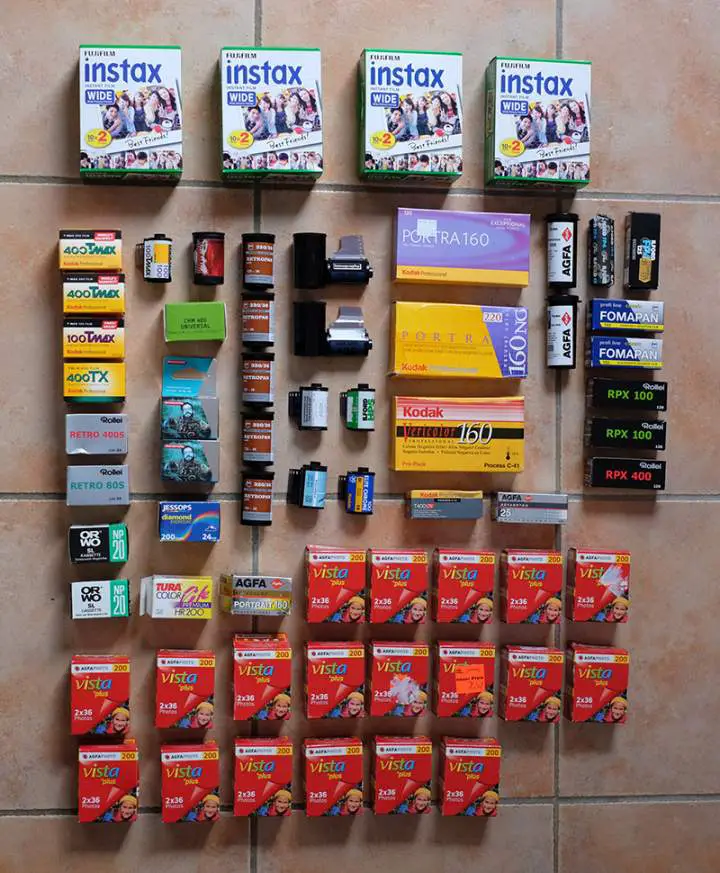 Thank you so much for all your commitment and for keeping up our motivation to use film.
My name is Carsten Schouler (a.k.a. in the net as LucisPictor), I am a 45-years old teacher, university lecturer and "photo-blogger" (www.retrocamera.de) from Germany. I also admin the Facebook site "Systemkamerafreak".
After some years of shooting exclusively digitally, I came back to film when I rediscovered rangefinder cameras and received a present from a very nice friend some years ago, a Yashica Electro 35GS. More (actually a lot of) film cameras followed and finally I took the plunge and bought myself a Leica M6 some months ago. I have always loved Leica cameras and lenses. Living just about 50 miles away from Wetzlar that has always been some kind of "local patriotism". ;) Today film is a fascinating complement to digital for me. Digital is for speed and perfection; film is for the soul, my personal "Wabi Sabi".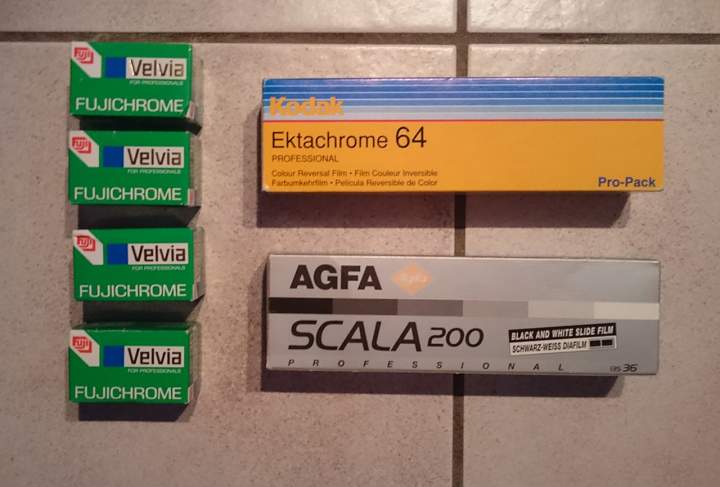 Originally, I planned to send you another picture for the "What's in your bag?" series, but I couldn't decide which bag and what equipment to choose. I try to remember to do that some other day.
So I took almost all of my film out of the fridge and put it on display on the living-room floor.
As you can see I shoot on several different media, 135, 120/220 and instax. That is because I love to play around with them. Hence you can spot some effect films there as well, such as the Lomo Turquoise or the Rollei Nightbird.
For my (more or less) "arty" images I prefer b&w film, but for snapshots the cheap AGFA Vista 200 is almost perfect. For my medium format cams I really like the Rollei films or for colour shots the Portra 160. I develop b&w either in Rodinal or in Kodak D76 and I have received my first set for C-41 home development some weeks ago. I hope I can give it a go during the winter holidays.
I just have realized that I do not have any APX-film in my fridge, so I guess it's about time to order some. ;)
When travelling I bring the format 135 rolls in a very nice box that I got some time ago:
A photo-friend of mine has organized a collective purchase order from you. That's an excellent piece of gear. Kudos to you for that!
Enclosed you'll find some photos that I took on film: 24×36, 6×4.5, 6×6, 6×9 and 135 Panorama.
Thank you, Bellamy, for your support and keep up the great work with your website which I really enjoy a lot.
Carsten
Please have a look at my Flickr and my Lomography accounts:
https://www.flickr.com/photos/lucispictor-photo/
http://www.lomography.de/homes/lucispictor
Steven Nereo
Thanks for the great site! I love it and lurk a lot. Thought I should show you my polachrome stash. I love this stuff even if it does look kind of crappy. 
Thanks again for all the great info!
Steven
Reinier Treur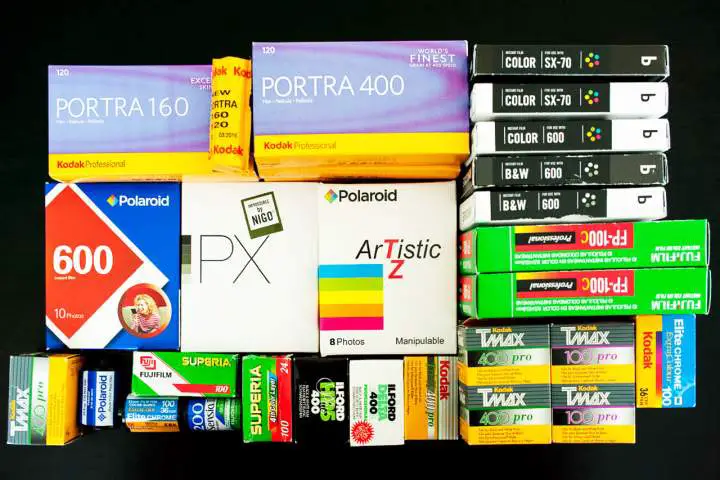 I love your 'Show us your film' series: some impressive film stashes in there.
Here's mine, consisting of some fresh film and some old ones (I didn't put all the fresh Impossible Project, Fuji FP-100C and Portra film in it).
I'm looking forward to load my cameras with the old Polaroid packs (600 and TZ) and I hardly can't wait to put the Superia roll film in one the Agfa Click i recently inherited. Unfortunaltely I didn't store the old films – which date from the mid '90s mostly – in my fridge, but kept it in a cupboard in an attick room that gets very hot in summer :(
best wishes from The Netherlands,
Reinier Treur
website: www.treur.org
instagram: @reinier_treur
flickr: treur_org
Felix
Hello film friendly folks!
This represents the current status of my ever dwindling film stash. Lots of goodies, mostly good old ORWO. I love that stuff! Develop it in Caffenol and the film reward you with fine grain, good tones and good scanability. My most priced posession are the remaining three rolls of Orwo NP20 220. I shoot it in my beloved Fuji GA645. Here are some examples of Orwo films shot in mostly the Fuji and various other cameras:
https://www.flickr.com/photos/anfenglin/21419412948/in/dateposted-public/
https://www.flickr.com/photos/anfenglin/17333554221/in/dateposted-public/
https://www.flickr.com/photos/anfenglin/16447329347/in/dateposted-public/
The Orwocolor has had its own developing process and chemicals, I use C-41 @ 30C°, the colors come out different on every roll, sometimes the emulsion dissolves, sometimes you get holes, most of the time you're fine and you're rewarded with funky colors.
Then of course, we have the grand-daddy of them all, Agfa APX 100! These are my last remaining rolls, they (of course) get the treatment in Rodinal 1+50. Just perfect! I also have a few APX 25 and only one (sigh) Agfaortho25 left, I'll be missing those!
The rest is just generic Kodak, Fuji and a few oddballs in between like Rollei CN200, my Agfa Le Box mini with flash, expired sometime in the nineties or the old roll of Agfachrome, expired in the late eighties.
I just recently discovered instant film, my girlfriend's mum gave me their old Polaroid 635Cl, I have one pack of Impossible left and a few original color film packs, I don't exactly know, what kind of film that is. Not pictured because they're in the mail are 5 more packs of long expired original Pola-films. Also not pictured is the pack of Fuji FP-100C because it's in my Polaroid Land 360.
You can find my work here on flickr if you like: https://www.flickr.com/photos/anfenglin and for now: happy shooting!
Felix
Paul Tornaquindici
I know you're not a big Green fan… but getting ready for the freezer! Acros 100 stash.
Paul Tornaquindici | Photographer
Have you shared your stash yet? Your hidden fridge? Come on, get involved.
Also, please make sure you submit your film through the link below, otherwise I might miss it (This is vital as I get an awful lot of mail).
I would love to see your collections, so if you want to send them in feel free. Perhaps you can include a couple of shots taken with your favourite films, that would be fun. Click here to send your stash. Please make sure you send the submissions to this link, otherwise they will not be featured.
Thanks
JCH