Show us your film : Dat Ektar
They are coming in, more trickles than torrents. But it is still nice to see plenty of people with some lovely film going on. I do hope that some of you are doing film-swaps with one another too. Check this lot out.

Gary Benson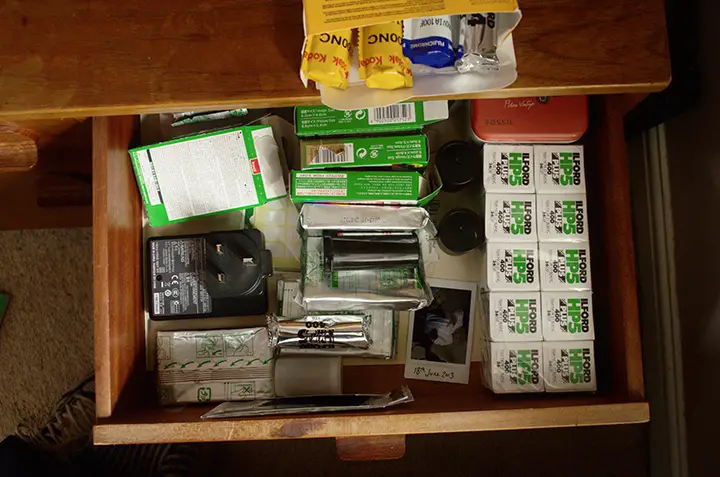 As a counterpoint to all the large and neat film collections, here's mine.  There are 12 rolls of 35mm HP5, one roll of HP5 in 120, four packs of Instax Mini film and four random 120 films I'd left in the fridge and forgotten about (I don't use 120 much!)
Take it easy!
Gary
Franck Gonnaud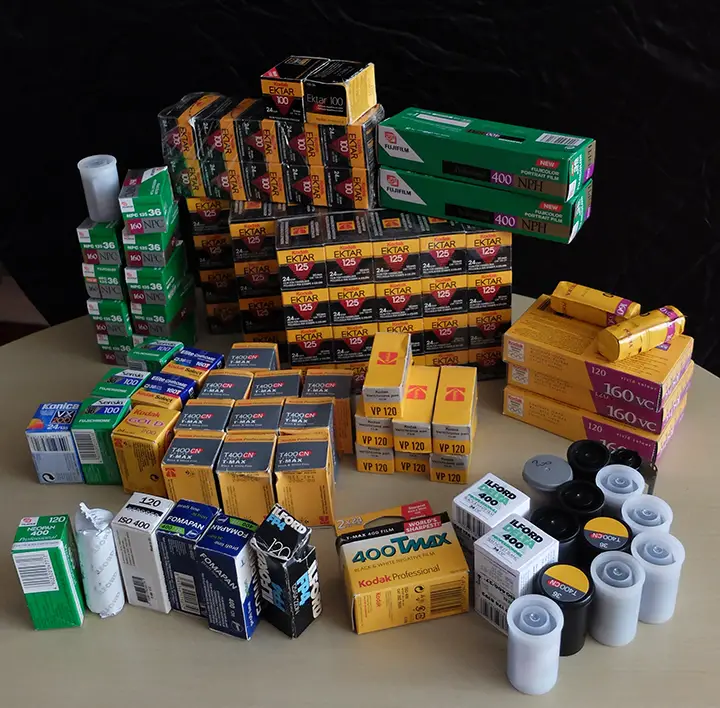 My name is Franck Gonnaud. I'm 32, french (nobody is perfect). It's my turn to get into the exercise to show my films. This is a good thing because it allowed me to make an inventory of my stock .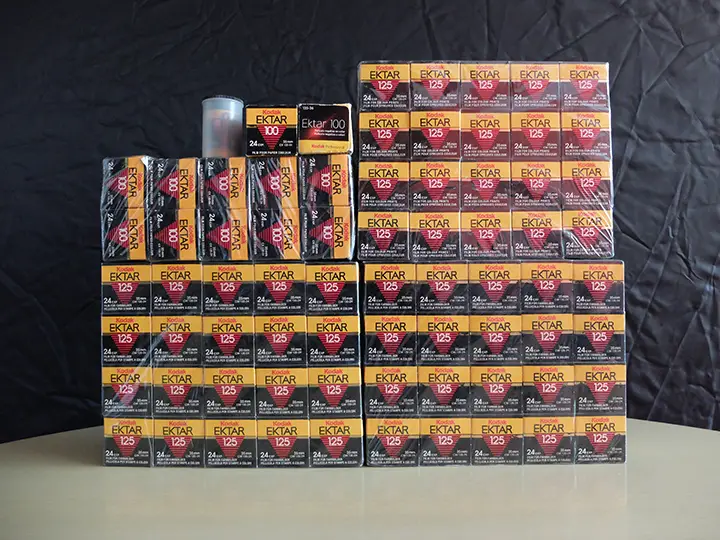 It should be noted that I have almost as expired films for two reasons: Firstly, I am not in a logic of production / consumpsion and prefer to buy (Or recover is even better !!! ) things that often go in the trash . Secondly, it allows me to save money . Yet the price of expired films indecently increased ( in my opinion) .


I would rather lose a little quality of my image than put in the bin. Anyway ! Expired films are fashionable, the better!
Today I have 156 films ( many and varied ) in my stock. The majority (60 to be precise) are Kodak Ektar 125 iso ( expired since 02/ 91). The one, That I 'm most proud are my 7 Verichrome Kodak Pan 125 iso ( expired since 06 /81) This is awesome because it's the date of my birthday !) . (see photo)
Rather than words , I made a table with all my stock and I can update when I use one . Here is the link : https://docs.google.com/spreadsheet/ccc?key=0AmyAhKMJ9wfndENYa2xtMzFKZWIxS25jN2hFTWktQWc&usp=sharing
Finaly, everything is stored in a box, in a cool and dry room, which is not subjected to temperature change. They are not in my fridge because I prefer to keep the place for food ;)


To see photo example please visit my facebook page: https://www.facebook.com/fg.images
Thomas Berg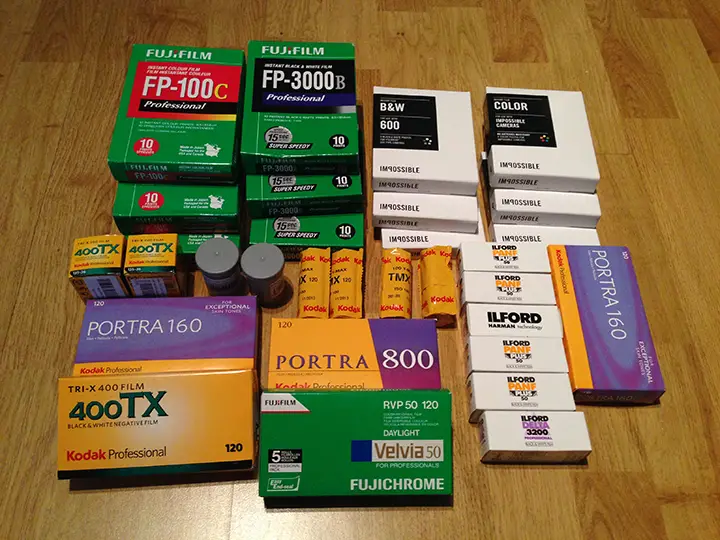 After several years being "digital only" i re-entered the world of film photography back in 2012. My Project for the year is to empty my fridge of the following film.


My Film Cameras have been collecting dust for fare to long, and my SX-70 has been re-skinned. so now it is time the Shoot some film


My goal is set. Let`s Do it.
So this is my current Film-stock:
Fuji FP100c
Fuji FP3000B
Fuji Velvia
Impossible "Impossible Cameras" (SX-70 Colour film on Order)
Impossible "600 B&W" (SX-70 B&W film on Order)
Ilford Pan F
Ilford Delta 3200
Kodak Portra 160
Kodak Portra 800
Kodak Tri-x
Kodak TMX
Check out some of my Work at www.thomasbergphotography.com
Thomas
Jolly good, plenty of film and plenty of people who are passionate about it too. Keep them coming.
I would love to see your collections, so if you want to send them in feel free. Perhaps you can include a couple of shots taken with your favourite films, that would be fun. Click here to send your stash. Please make sure you send the submissions to this link, otherwise they will not be featured.
Thanks
JCH