Show us your film: New Year New stash
As 2018 rolls in and the rest of the world seems like a bit of a dumpster fire here is something that will calm your nerves and make you feel that maybe not everything is wrong with the world. Some lovely film stashes.
Nick
Here are some photos of parts of my film stash, which have now grown to 300-400 rolls and mostly consists of discontinued films.
Some of the more special ones (to me) are:
Kodak Ektachrome 100 (EPN)
Kodak Ektachrome 100 Plus (EPP)
Kodak Ektachrome 400X (EPL)
Kodak Ektachrome 320T (EPJ)
Kodak Ektrachrome 160T (EPT)
Kodak Ektachrome E100VS
Kodak Ektachrome E200
Kodak Elite Chrome 100
Agfa:
RSXII 100
RSXII 200
Fuji:
Fortia SP
Provia 400X
Astia 100F
Velvia 100F
For C-41 films I have:
Kodak Portra 100T
Agfa Portrait 160
Agfa Optima 200
Natura 1600
Happy shooting!
Nick
Paul Kelly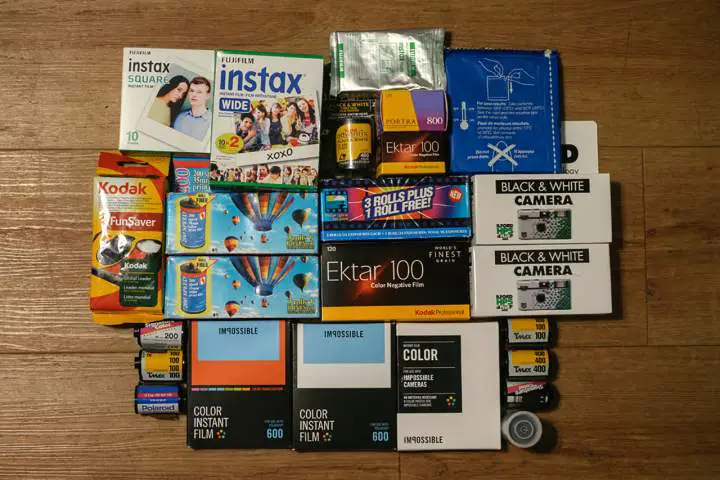 I'm Paul, a portrait photographer from Boston, Massachusetts. Recently I've resurrected my Uncle Frank's Minolta SRT-202 and thanks to a couple eBay wins I have a ragtag collection of expired-ish 35mm film. I bought the Portra and Ektar 35mm, like a true adult. I also purchased a Mamiya RB67 as well, with more of that glorious Ektar.
I call my RB67 "Baby", because it weighs as much as a toddler. The disposable cameras and instant film are something I've always shot alongside my digital work.
The 35mm and 120mm film is new to me, most photographers my age would say that they have roots in film from high school or art school. I was a late bloomer and didn't get into photography until about 6 years ago, and at the time I just jumped into mirrorless digital shooting. So in a way I'm going backwards. I was seduced by the forever-ness of of fully mechanical cameras versus the dog eat dog world of megapixels. It literally took me one roll of Fuji Superia Xtra from Wal-Mart before I felt that I was on board with getting myself into film portraiture. I attached some examples of that.
Thank you,
Paul, PK47
Jón Bjarni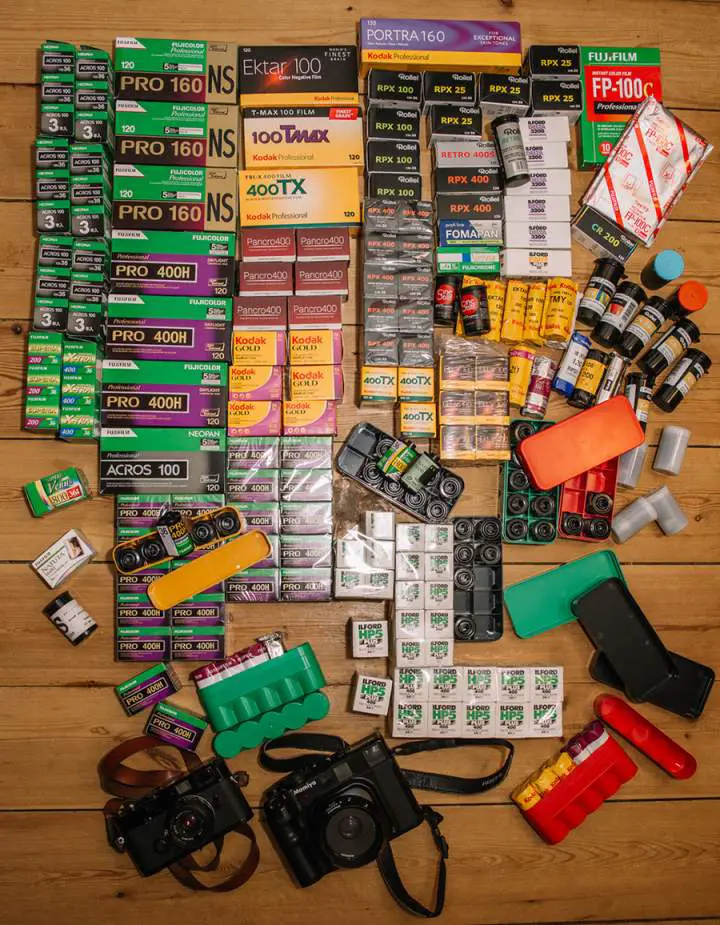 My name is Jón Bjarni and I live in Copenhagen, Denmark. I mostly do streetphotography and portraits, and my all personal work is shot almost exclusively on film. So I thought I'd share my film stash!
When I was arranging this shot I figured I have films stuffed away in the freezer, in the fridge and in cabinets all over my apartment. So I think it was pretty nice to do a status.
I rarely shoot slides, mostly because I develop the films myself and I don't have experience with E6. And I like the wider dynamic range of negative films.
My go to color films are Fujifilm Pro 400H and Pro 160NS, I love the beautiful tones these films produces.
I also really like Kodak Gold 200 and Fuji Superia 200 – So I'm very sad to see my Superia 200 stash dwindle, knowing that I can't get any more.
I'm terribly bad at decision making so I'm constantly switching between Ilford Hp5, Kodak Tri-X and Rollei Rpx 400. I like them because of their pushing properties, I mostly shoot them at 1600.
I have included a couple of examples below, to see more you can check out: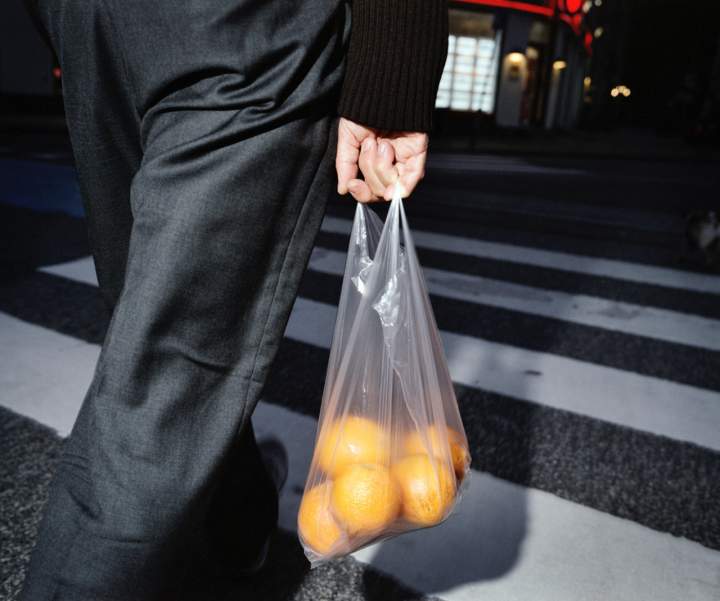 www.Jonbjarni.com
www.instagram.com/jonbjarnicom/
Happy Shooting
Jón Bjarni
Have you shared your stash yet? Your hidden fridge? Come on, get involved.
Also, please make sure you submit your film through the link below, otherwise I might miss it (This is vital as I get an awful lot of mail).
I would love to see your collections, so if you want to send them in feel free. Perhaps you can include a couple of shots taken with your favourite films, that would be fun. Click here to send your stash. Please make sure you send the submissions to this link, otherwise they will not be featured.
Thanks
JCH