Show us your film : The Motherlode
Some more lovely film collections for your enjoyment. Including a massive and varied selection from Ian. Come and have a look.

Ian Devlin

So i've been shooting film for quite a while now and for my 21st birthday like every average kid does i asked for a fridge… thats right pictured above is the fridge that sits in the corner of my bedroom to store my collection of film. I'm collecting stickers to decorate it currently i have the "Revlog films" logo, "the film photography project" logo, the logo of professional photographer "Tom Barnes" and my Girlfriends business card.
I have a lot of polaroid 125i so much in fact it takes up an entire shelf in my fridge. I've been using this film with a reducing back for large format test shots as polaroid and fuji films are becoming harder to source, meaning i ended up modifying my graflex to accept  a polaroid 405 back. I was given this stash by my girlfriends mum as the local council office found it in their warehouse and were getting rid of it i believe. Works for me!!
Whilst we are on the subject of instant films i threw this in for a laugh it's hello kitty instax mini film that my girlfriend bought me for a laugh.
Lately I've got ridiculously into large format film, and this is where my collection is interesting i'd say. If i see a film online and it looks interesting i just buy it so have: Kodak E100g (expired), Kodak vericolor internegative film that i have to rate at asa 3 (Expired) , Fuji velvia 100f (Expired), Kodak ektachrome 64t (expired), Kodak royal pan black and white (expired) P.s if anyone knows of a developing time for this film in either rodinal caffenol or ID-11 let me know!! i cannot find a way to dev this film. Film photography project X-Ray film both blue & green… Once again if you have a dev time let me know. Kodak Vericolor ii (expired) and An unknown box of orthochromatic film, I'm not actually sure what it is so if anyone has any info on that i'd love to know
now were on to 120 i have: ilford delta 100, fuji velvia 50, fuji provia 100f, Kodak e100g, Kodak portra 400, Fuji pro 400h, ilford delta 3200 and lomography redscale 50-200.
I use a lot 35mm film and one film i love is agfa vista as you can see above i have quite a bit of it 22 rolls of it to be exact.
This is my expired collection of 35mm, there are a lot of crappy films in here but that adds to the lomo look that goes through my LC-A & LC-A Wide. Films of note include Fuji superia 1600, tri x, fuji sensia 100, agfa presica 100, lomo redscale & lomo xpro and a roll of Kodachrome i will try to b/w dev one day.
something i've been trying lately are the revlog films they are a bit of a novelty item but i rather like them.
I know i've asked a few questions across the space of this article so if anyone has any answers feel free to contact me at [email protected]
Rick Majewski


A collection of film from me and my two other roommates.
Rick
Jared Smith


Here's my section of the fridge laid out, supplies are running dangerously low haha. I know the Kodachrome is practically useless, but I give them to photographer mates as keepsakes.
Instagram- @jaredsmithphotography
Ben Smart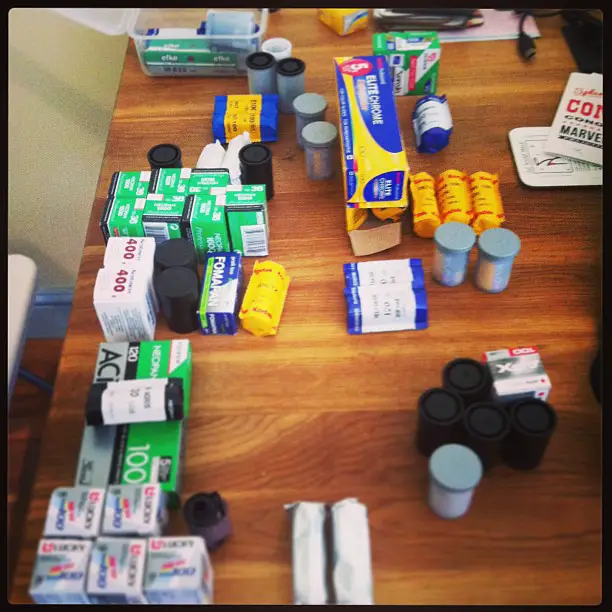 Here is my film stash and my filter collection.
I had a sort out recently. It mostly seems to be B&W. Unfortunately it's all still at my ex-girlfriend's flat. I hope she has kept hold of them.

Ben Smart
https://plus.google.com/+BenSmart/
http://smart360photography.co.uk/
http://www.flickr.com/photos/baesmart/
Crikey, that is a lot of film. Have you got some to share with us? Then send it in, as I am running low on fridges to feature.
I would love to see your collections, so if you want to send them in feel free. Perhaps you can include a couple of shots taken with your favourite films, that would be fun. Click here to send your stash. Please make sure you send the submissions to this link, otherwise they will not be featured.
Cheers
Japancamerahunter