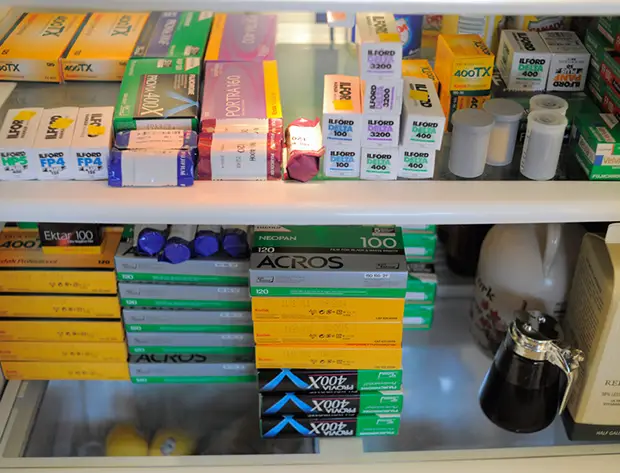 Show us your film : Hoarders unite
They keep on coming in and I shall keep on sharing them with you. A few more film squirrels for you.

Migrodz


Here a picture of my fridge, my only fridge full with film and film developing chemicals….
I do all my film processing at home too
[email protected]
www.facebook.com/migrodz
David V


By my count, the fridge has got…
35 mm: 3 Portra 160, 2 CineStill 800, 1 expired Velvia 50, 2 each Pan F+ 50, Delta 100, Delta 400. (I'm very low on 35 mm now, being in quite a medium format mode at the moment.)
120: 5 Ektar 100, 3 Portra 400, 3 Portra 160, 1 expired Fuji Pro 400H, 3 TMY 400, 4 Pan F+ 50, 2 Delta 3200, and my last 8 rolls of Croatian old-school efke/Adox (6 at ISO 50, 2 at ISO 25) from before their demise last year. I'm saving these for some kind of special occasion.
A near-new box of Delta 100 in 5×4 for the Speed Graphic.
Twelve 12-ounce bottles, two pint cans, three bombers, and a litre of brilliant local beers (mostly Highland) from near me in North Carolina. All highly recommended! I can't very well drink fixer whilst processing film can I.
David V.
Pim van Boesschoten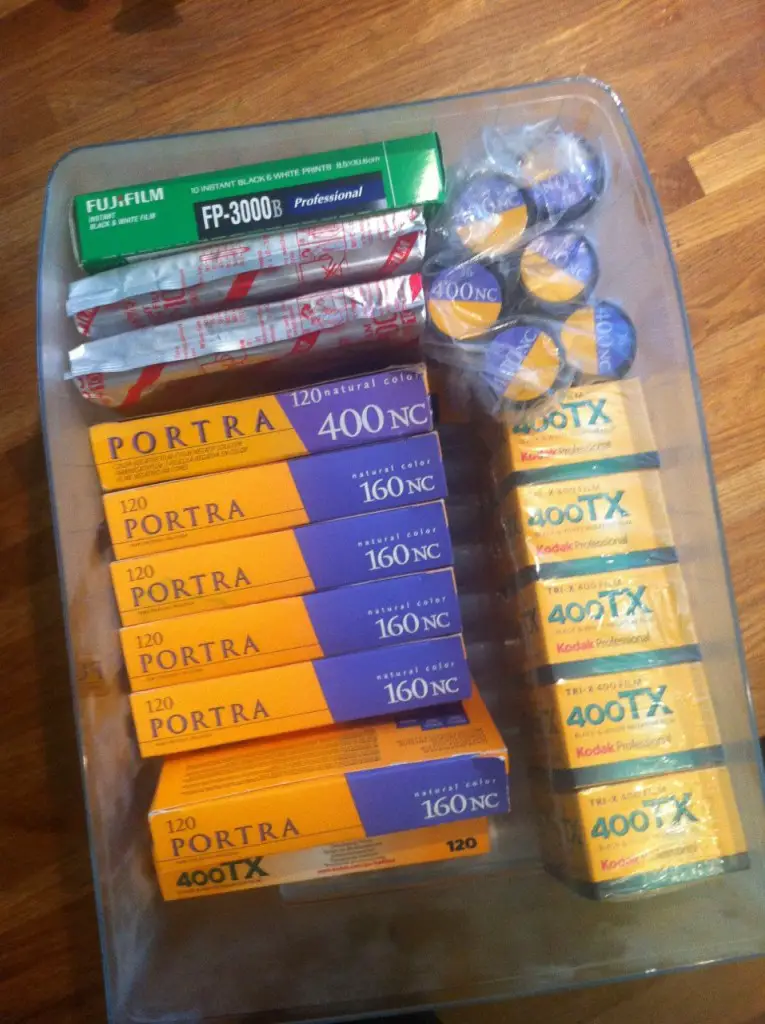 Included is a shot from my fridge container. My favourite film at the moment is Portra 160NC. I'm shooting this with my Mamiiya 645 for snapshots i use my CanonA1 (1.4 SSC lens) loaded with some tri-x 400.
It's all pure for the fun, during the day i'm a UX designer form the Netherlands and have build a small collection of camera's and film.
Love the colors and style from my portra 160: For example:
http://www.flickr.com/photos/blikbrein/9527010069/in/set-72157635405714583
or
http://www.flickr.com/photos/blikbrein/9529799176/in/set-72157635405714583
Shot in France last holiday at my dads house
or
http://www.flickr.com/photos/blikbrein/9775979116/in/set-72157635405714583
Shot with the mamiya loaded with tri-x 400
Cheers!
Olen
Attached are a few photos of my film stash, along with a few shots taken on some of my favorite films (Velvia, Impossible Project PX-70, and Fuji Neopan 100). I only started hoarding film in the last year, due mostly to Fuji's annoying habit of discontinuing my favorites and some concern about Kodak declaring bankruptcy. Kodachrome was my all time favorite color film, but sadly it was one of the first to be discontinued. Not pictured – my JCH 35mm and 120 cases, thank you so much for manufacturing those, I don't know how I lived without them.
I post my Polaroid SLR photos at: http://www.slr680.com/ and an associated Tumblr: http://slr680.tumblr.com/ and a few months ago I started a new project http://www.ax5chronicles.com/ to show off some of my favorite black and white and Kodachrome shots I took with a pair of Fujica AX-5 cameras. I hope you enjoy the stash,
Olen
Brilliant. Thanks for all of those. Nice to see the beer with the film too. Priorities are important.
I would love to see you collections, so if you want to send them in feel free. Perhaps you can include a couple of shots taken with your favourite films, that would be fun. Send your film stash. Please make sure you use this mail link, otherwise I will not be able to find your submission.
Cheers
Japancamerahunter