Show us your film : Film within Film
A few whopping great big stashes for your enjoyment today. Come and check these out.

David Sollors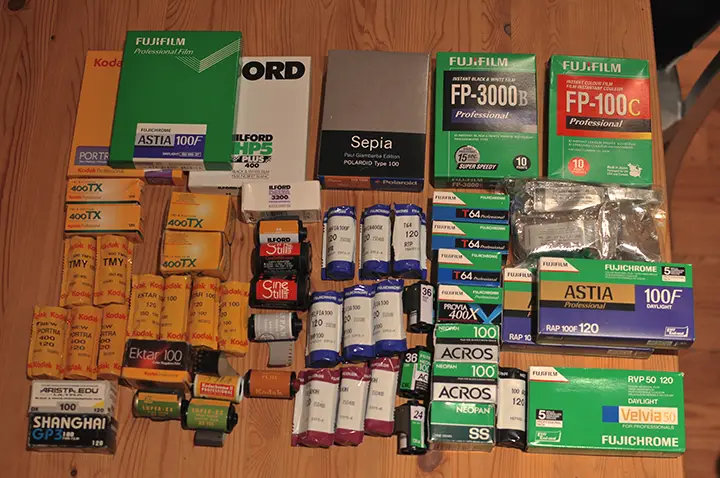 Attached please find my contribution to the Show Us Your Film series.  This is the part where I tell you how much I enjoy and admire your site and also where I apologize for taking such a crap photo of my film!  Jeez, what kind of photographer am I if I can't even take a good picture of my film?  (Don't answer that.)
So, my stash.  You'll see my mainstays, 120 and 35mm, as well as some formats that you might either call aspirational (e.g. the 4×5 that I intend to shoot, uh, someday) or false starts (like the batch of 127 Bluefire that I'll probably never touch).  I'm not worried about getting through the instant film — I'll do that soon enough.  There are also a few rolls of vintage kodak 35mm that I got from my grandfather.  Not quite sure what to do with those, as they may have been partially (or fully) shot already.
As you can see, I'm a bit all over the place.  I know that it might be better for my "art" to stick with one emulsion and really learn it, but the great thing about being a dilettante hobbyist is that I can unburden myself from hoity-toity expectations like that.  I like to try all different kinds of films, all the time!  Though some faves can be discerned from my stash, either by overrepresentation (because I stocked up) or underrepresentation (because I shot it all) — Astia for slides, Acros for B&W (though I'm getting into T-Max 400 after being a Tri-X partisan for over 20 years).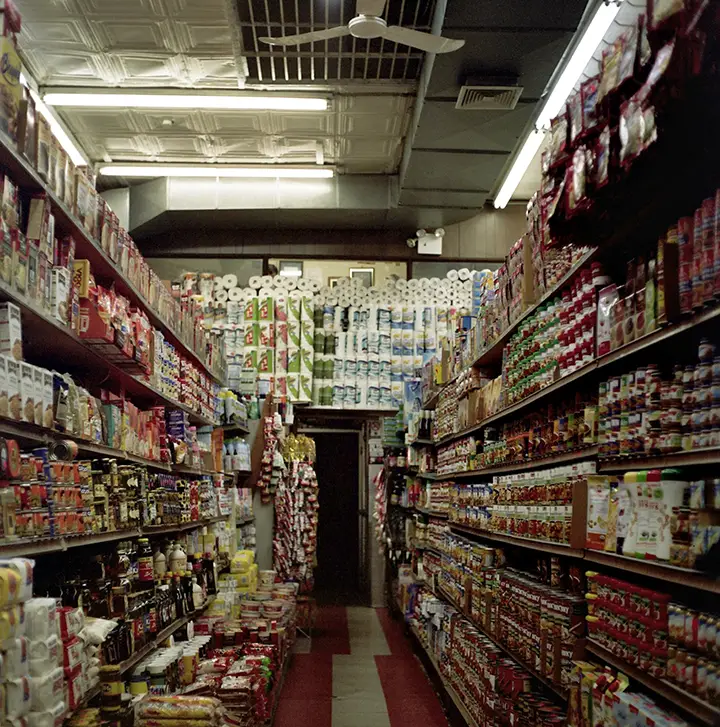 C-41 is a little more complex.  I was awed by the new Portras when they came out, but reviewing my photographic output over the years film by film, I found that I really liked the magenta cast on Fuji's professional C-41 films, especially 400h and 160s.  I've started to stock up on the 400h, but the 160s (or 160ns, which seems to have succeeded it) are seemingly not to be found in the US right now.  The Portras are great, don't get me wrong, but I think I preferred the color rendition on the Fuji Pro stuff.  Love me some Ektar, too!
I'm still looking for an opportunity to shoot the Cinestill stuff I got from Freestyle, and the Polypan F from the Film Photography Podcast store.  And I need to do some more night work and use that T64 (though I ended up shooting most of it during the day so far)!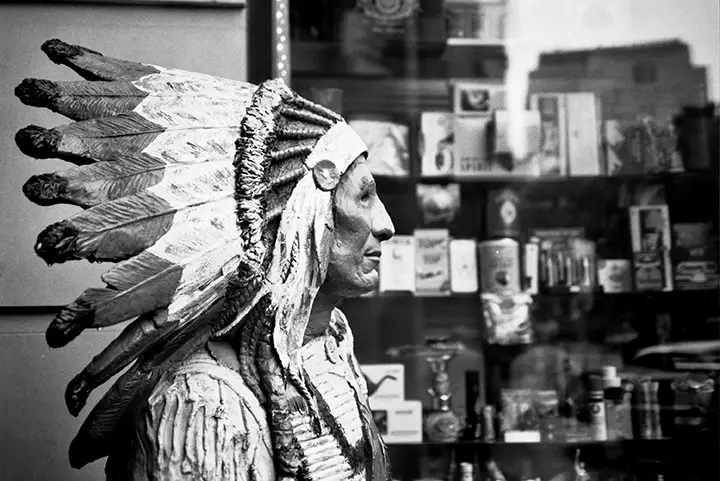 I'm attaching a few shots from my favorite emulsions (sorry for sending so many — they're all my children!).  My Flickr handle is 12th St David, and you can see some self-curated sets of my work here:  https://www.flickr.com/photos/[email protected]/collections/72157623696388985/
Thanks, and keep up the great work!- David
Martin Martinsson


I've been following your blog for a while now and I would like to thank you for all your inspiring articles and blog posts. I especially enjoy looking through the "in your bag" section of your site, but my bag is not the reason why I am writing to you today. I would like to show you my film stash. Since my refrigerator and drawer is filled to the top it is time to share it before I shoot it all up.
First let me introduce myself. My name is Martin and I am from Sweden. I work as an architect in Germany and I have been a passionate photographer ever since I, in the nineties, inherited an old 35mm Chinon camera from a family member.
Unfortunately I stopped taking pictures for a few years when I bought a digital camera. I bought it because photo stores became scarce and developing was more difficult and expensive; but not being able to adjust the focus and aperture manually took away all the fun in photography and I stopped having photography as an interest.
I always missed it though and about two years ago I bought a new retro-style digital camera equipment which brought me back into photography big style. I haven't been able to put down a camera ever since and about a year ago I slowly started to drift back towards shooting film once again.
Let me show you my small stash of photographic film. Of course also shot using different film cameras (there is no point in showing my film if it is not made by using film).
Above is a photo of some of my instant films. It was shot on FP-3000b Polaroid Peel-apart film from Fuji and the negative was then scanned to my computer and inverted in Photoshop. I absolutely love the polaroid esthetics and lately I have been taking a lot of Polaroid photos, both SX-70 and peel-apart film. I currently have in stock: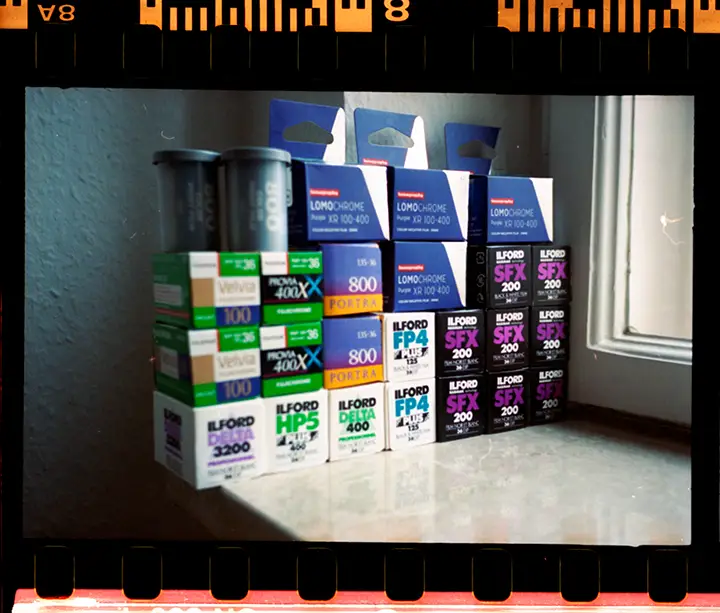 -8 packs of Fujifilm FP-3000b
-5 packs of Fujifilm FP-100c
-3 packs of SX-70 Cyanograph from the Impossible Project.
-2 packs of SX-70 Colour from the Impossible Project (one with golden frame)
I also have some 35mm film in my refrigerator. The above photos of my film stash were shot using ISO800 Colourfilm from Lomography. I currently have three different cameras for 35mm photography and tend to try a roll of film in each camera before I decide whether I like it or not and buy more. At this very moment I have:
-8 rolls of Lomochrome XR100-400 (Colourfilm which renders green in purple colours)
-2 rolls of ISO800 Colour from Lomography
-8 rolls of Ilford SFX200 (infrared sensitive black and white film)
-2 Kodak Portra 800 (one of my favourite colour films on the market)
-2 rolls of Fujifilm Velvia 100 slide film
-2 rolls of Fujifilm Provia 400
-1 Ilford Delta 3200
-1 Ilford Delta 400
-1 Ilford HP5 plus 400
-2 rolls of Ilford FP4
Why do I shot film? I sometimes ask myself that question. Obviously it is more convenient and practical to just use my fantastic digital camera and I have to admit I am a much better photographer when it comes to digital photography. The above photos might well demonstrate that and judging by my flickr statistics and likes I should skip buying film and just stick to digital material. Also I consider myself a much worse analogue photographer than digital, and reactions from friends and family confirm that theory. Not a single photo made with film has ever made it to flickr explore and to quote my wife today "I think you should stop doing that film photography, I don't like those photos".
So why bother buying expensive film, developing and scanning photos? The simple answer is: because it is fun. I love reading about different qualities and varieties of film, buying it and trying it out. Even building up a stash and collecting film is fun. Besides I believe that shooting analogue, being more difficult and challenging, makes me a better photographer in general. Besides there is nothing that beats the feeling of the, sometimes arbitrary, results of developing a film which was shot using a pinhole camera.
( Ilford SFX200 in a pinhole camera with a Hoya R72 Infrared filter fastened with rubber bands in front of the hole)
You never know what you are going to get!
You can find my work at:
Flickr, where I post all my latest photos:
flickr.com/photos/martinssonmartin/
500px I bit more carefully selected:
500px.com/mmartinsson
Tumblr for the latest trips, film experiments and some reviews:
martinssonmartin.tumblr.com/
VSCOcam for Iphone:
martinmartinsson.vsco.co/
Thank you!
Martin
Baru A. Dacasin


First off, I apologize for the low resolution of the photo. The images were shot using my phone and it's the only thing I own that can take digital images. Now about my stash. What I have here will probably last 3 to 4 more years of happy shooting as I am now cutting down on the number of rolls I expose per week. I used to keep a track of how many rolls I have in the fridge, but I lost count a long time ago.
baru a. dacasin
Lovely stuff, thanks guys.
I would love to see your collections, so if you want to send them in feel free. Perhaps you can include a couple of shots taken with your favourite films, that would be fun. Click here to send your stash. Please make sure you send the submissions to this link, otherwise they will not be featured.
Thanks
JCH