»

*SALE* MS Optics Perar Ultra-Wide 17mm f4.5 Retrofocus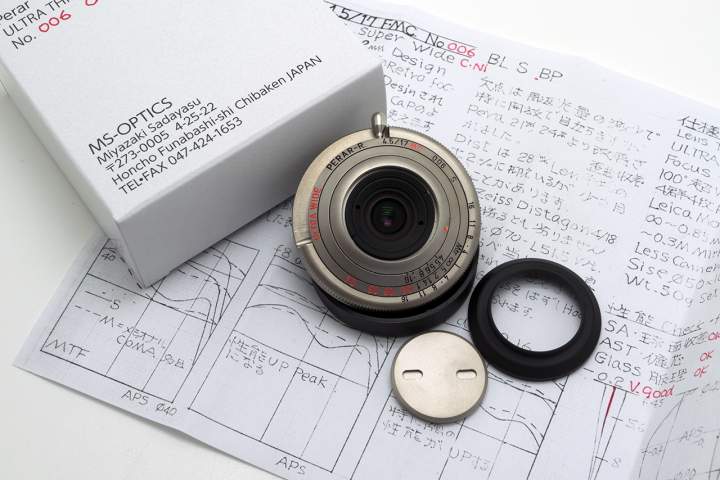 ¥120,000 — ¥140,000
¥90,000 — ¥110,000
You save ¥30,000 — ¥40,000 (21% — 31%)!
Product Images
Description
MS Optics Perar Ultra-Wide 17mm f4.5 Retrofocus
Miyazaki San is ready to release the next lens in his new series of lenses. This time entering the ultra-wide category with a tiny 17mm lens. This tiny lens packs a huge punch.
Lens details:
PERAR 17mm F4.5 Full MC – retro focus super wide ultra-thin design only 10.2mm long
This is a slow lens, but it tosses the standard practice for retro focus lens designs in the trash, as it is as small as a body cap, weighs only 70 grams, and is just 10.2mm long, making it easy to use outdoors. Performance is very high from maximum aperture. Due to the four element four group optical design and full multi-coating, the characteristics of this lens are excellent color rendition and high contrast. When the distance scale is set to 1.4m, everything from 0.8m to infinity is in focus. To take good snaps, hold the camera upright against your chest without looking through the viewfinder, approach the subject, and press the shutter while looking at the subject directly, and you can capture dynamic expressions.
A weakness of the lens is the peripheral light fall off, especially at maximum aperture, but this lens is improved compared to the 21mm and 24mm Perars. Distortion is kept to +/-2%, which is about the average for a 28mm lens, but it may stand out in some circumstances. Compared to the Zeiss Distagon 18mm F4, this is neither superior nor inferior, but taking into consideration the fact that the Zeiss lens is a 10 element optical design, 70mm in diameter, 51.5mm long, and weighs 350g, I think the good points of my lens are pretty clear. For a filter, the glass removed from a 34mm filter can be attached inside the hood.
Specifications
ULTRA MINI retro focus 17mm f4.5 (ultra-wide 100 degree coverage)
4 elements in 4 groups, all multi-coated
Leica mount with focus coupling from 0.85m to infinity
Focuses down to 0.3m on mirrorless cameras
Size: 50mm diameter x 10.2mm length
Weight: 60g for lens, 100g for set
@ f4.5 – there is some coma
@ f8 – lens is pretty much at peak performance
@ f11 – corners improve a bit more
Limited stocks are available of this lens and there is a waiting period as they come in trickles.
Thanks
Japancamerahunte