Shooting film in Hawaii
As some of you may know, I am on vacation. But you guys know me, I cannot switch off and have been on the film and camera hunt ever since I got here. And Hawaii has been an awesome film shooting experience so far.

I work really hard on the site when I am back in Tokyo, so I often find myself either without time to shoot, or too exhausted to shoot. Which gets me down. So I really relish the chance to have a break, as it means I can recharge, and I do that by shooting like a man possessed.
I have been to Hawaii before (link) and I know that the light is absolutely stunning, but also can be harsh to work with, so this time around I can prepared. I armed myself with a whole plethora of different films, from Kodachrome (I am an idiot, I meant Ektachrome) and Agfa through to Ilford and Rollei. I took 3 cases of film with me (Narita airport where very kind and hand check all, you just need ask), and I fear that might not be enough…But never fear, Hawaii is here! The last place I expected to be able to get film has a massive hidden stash.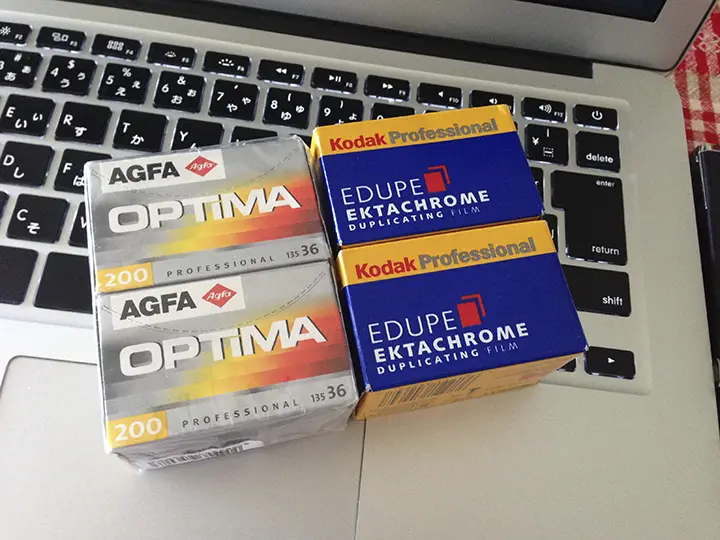 This little stash was given to me by a great friend of mine, Christiaan. Every time I come to Hawaii he gives me a little morsel from his huge and varied stash of rare films. Last time I got Kodak Supra 100, Kodak 100UC and Aero PX. A pretty cool selection. Well this time he gave me some films that I have never had the pleasure of shooting before. Agfa Optima 200 and Kodak EDupe Ektachrome Duplication film. I am told that the EDupe would best be shot from iso 7 to iso 25 as it is not really meant for outdoors, so it should prove interesting.
I had heard of a store selling film in Honolulu, so my friend Cory Lum took me to Treehouse, and I am really glad that he did. If you are in Hawaii and you want some film or just want to see a cool shop with really friendly people then this is the place to go. You might need a taxi to get there though, it is not all that close to the hotels.
When I got inside I was really surprised to find a range of lovely classic cameras and toy cameras for sale, film, developing equipment and more. It is really a one stop shop for the film photographers in Hawaii.
One of my favourite things about the store is the classic Kodak memorabilia that fills the shelves. It really is a nice touch and it is cool to see it being put to use. I was also pretty impressed by the sound system, with a stack on vinyl and something eclectic always spinning.
They also have some really clean classic cameras for sale, at really wallet friendly prices too. I was told that a lot of students and youngsters have started to come in and buy film now, with Fuji Superia being really popular. There are developing classes too. I hope this is a sign that shooting film is cool again (like it has never been cool).
You can find out more about the treehouse buy visiting their site:
Website
Facebook
Instagram
Once we got outside, Cory told me he had something cool he wanted to use to take my portrait. Now I have seen this camera before, but this time it is a bit different. It has been modified to fit a tilt-shift Pentac Aero Lens. He shot my portrait on FP-100 4×5 film (before it is gone lol).
It was a real honour to have my picture taken with this incredible camera. A handmade and modified super camera, that has a real beauty in the rendering of the images. It has a tremendously shallow depth of field, but it looks fantastic. I think this will be my next profile picture.
So far I have shot about 6 rolls, and I was worried that if I continue at this pace I will have nothing left. But I am no longer worried, as I know there is loads of film and loads of passionate film shooters on the Island to share the film love. If you are ever in Honolulu make sure you get yourself to Treehouse, you will not regret it.
Now, I am off to catch the sunset with a couple of rolls of Provia.
Cheers
JCH