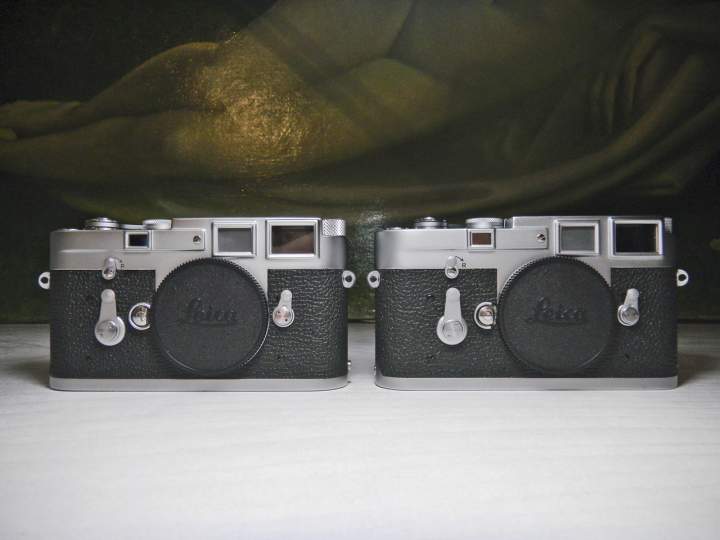 Seeing Double. The story of the matching Leica M3's
A curious and somewhat remarkable tale indeed. Wolfgang decided to buy a couple of Leica M3's, the odds of buying two cameras that are exactly the same must run into the millions to one, yet that is what happened to Wolfgang. Check it out.
Prologue
At the beginning of 2016, I decided to stop digital photography for good, and therefore sold my last digital tool, the Monochrom. My reason was that I was longing to get back to making black and white photos in the traditional way again: I wanted to start by putting a black and white film into a camera, taking the photos, developing the negatives and transforming them into a real photo on baryte paper.
I was happy to find a Fokomat enlarger still working perfectly, after I did some little repairs. Then I bought a Rolleiflex 2.8 D and after a complete revision, I was able to start the photo making process. However, as this Rolleiflex is not very handy, I thought about buying a Leica again. But which one?
Leica's new analogue cameras were fantastic, but so was their price. After reading and reading, your very good thoughts about the old M's too, I decided to look for a M3. 
The hazard
This is where this story begins. I met a Bavarian collector whom I had been knowing for years and appreciate because everything he owns is in perfect state. He showed me a fantastic M3, beautiful, nearly without any signs of use. Buying it was an easy decision. As I wanted to use this camera and was aware of course that it needed lubrication and exchange of rubber parts after all these years, I sent it to a well known specialist for Leica and Rolleiflex.
So the camera was gone again and meanwhile, I worked with the Rolleiflex, learning again how to make a photo on black and white film. However, I kept my eyes on Leicas being sold in the internet. Quite soon I noticed a Leica M2 offered at a very interesting price, but not in the perfect condition I usually sought. So I contacted the owner who turned out being a very genteel person and collector, living in the North of Germany. He then told me when we spoke on the phone that he also had a Leica M3 for sale, in new condition. He suggested sending it to me and would even take it back if I didn't like it.
A few days later, I held it in my hands, and this M3 was really like new. I turned it round and round, checking everything, and was very happy. Then my eyes fell on the serial number, and I thought something was wrong with them. My first M3 was still far away at the service, but I had some photos: I had not been mistaken – the number was the exactly the same! A few days later I got the first M3 back from the service and there it was, the double.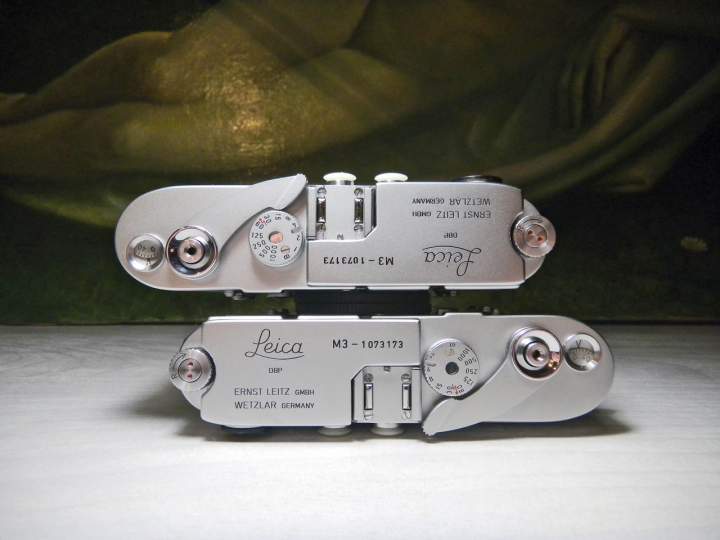 Confirmation
We were very short before holidays and so I took them with me, together with the rest of my equipment. However I used the serviced M3 very carefully, because it was dawning on me how crazy it is to find two M3 cameras with the same serial number. Back from holidays, I decided to find out all about this double and to contact the Leica customer service. So I called there and had a nice phone conversation with a very friendly lady who couldn't believe this story, until I mailed her some photos. It was then decided to send them both to Leica for inspection. So I did, and it took a while to find out…….nothing, except that these are two original M3s, in perfect optical and working condition. They put the original L-seal on the serviced M3, a kind of confirmation that everything is OK with them.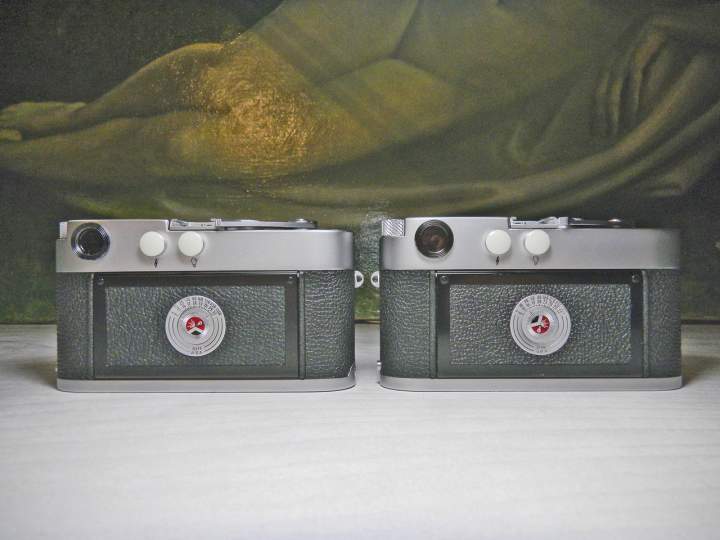 Here is the translation from the e-mail I received from the customer service:
(…)
We have checked now both M3 cameras, but unfortunately this did not help much, as there were no engravings of the serial number in the top cover. Neither did we find the serial numbers of your cameras in the withdrawal registers, so it is impossible to tell anything about their history.
One of the cameras has a new bottom plate and the chrome of the top cover seems to be a little rougher. (I personally cannot  see) The back cover is anodized but does still have the original vulcanite. The unlock button (which has the nice German nickname "rose garden/Rosengaertchen") is a later modified version (see enclosed picture: version 1 left /version 2 right).
We have applied our "L" seal to the other camera. The A ring was already new. Both cameras' functionality is well.
I regret that we are unable to provide you with more background information. Nevertheless, the simple fact that you have succeeded in purchasing two cameras with equal serial numbers from two different sellers, just within months, makes them to something really special J.
Both M3s are in excellent condition and should be stored safely in a special case or cupboard, please not in a bag.
We will return your treasures to you shortly.
Best regards,
Leica Camera AG
Customer Care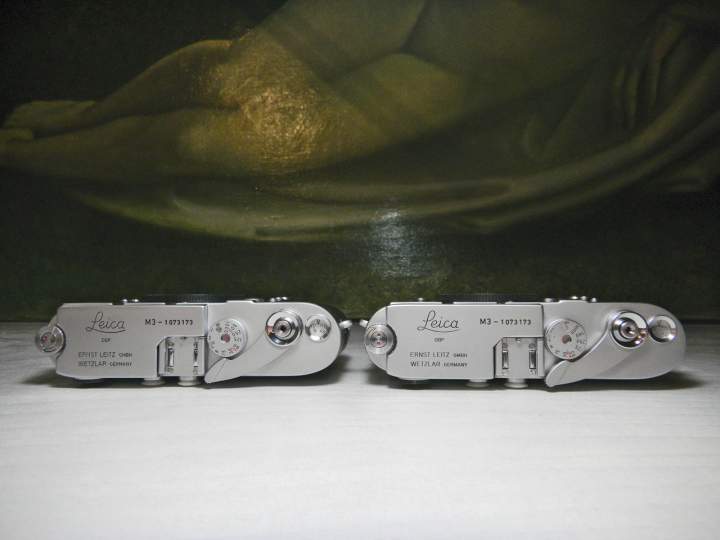 And that's more or less the whole story. 
Wolfgang
Well, what are the odds? To find two identical cameras in such a random fashion. I don't think they should ever be separated again. Thank you to Wolfgang for taking the time to share his amazing experience with us.
Wolfgang has a site that you can check out as well depictio.com
JCH