Sale!
MS Optics ISM 50mm f/1.0 M mount Color Editions
The newest and fastest lens from MS-Optics Miyazaki. In different colors.
Description
Description
Miyazaki goes high speed with his latest release, the ISM 50mm f/1.0 for Leica M mount. Miyazaki wanted to challenge himself to make an ultra fast lens in the same range as the greats such as the Noct, Xenon and Angenieux. This is not his first fast lens, but it is certainly his fastest.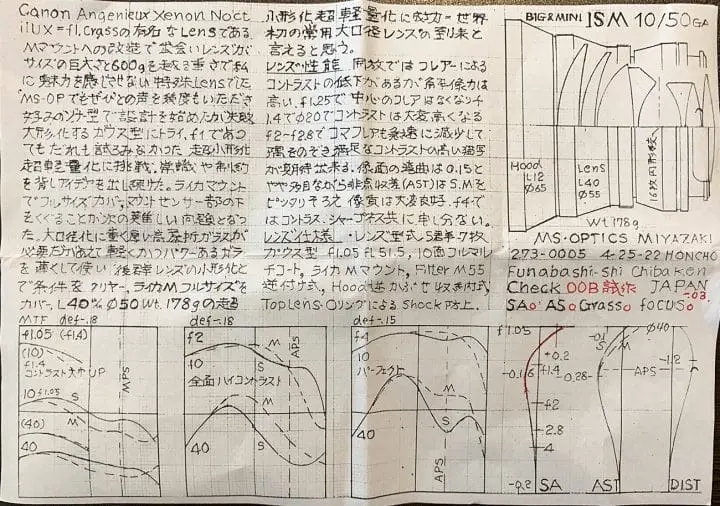 F1 Class lenses (text by Miyazaki)
F1 class lenses including Canon, Angenieux, Xenon, and Noctilux lenses are famous. I came into contact with such lenses through my M-mount conversion work, and because of their size and weight exceeding 600 grams, they were specialty lenses that didn't hold much attraction to me.
However, after receiving many comments that MS Optics should make such a lens, I tried designing one using my favored Sonnar formula but failed.
I then tried designing it as a much larger Gauss formula. The challenge was to make a very small and light f1 lens that nobody had yet attempted. I turned my back on common sense and limitations and continued to come up with new ideas.
The next difficult problem was for this lens to be a Leica mount lens that covers the full frame image area, and fit under the rangefinder roller mechanism.
To make a large aperture lens requires thick, heavy high refractive index glass, but I deliberately used thin and light high power optical glass, and reduced the size of the rear group to meet the size requirements, thus successfully designing an ultra small and light full frame Leica M lens with a length of 40mm, diameter of 50mm, and weight of 178g.
With the arrival of this lens, you could say it is a world's first for regular use large aperture lenses.
Lens Performance
At full aperture there is a drop in contrast due to flare, but resolution is high. At f1.25 flare in the center goes away, and at f1.4 contrast out to midframe increases dramatically. At f2-f2.8 coma flare quickly decreases, and apart from the corners you can expect high imaging performance with sufficient contrast. While spherical aberration of 0.15 is a bit high, the S-M astigmatic planes line up perfectly resulting in very good image quality. From f4 onward both contrast and sharpness need no excuses.
Lens Specifications
Lens formula is 7 elements in 5 groups Gauss type
f1.05, 51.5mm with 10 full multicoat surfaces.
Leica M mount.
55mm filter size, and a reversable hood that screws on.
[On the diagram] 16 rounded aperture blades.
[Chart, far left under f1.4] Contrast greatly increases
[Chart, second from left] High contrast across the frame
[Chart, third from left] Perfect
These lenses are available on pre-order. The lenses are in production at the moment and we hope to ship in the coming weeks. We make sure to double check all of our lenses so as to ensure there are no issues. As a consequence of this our lenses take a bit longer than others. We will keep all customers informed as to the status of their order as soon as we have information. Current estimated time to receive orders is 4-6 weeks.
For more samples, please see our review HERE
Please note the weight 400g is for the shipping calculation when packaging is included. The lens itself weighs 178g as stated.
Additional Info
Additional information
| | |
| --- | --- |
| Weight | 400 g |
| Lens Colours | Metallic Blue, Metallic Bronze, Metallic Green, Wine Red |