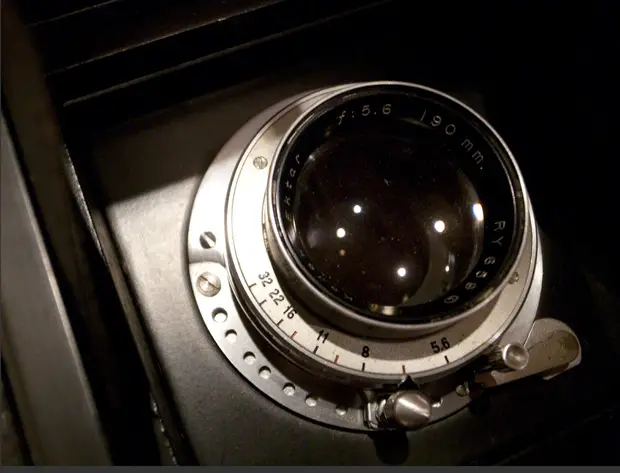 Interview with a collector, Cory Lum
A special feature about the friendly and charming Cory Lum. Cory was kind enough to meet me the other day, and over a few beers we put the world to rights…and talked about cameras…

Cory and I have friends in common, and I had often heard wild and wonderful stories of his cameras and creations. But everytime I met the man he seemed to be carrying a very civilian camera. I wondered if this wasn't just all the stuff of wild rumour, like the stories of dragons. But then I met Cory again and this time he offered to show me some of his cameras. Could this really be it? The chance to see these amazing creations? Yes, it was…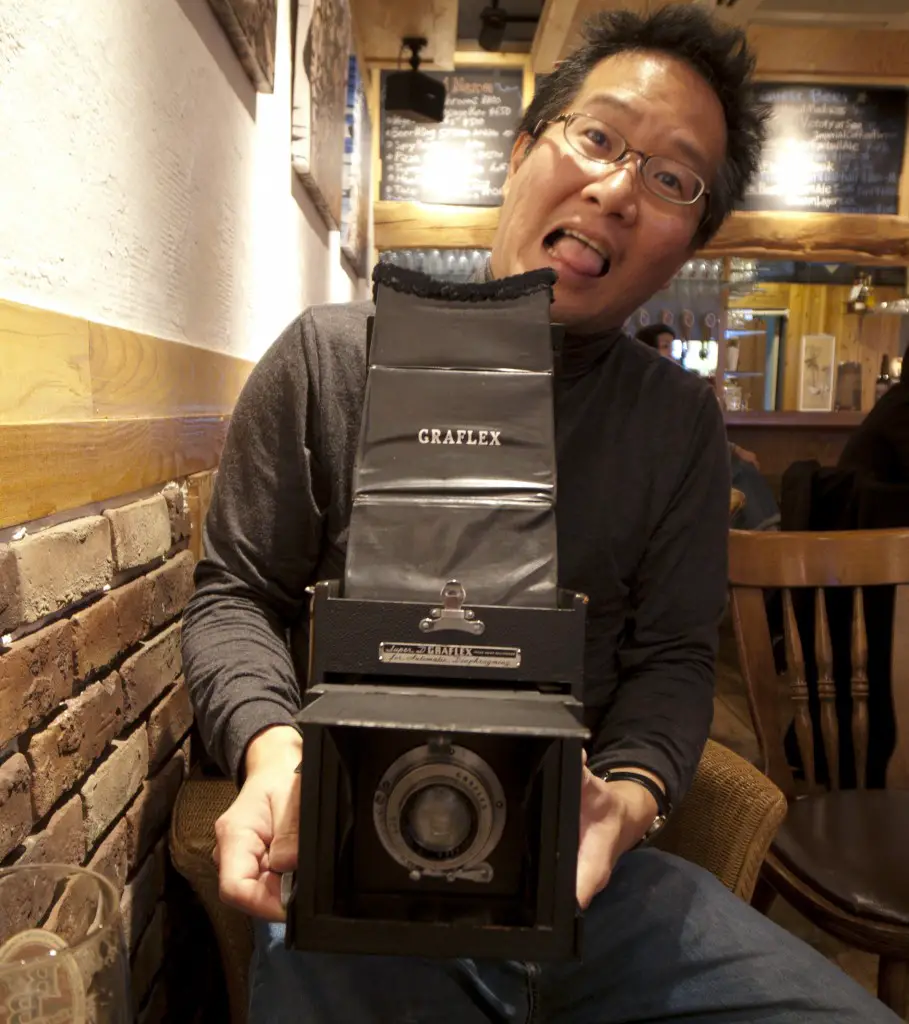 Cory holding his Super Graflex!
Cory is a man of fine tastes, not just in cameras, but in many things, one of which is beer! So when he suggested The Taproom I was very happy, as I have been meaning to try this place out for a while and I was not disappointed. An excellent selection of craft beers were on tap and ready for us to sample.
After a couple of jars of social lubricant we got to chatting about Cory himself and his cameras.
Cory is a professional photographer from Hawaii, who has been published in many great publications including the New York Times, Getty, Herald and Tribune and many more. But what really interests me about Cory is the work that he does outside of his 'day job'. You see, when I usually meet a jobbing photographer I find that they don't pick up a camera outside of work any longer, as they are tired. But Cory shows through his work a great passion to see the world in a way that has not been seen before. He is an experimental photographer in the truest sense, pushing the boundaries of what you can achieve with light.
If you want to see what Cory does then check out his Flickr and his blog, and you will see his remarkable view of the world. After seeing these images I wanted to see how they were done. And Cory was kind enough to show me.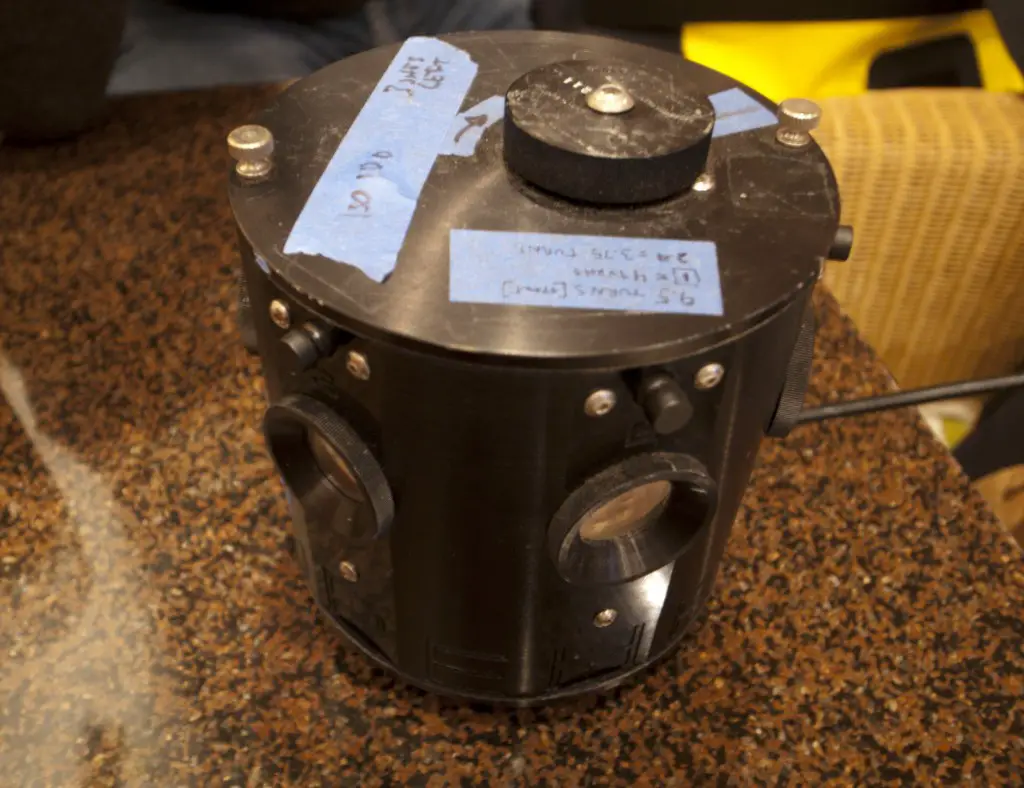 The Hexomniscope
First up we have the Hexomniscope. And you are forgiven if you think you are looking at some kind of audio device or a specialist fishing tool, but this is actually a camera. In fact, it is a pinhole camera, in a manner of speaking. It is actually six (hence ἕξ hex,) pinhole cameras, encased in a billeted aluminium casing. This is a remarkable camera, producing 360 panoramic images onto 120 film with no fall off because of the curved film plane. Because of the pinhole nature of the camera it is hyperfocal and can run at nearly f/200!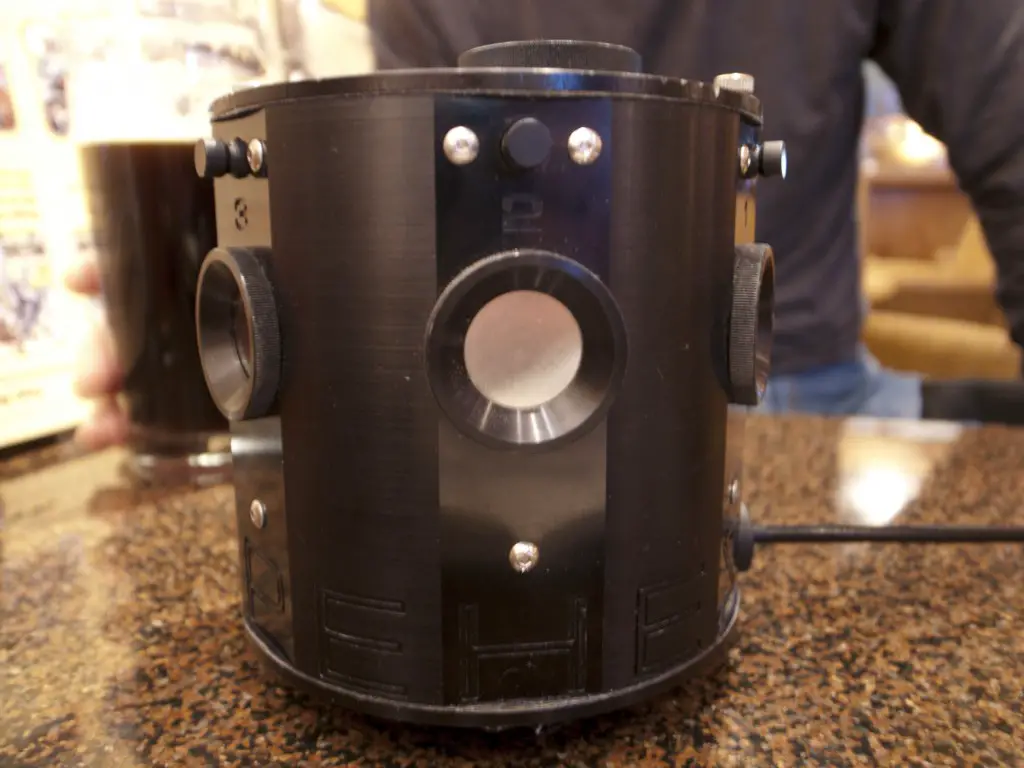 The shutters on the camera are independently selectable on the camera through a single release. So in theory you could actually take a picture with each shutter on six different continents and then have it on one piece of film! Cory mentioned the idea of taking 3 images in Japan and 3 in Hawaii. I would love to see how that shot comes out.
The camera was made by Matt Abelson at Abelson Scopeworks in a limited run of 25. So if you are lucky enough to see one of these make sure that you have a chat with the owner, because you know they are going to be up to something interesting.
You can see images taken with the Hexomniscope in Cory's galleries. They are absolutely incredible, and give you a completely different way of looking at things that you see everyday. One of my favorites is this image, as being in Japan I have seen eleventy billion images of cherry blossoms, but this one blows me away. Cory mentioned to me that he likes to see things in a different way, and it is boring to just use this camera in the panoramic, so he is always trying to find new ways to take an interesting image with it. I am looking forward to seeing water and reflection images with this camera.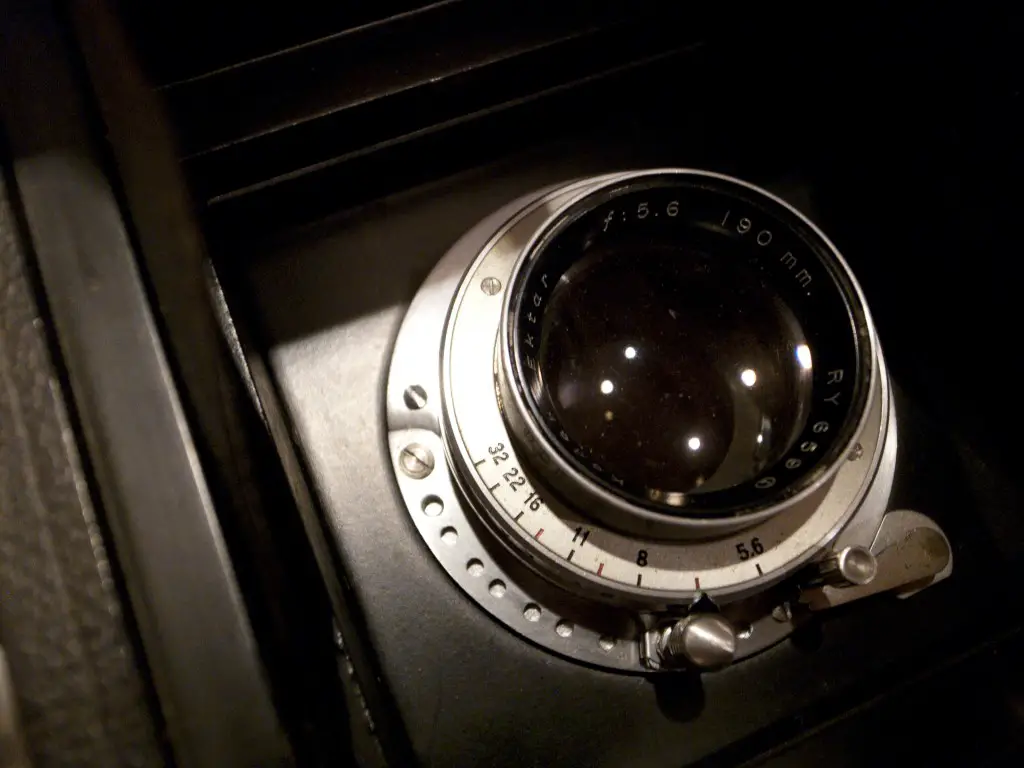 The Graphlex with modified standard film back and Kodak Ektar 190mm f/5.6 lens
Cory also bought this camera along with him, and what a beast it is. Cory has had the back plate modified to take a large format film holder. Unfortunately by this point I was fairly jolly with the delightful choice of ales, and I was not so detailed in my note taking. The focal plane shutter on this camera can run at 1/1000th sec, so this is not a slouch despite its age.


This camera is deceptively large, as you can see from the picture of yours truly trying to focus the damn thing in the middle of the pub. I can assure you that this thing grabs looks. If you want absolutely everyone in the room to look at you then this is the only camera that you need.
Despite its size, this camera is very light and easy to use, and in Cory's capable hands it produces terrific images. You can have a look at the instruction manual for this camera here.
Cory told me that most of his special cameras are now in Hawaii, so I should come and see them there….Er…OK, you don't need to ask me twice.
You can see a lot more of Cory's cameras on his flickr page. I think that I get some of the impressive stuff, but what you see on his page is incredible. It is another level of hardcore. People like Cory push the limits of what you can do with a camera and what you can do to a camera to make the images that you want.
I had a great evening and I got to learn a little bit about what drives Mr. Lum. I really recommend that you go and check out his pictures and his blog, you will not regret clicking that button.
Cory is a man of many talents, and you can see them here:
http://www.etsy.com/shop/corylum
http://www.corylumphoto.com/
Thanks Cory for being so kind to share your cameras with us. And thanks for the beers, I had a great night.
Cheers
Japancamerahunter