Photography Zines and Books No: 35
Phew, I have finally managed to get a break so I can go through some of the lovely books and zines that I receive. I treasure them all and do my level best to feature them all, no matter how long it takes. Here is another load of lovely zines and books for you all to enjoy.
I never get tired of seeing great new work and sharing it with all of you. But I need you all to keep on sending them in. Keep them coming by following this link.
I love all of the books and zines and they are all proudly displayed on the shelves in my office.
Gold Rush by Luke Van Aurich
Luke has been a regular on the site. He has made loads of books and here he has another one for us. This time about the Gold Rush, a dirt race held in the Australian outback. Luke tries to show us not only the race, but the people behind it and how it binds a community in in a tough area to live.
The prints washed out in colour and with a heavy grain, that helps add to the atmosphere of the images. Luke take us on a journey through a motorsport that is more about the fun than the prize.
Although this is the outback of Australia, it could really be anywhere rural. You can see similar scenes in rural communities the world over, from the midwest USA to Finland. But they are dying out as rural communities shrink, so it is really interesting to see how family members young and old come together.
You can check out Lukes site here: lukevanaurich.tumblr.com and Jay's site here jaydymock.tumblr.com
And you can get a copy of this from Bloom Publishing: https://www.facebook.com/bloompublishing
Côte Bizarre by Max Heimann
Max sent me this lovely book with a nice note attached. Côte Bizarre is a look at the differences between the rich and the poor, in a place that is commonly associated with the jet set lifestyle. The book was shot on Provia 120 film on a Yashicamat 124.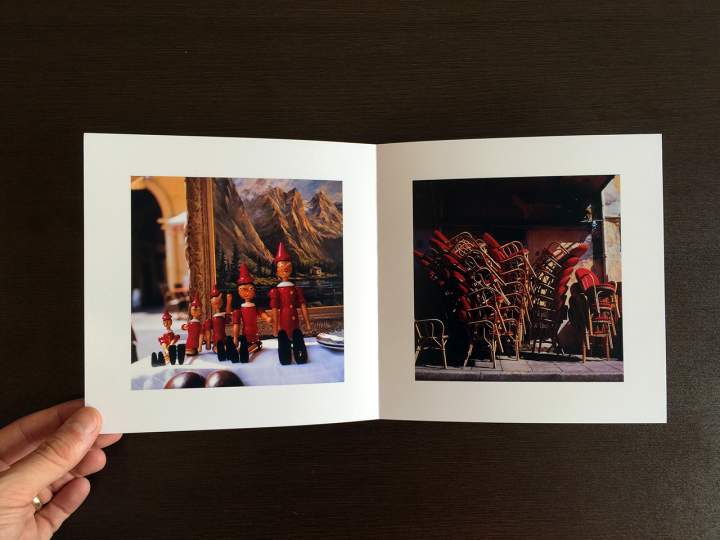 It is an interesting and sometimes funny look at different approaches to beauty, with each page giving us some well selected contrasting images that make you smile throughout reading this book.
Max takes us on an interesting journey through Nice, ending up with a series of images from Promenade de Anglais. Here we can see the common bloated lobster Englishman in their natural habitat.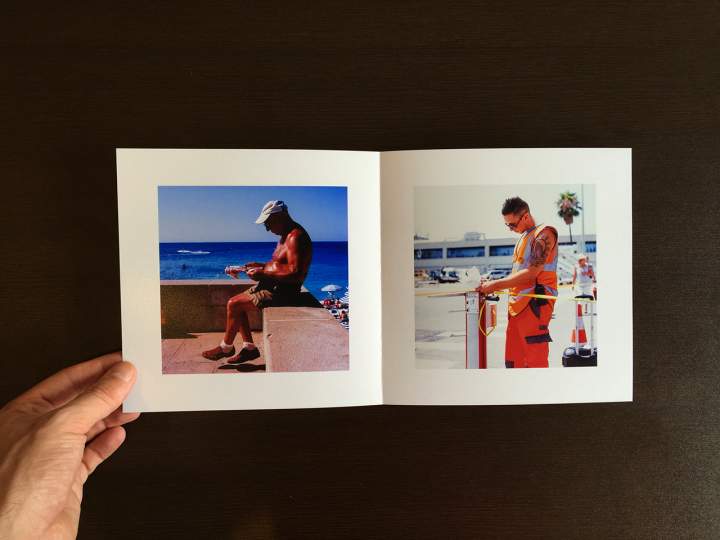 The entire project was shot over a two week period in July 2015, and is a short, sharp and amusing look at one of the most famous holiday destinations in the world. This is a really lovely piece of work.
Max has self published this book, you can get one on his site www.maxheimann.de
Sit, Stay, Good Dog! by S. A. Robinson
Simon Robinson over Fistful of Books has been a regular feature on the site, send a whole bunch of books from his wonderful company www.fistfulofbooks.com This time we have a really fun project, about peoples dogs patiently waiting for their owners.
We all see them, but often walk past them without really looking. This project gives us the chance to take in how the dogs feel. Some of them look excited, anticipating their masters, others look forlorn, as if they are never going to see their master again.
The way the dogs have been framed really makes them stand out. They look so patient, so dedicated. You wouldn't see a cat doing that.
The final images is funny, almost like the dog is giving his exact summation of how it feels about having to wait outside on the pavement. And as it is the UK I cam completely unsurprised that the poop has not been scooped.
You can grab yourself a copy of this one over at Fistful of books
Fosfoleina 69 by Fabrizio Quagliuso and Massimo Napoli
Fabrizio and Massimo have collaborated on this book, that gives two quite different views of the streets of Japan through two visitors eyes. Including the down and dirty times.
This is a fair bit different from the usual view of Japan that you see. This is rough and ready, nightlife and sleaze, love hotels and karaoke booths with sticky floors and questionable pricing structures.
This is a really interesting zine as it flips over in the middle so one half is clearly Fabrizio's and the other Massimo's. You can clearly see the differing styles. I like this sort of look at the streets of Tokyo, as it is so much fresher than my jaded eye.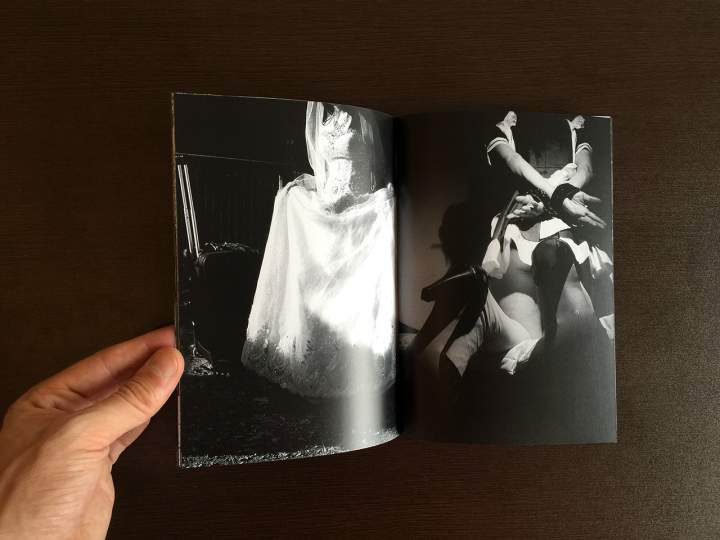 The guys are part of a larger photography collective from Italy, known as Spontanea and often collaborate with each other on small projects and books.
You can get yourself one of these over at www.fabrizioq.com/printed
38,6˚ a tale by Matthias Kümpel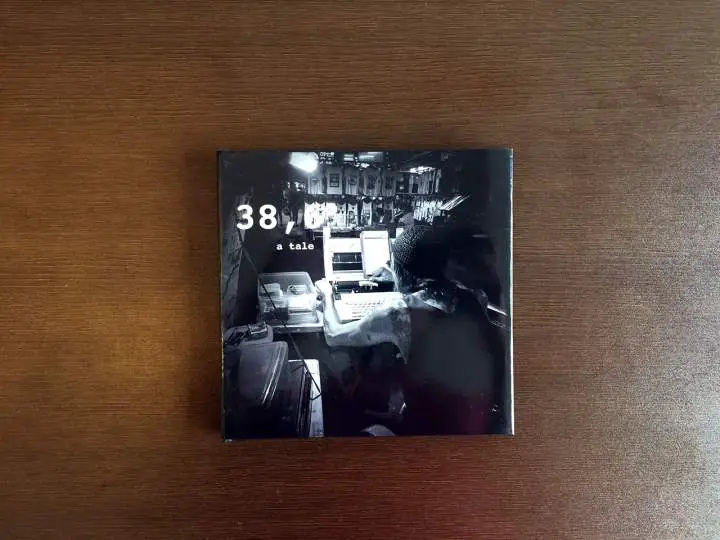 Matthias shares with us his book of 55 images takes throughout South East Asia between 2012 and 2014. He tries to show us the streets and the people that he saw throughout a number of different countries.
The book is an interesting tale of people living their lives and the differences in cultures that Matthias experiences through his travels. the images are thoughtfully selected and laid out with a nice flow.
You can get your hands on one of these books through Matthias's site www.matthiaskuempel.de/projects/386deg.html or here theindependentphotobook.blogspot.jp/2015/04/matthias-kumpel-386-tale.html
Complex Issue Two by Jack Levitt and Michael Dearnley
Michael runs with the start of this book. Sharing with us some beautifully composed images of lonely doorways seen in Mexico. This is an interesting project, as it takes us through an architectural history of the country.
From the doorways of long closed stores and beautiful old facades, to the crumbling shutters of falling warehouses, this is a look at a part of town that has seen better times.
The work moves on to Jack, where he stops, watches and shoots the people on the streets of the USA. The parks, the people, the places and the street furniture, which is quite the contrast compared to the previous images.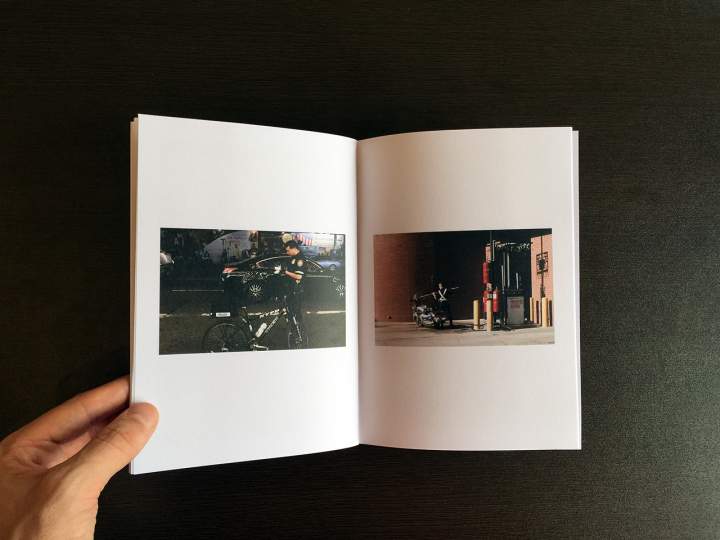 You can get yourself a copy of this book through www.complexzine.com
Subway – Sleep – Silence by Jerry Yoo
Jerry has shared a book with us before, and this book is quite a departure from his other piece of work. This one is as it is titled, showing the daily commuters and how they catch up on their sleep on public transport.
It is funny, in Japan I fall asleep on the train all the time, but outside of Japan I have never done so, purely on fear of waking up to find all my possessions have disappeared. Yet in Jerry's piece we can see all manner of people passing out on the subway in what looks like New York.
It is a funny look at people at their most vulnerable in a public space, when you are asleep you have almost zero perception of what is around you. Which can be both amusing, yet rather unnerving.
You can see more of Jerry's work on his sites www.flickr.com/photos/[email protected] blargbugs.tumblr.com/
Thanks to all the guests for their submissions, it is a really cool thing to be able to share them all with you. And remember, this is open to everyone, all you need to do is send one to me. If you would like to have your zines or books featured then all you have to do is mail me. Hopefully there will be plenty more of you who want to get your books and zines out there to the world. Another instalment will be coming soon.
Thanks
Japancamerahunter