Photography Zines and Books No: 40
Yeet, it has been quite a while. Finally we've had a moment to run through some of the pile of zines that make their way to JCH HQ. It always puts a smile on my face seeing the passion and care that goes in everyone's work and I hope to be able to share with more frequency but for now here's the latest batch.
I never get tired of seeing great new work and sharing it with all of you. But I need you all to keep on sending them in. Keep them coming by following this link.
I love all of the books and zines and they are all proudly displayed on the shelves in my office.
What was Golden Went Grey by Jake Ricker
Street photographer extraordinaire Jake Ricker gives us What Was Golden Went Grey, a zine focused on the Tubbs Fire in the Coffey Park neighborhood of Santa Rosa, CA. The Tubbs Fire is the most destructive fire in California history burning 36,807 acres, destroyed 5,643 structures, and killed 22 people. The destruction spread over 57 square miles and caused over a billion dollars in damages.
He focused the images within a square mile of Coffey Park in Santa Rosa, one of the harder hit areas by the massive flames. These photos were taken between the early afternoon of Monday October 9th and the evening of the Tuesday October 17th, 2017. All photos were taken on 35mm film.
The sheer destruction and havoc wreaked reminded me very much of visiting Fukushima after the earthquake and tsunami of 2011. I love how we start off with warmer-toned color photos that subtly get cooler in tone then melds into the black and white images at the end of the zine. What was golden went grey indeed.
The zine is 9×6 in size and every zine comes with a 4×6 print pack with 5 signed prints. All zines are also signed & numbered.
For more info about the zine : https://jakericker.bigcartel.com/product/what-was-golden-went-grey
Jake Ricker Website
Jake Ricker Instagram
Dispatch vol.1 by Brent Kollock
Brent Kollock in his latest 82 page zine gives us two photos essays of typical and quintessentially western Mexican traditions. The first of these follows the Charreada, traditional Mexican rodeo, and the Charro cowboys. These photographs in the first essay were taken in Jalisco, Mexico from January thru March of 2018.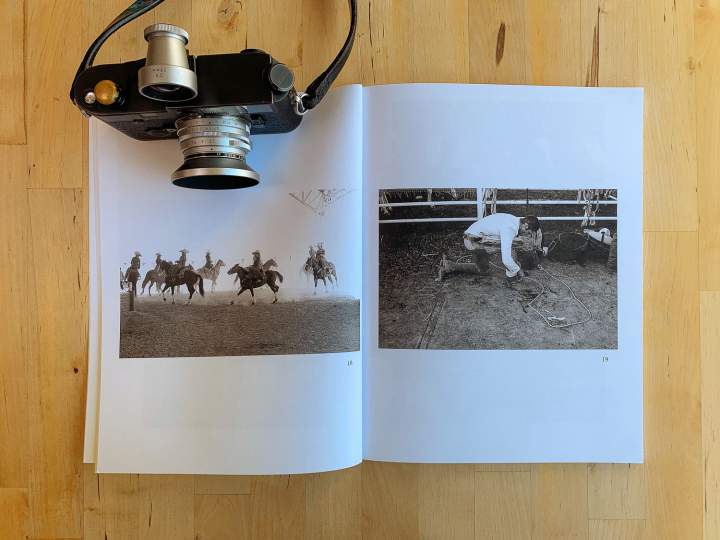 All photos are black and white and filled with dramatic action shots as can be seen above. The matte printing adds a nice rawness and edge to the images as well.
The second essay gives us a glimpse of small town carnivals revolving around festival days in western Mexico. Photographed in Jalisco and Nayarit between 2017 and 2018, one can sense the quaint old-school feel to these major community events. Nostalgia for me has always straddled a strange fine line between fondness and sadness and these images evoke the same feeling.
All images have a corresponding number to their lower right and can be ordered as archival prints. You can pick your copy up at https://www.brentkollock.com/product-page/dispatch-vol-1-summer-2018
Brent Kollock Website
Brent Kollock Instagram
Records of Taean by Jackson Hung
Records of Taean is collection of individual photos that Jackson Hung took during his two year stay in Taean, Chungcheongnam-do, Republic of Korea. It was an ideal locale for him when teaching in Korea, being able to explore the beaches, coastline and life in such smaller villages.
Being a once a teacher myself, albeit in Japan, I can feel real close to the details and scenes that caught his eye and decided to capture. Nothing overly dramatic or flashy, just subtle scenes that capture the spirit of a small coastal town.
You can check out the rest of the book here: https://issuu.com/jacksonhungphotography/docs/records_of_taean_1
Tokyo Eye by Luca Sidro
Luca Sidro is an emerging Italian photographer based in Milan that won the Special Prize at Fotoleggendo 2012 and in 2017 he was recognised by the Magnum Photos Agency with an award for a single image at the RATP Paris competition. This image appears in Tokyo Eye.
Tokyo Eye is a series of photos taken on the streets of Tokyo and the everyday details of the city are illuminated and the beauty within them is revealed here.
Beautifully printed, the colors radiate like a Wong Kar Wai film. The zine is packed with bold lines and wonderful graphic elements. It has given me a new appreciation for little textural details that I just walk by everyday in Tokyo.
You can pick up your copy at: https://wundor-store.myshopify.com/products/tokyo-eye-by-luca-sidro
or https://www.amazon.com/Tokyo-Eye-Luca-Sidro/dp/1999899660
Luca Sidro Instagram
Thanks to all the guests for their submissions, it is a really cool thing to be able to share them all with you. And remember, this is open to everyone, all you need to do is send one to me. If you would like to have your zines or books featured then all you have to do is mail me. Hopefully there will be plenty more of you who want to get your books and zines out there to the world. Another installment will be coming soon.
Thanks
Japancamerahunter