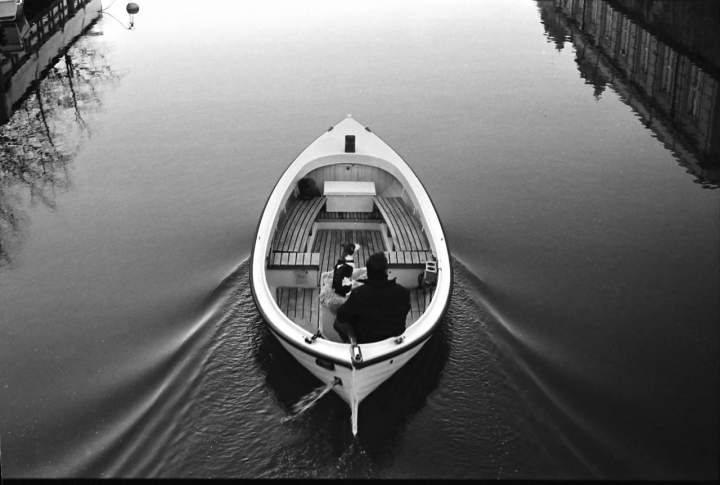 Lessons in Life (or Searching for the Right Rangefinder) by Steve Karsten
Today we have an interesting op-ed. Steve shares with us his journey through all manner of cameras until he found what he was looking for. Let's join him on his search for the right rangefinder.
My name is Steve Karsten.  I am a film photographer currently based in Holland, Michigan – United States.  I love to scour flights.google.com for cheap deals on flights and SHOOT 35mm like a madman when I get there.  Street stuff, portraits, candids, architecture, light & shadow…usual stuff.
I switched to film full-time five years ago.  My last digital camera was the Canon EOS 60D.  I had 35, 50, 85mm primes and a couple off-brand wide angle options.  I was certain I was happy with it.   I wasn't.  I hate post-processing.  I hate trying to get the image trying to look how it did in my eyes when I took the shot. In short,  I like making the decisions before I shoot, rather than after.  So, film.
Since the switch I've shot with dozens of cameras in search of the right fit.  Here are a few standouts (35mm stuff only):
Ricoh GR-1
Canon F1
Voigtlander Vitessa (leuchtturm)
Canon Canonet QL17
Canon A1
Argus C4
Olympus XA, XA2, XA3 – I still shoot these.  The XA2 is my favorite as a secondary camera.  If only carrying one camera and it has to be small go with the XA.
Voigtlander Bessa
And, more than anything else: Contax G1, and G2
What's the point of this list?
To show that I tried.  I tried SO hard.  
The Contax G2 was what broke me.  
Let me explain.  There is no finer camera in the world than the Contax G2, in theory.
Auto-focus, auto film-advance, a meter that is legendarily accurate.
It has absolutely amazing (affordable too!) glass.  I mean knock your socks off good.  Until you've shot with Zeiss, it is kind of hard to explain.  Perfect rendering.  Amazing colors.  Contrast that makes you weep.  Images so sharp and so filled with vibrancy, plus that Zeiss 3D POP! It is hard to argue against.  
The 45mm Planar F2 should be the measuring stick for all normal lenses.  
The 90mm f2.8 is a telephoto dream. Tack sharp wide open, it sings at f8-11.
Some of my favorite travel/landscape shots of all time were taken on the 28mm Biogon f2.8.  Wide as you could want with no distortion, but wait…the 21mm f2.8 is unbelievable.  The finder it comes with makes everything seem better than real life.  The images are so wide and so distortion-free it makes you ill.  How did they do this?  Zeiss magic – no other explanation.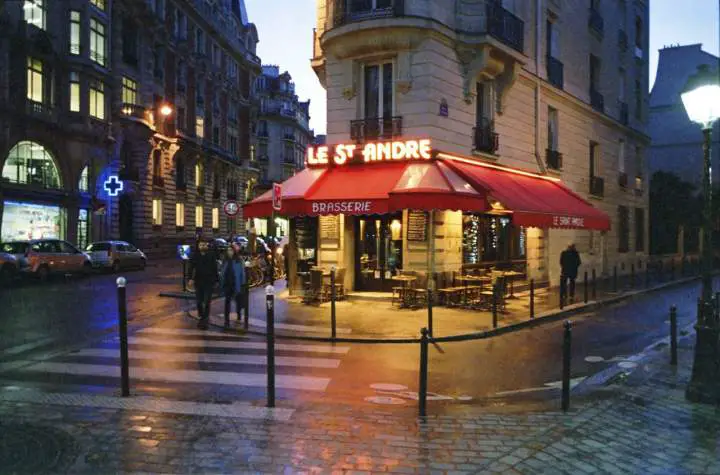 Paris, France  Contax G2  Zeiss Biogon 28mm f2.8  Fuji 400h
Detroit, Michigan  Contax G2  Zeiss Biogon 28mm f2.8 Kodak Ektar
New York City Contax G2 Zeiss Biogon 28mm f2.8 Fuji Neopan 400
If they still serviced Contax G2 bodies, I would probably still be shooting them.
But they aren't.  I tried that too.  One guy said he could, he sat on my camera for 6+ months, and kindly returned it with no charge and no repair after several phone calls complaining about the lack of progress.
That was my 3rd G2 body. Keep in mind that the G1 was what started my contax odyssey.  Four bodies to the scrap heap.
All because I didn't have the cojones to pony up for one thing: a Leica.
The reason I avoided the Red Dot is because I'm a Dutchman, literally. Penny pinching is in my blood.  But, as Ken Rockwell often says, the poor man always pays twice.  Or in this case, thrice.  Contax G2 bodies=500-600.  Leica M2=750-900.  Please don't do the math.  Let me live in shame.  
I had $1500-1800 or more in on Contax G2 bodies and NONE of mine worked.  Eighteen hundred dollars  gets you into super tasty ttl M6s, mint M3s with glass, two user M2's, maybe a user black pain, an M4 plus glass…so many great Leica cameras.  All of which would still be working today.  I tend to learn things the hard way.
All along I was avoiding spending money on Leica, known for it's durability, quality, timeless design, and reliability whilst searching for a camera known for it's durability, quality, timeless design, and reliability.
I now own an M2, M3, and M4.  Also, I kept my Zeiss love affair going strong by picking up the 35mm biogon f2.8 and Sonnar f1.5.
(personal favorite: M2, but that is for another article)
Berlin, Germany  Leica M2  Zeiss Biogon 35mm f2.8  Fuji Velvia 50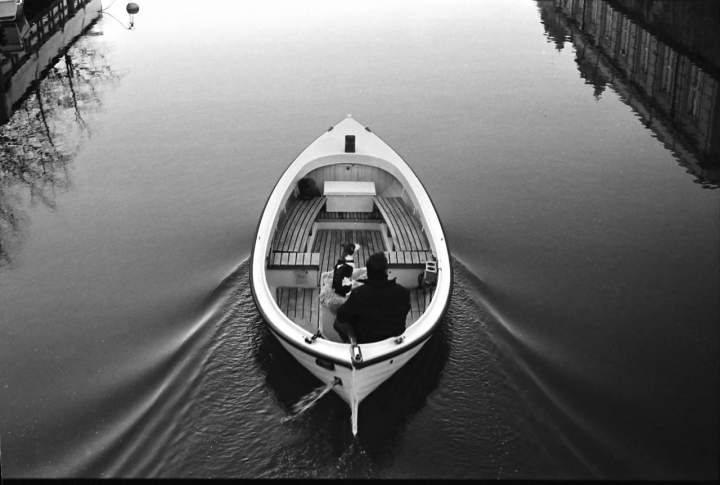 Copenhagen, Denmark  Leica M4 Leica Elmar 5cm f2.8 Kodak Tri-X
Berlin, Germany  Leica M2 Zeiss Biogon 35mm f2.8 Ilford HP5
Moral of the story?  If you have any stigma against the Leica brand, are unsure of the fanboy/collector's culture surrounding the Leica brand, please do your best to get past that.   The aura surrounding Leica M rangefinders is much warranted.  My only regret is not knowing it sooner.  DON'T BE LIKE ME.
www.stevekarstenphotography.com
www.flickr.com/photos/stevedontsurf
Instagram @stevekars @analogberlin
Comment are always welcome. Please keep them civil.