Jesse's Book Review – "Ravens & Red Lipstick: Japanese photography since 1945"
This is the Japanese photography overview I think a lot have been waiting for.. Not quite from Fukase's Ravens, but earlier from Matsumoto Eiichi to Ishiuchi Miyako's photographs of her mother's personal belongings that included red lipstick. I found it rather frustrating in 2011 when I began a personal interest in Japanese photo books that really the only way to sort in chronology required a combination of conversation and reading what English prefaces I could find at the Tokyo Photographic Art Museum piecing together the history book by book. The result of that mostly can be pieced together through my previous books reviews for the site: Araki, Moriyama of course, but the aforementioned Ishiuchi Miyako, Narahara Ikko, Ihee Kimura, Ishimoto Yasuhiro, Hosoe Eikoh, Nakahira Takuma, Tsuchida Hiromi, Kazuo Kitai, and Kawada Kikuji all of whom are featured here. This essentially puts them all in an accessible chronology complete with interviews, summary essays, and 218 high quality photos in a coffee table sized book.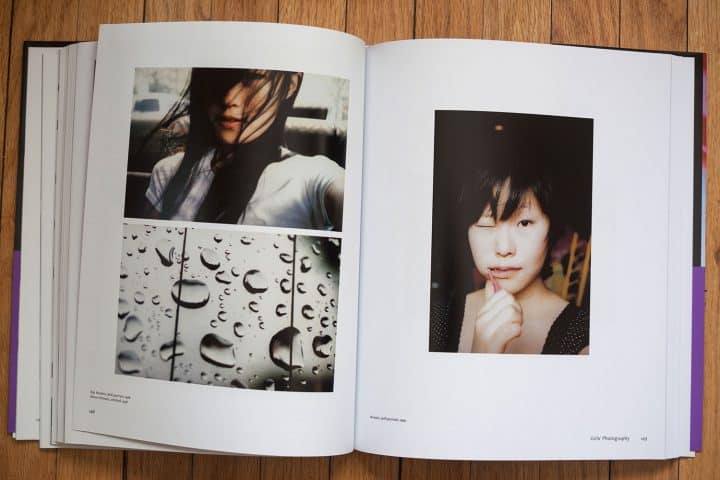 The difficulty from this lies in how to structure and categorize all the photographers and photo movements. Here things were rather blanketed under five chapters: Post-War Trauma, The Image Generation, New Photographic Freedom, Girls' Photography, and Contemporary Japanese Photography. From this one could gather where Vivo or the Provoke groups would lie although for reference would of liked to follow by group or defined periods. The result of this would of allowed for more photographers who don't fit into such criterions to have a place as whole sections of photography are missing as there is a huge gap around the 80s like say where a Seji Kurata would fit, but instead skipped straight to Girls' Photography.
In contemporary it follows most of the conceptual photographers through the various competition winners, but outside of Tokyo Rumando, it skips most gallery photographers from the photo owned galleries in Shinjuku and skipping a lot of others who would be in Zen Foto gallery. With that said this is daunting task for a western undertaking and this is a good start for what surely will follow for more specified books about photo books as the demand will surely arise.

This idea of this reminds me in another medium with Japanese film being introduced to the west by Donald Richie. Where through his work he gave us a criterion: silent beginning with Souls on the Road, to pre-war, post War occupation, Golden age, pre-new wave, new wave and independents to what I would then say ATG going into the 70s, films around Itami Juzo in the 80s, etc. Because there was those initial attempts at categorizing, we now have an approach to where we are flooded with yearly western Kurosawa Akira books proving how interested the west is about these mediums and desire for in-depth understanding. This book helps that. However unlike Richie who wasn't an academic, Fritsch is. Accounting perhaps, for the access to all of these photographers. I loved how she structured the same interview questions making for a fun glimpse into the each photographers approach that allowed a basis of comparison in addition to alleviating misconceptions as was the case with the interviews of Hiromix, Nagashima Yurie, and Ninagawa Mika.
The opposite side of this that made Richie so charming was that he was simply an intellectual who was just there and a result the writing comes off more intimate offering more insight…more of the "if you know you know" knowledge. By no means a criticism, but important to point out how good this is as a start that should bring about more perspectives into Japanese photography as there is a lot of room. And perhaps one based on the chronology of photo books themselves since that is the ultimate goal or statement if you will of most of the photographers thus making it a more viable basis. Also, I think it would benefit the contemporary photography section that again really was made up of competition winners since none of the classic Japanese photographers came from the more academic competition scene but again the independent gallery scenes like Moriyama with Place M…yet good to see their work.

The book is a steal for in and around 50 USD and will give anyone a working knowledge of Japanese photography that perhaps will give more context to more of the independent reviewers and lovers of Japanese photography who write about it…such as myself. I highly recommend it.
Jesse Freeman is a friend, photographer and movie buff. He has a great knowledge of photography books and classic cinema. He can also be relied upon for decent music recommendations.
You can see more of his work and passions at the following places:
https://www.instagram.com/jesselfreeman/
http://www.flickr.com/photos/imnothinginparticular/
Want to read Jesse's other great reviews? Then click here to go to the archives.
JCH