Jesse's book review, On the Road by Daido Moriyama
Jesse has had a little vacation, but now he is back with a great review of a great book. It is particularly hard to do reviews of such well known photographers when they have the weight of many words behind them, but Jesse covers the Moriyama piece wonderfully. Check it out.

"The title sold me." That was my justification for randomly going with this retrospective Daido Moriyama book at Sokyu-Sha photo book store in Shinjuku. All Moriyama books at Sokyu-Sha are signed which was certainly an incentive in addition to having extra cash for a change. Obviously this isn't the most coveted book by the photographer, his Bye Bye Photography (I will buy the reissueJ), Nagisa, and his Northern series should be much more desirable. Along with his recent New York series, this retrospective also carries a literary reference. On the Road was the name of the 1950s American road novel by Jack Kerouac (who did the introduction for Robert Frank's The Americans) and Another Country for his New York series based on the James Baldwin bohemian novel.  It is with this I decided on On the Road since it has some of my favorite Moriyama photos including Stray Dog. Both of the novels were said to be a great influence on Moriyama in his youth.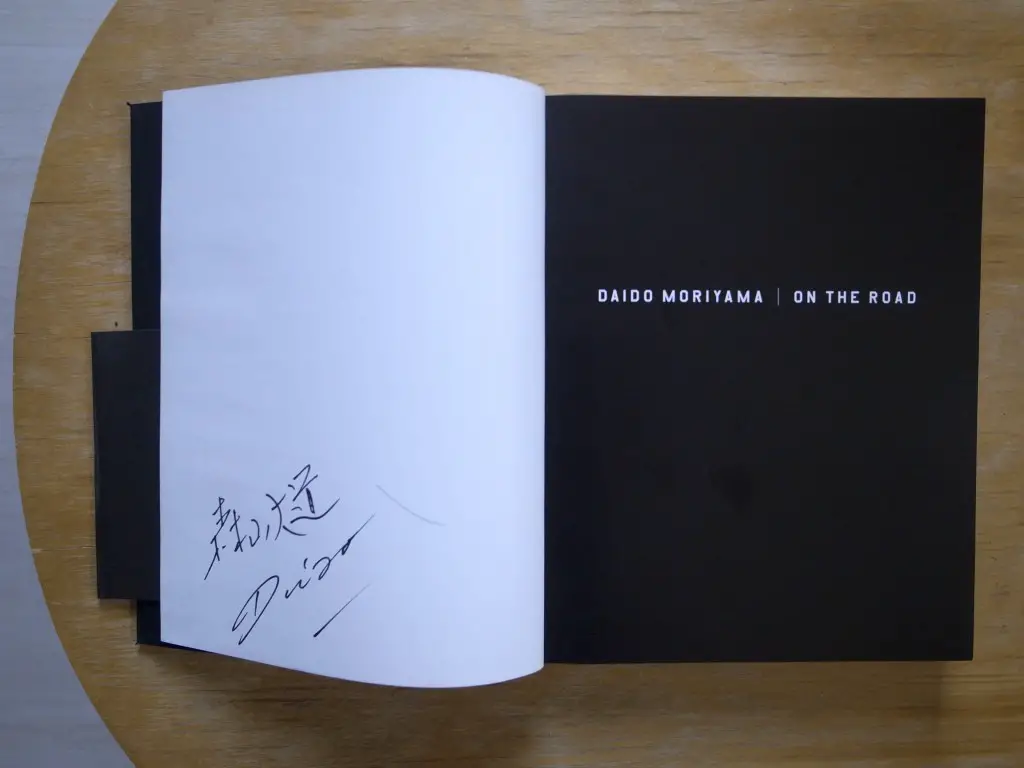 I was always had a certain sentimentality with Moriyama. My first camera I learned photography on was the Ricoh GR1s by chance and my friend informed me that there was this Japanese photographer who walks around Shinjuku with one and that I should check him out. In this sense, he was the first photographer I really looked at it. With most it is a love or hate relationship with Moriyama, however mine is much more that of respect. What he did in the 60s with Provoke magazine changed the face of Japanese photography going into the 70s. Solidifying his style by the late 60s, his photos can be characterized as high contrast black and white, a lot of grain, under/over exposure, accidental framing, angular tilts, and are often blurry. In Japan this essentially challenged conventional constraints and views of photography as something more than a mere recording device. And he did it all with the bare essentials as far as photography goes. What comes out of it is essentially the everyday, just captured in a more expressionistic almost hallucinatory manner.
It is here I present On the Road. It was essentially the accompanying book of his 2011 retrospective exhibition in Osaka. More often than not these types of books have no collector's value, however they are once in a while edited well enough to read out as a visual biography of the artist's progressions and this is a great example. It serves as an introduction to the progression of Moriyama's oeuvre that could serve as a guide into which periods or books you would want to go for. Certainly by more directly challenging the conventions of photography I subjectively enjoyed Bye Bye Photography the best, but to each his own taste. I think for what he is commonly known for and what people who buy a GR1 would go for is his Shinjuku series that seems to host the rawest form of street photography…pre-flash.  But the beauty with this book is being able to understand what periods of Moriyama best suit your tastes.
This is important. I think a photographer's ultimate goal was always an exhibition. Think this has been devalued through the internet and what is more often than not sought after in the individual shot than some sort of collective series of photos. Moriyama I always found striking, as with the case of a lot of Japanese photographers, that the end game was a book or published media if you will. Like his beginning 60s contemporary Araki, their end game has always been published media; proof is in their themes and presentations that are so well put together.  His staunchness in this effort is even more remarkable when one looks at his own self published magazine Record that is released four times a year here in Japan.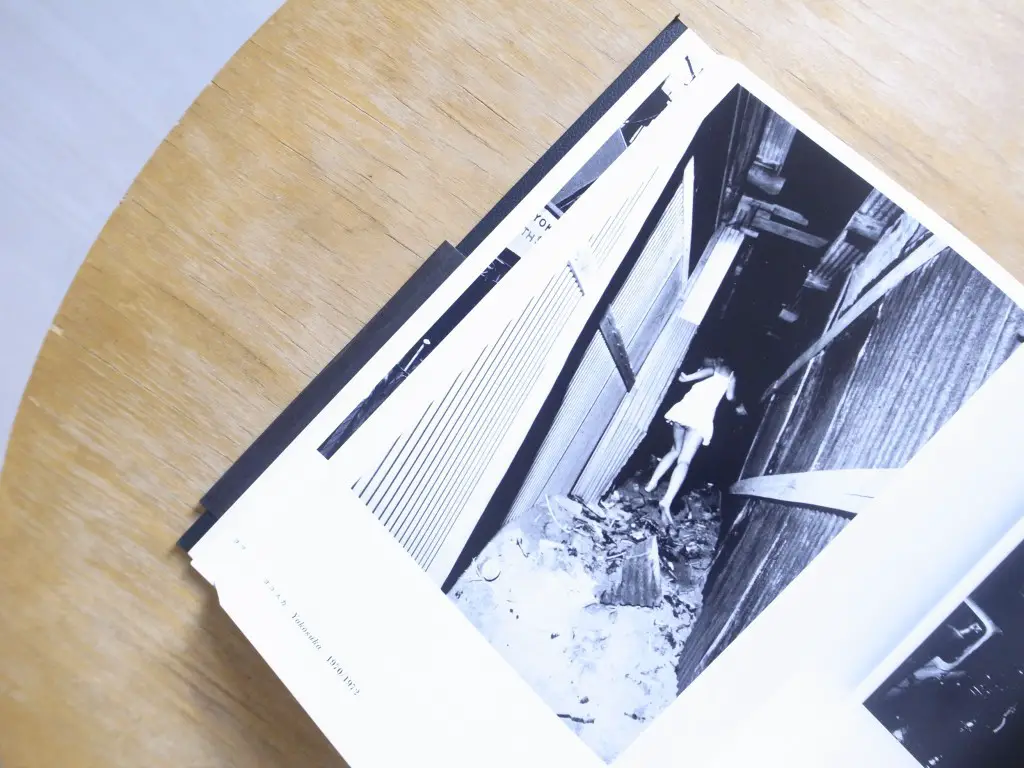 While writing this review I was talking with my friend on Moriyama. He asked me if he is hard to write about it, and I said not if you look at his overall work in a particular set. I think in the west with say for instance Josef Koudelka, his book is made of great individual shots. Moriyama's work should always be viewed as a whole where each photo is a piece of a masterful puzzle.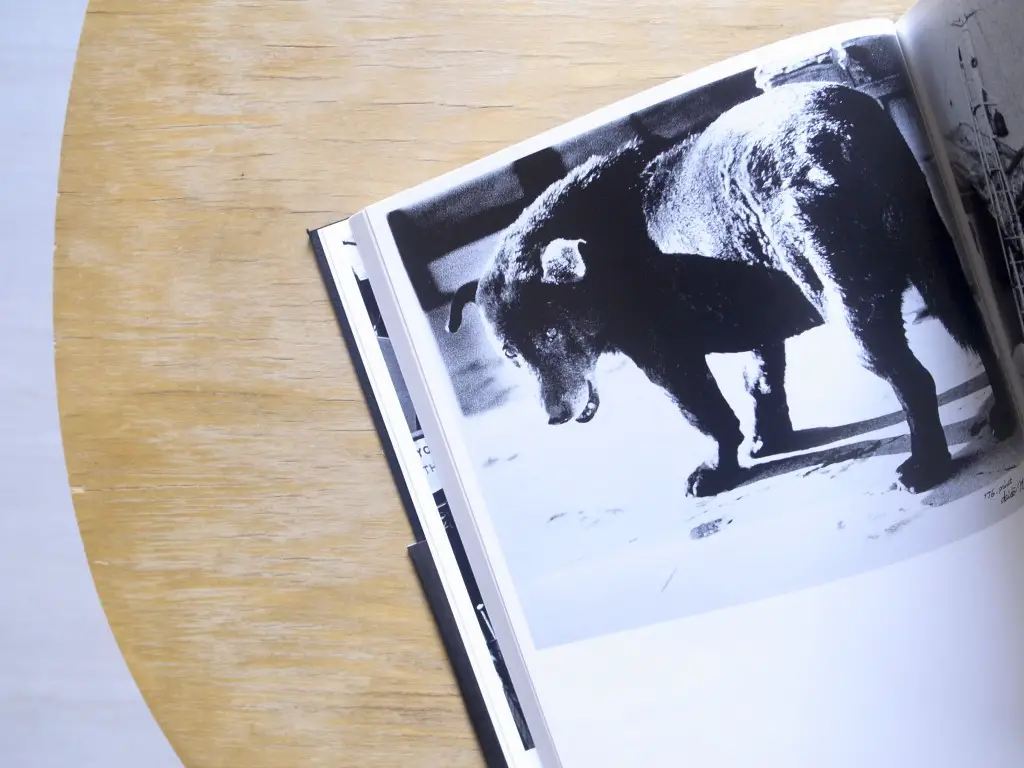 However to contradict this sentiment, I want to focus on the individual photo of the Stray Dog. The story goes that he was on a photography assignment in Northern Japan and just came out of the hotel and came across this dog and took the shot. Thinking nothing of it, he later in the darkroom discovered this dog's expression. It is a stray dog and in Japan to be a stray i.e. outside of group does not have the cool conations as in the west…in Japan an outsider is just that, nothing more and does nothing but accept it in a mono no aware sense. This dog embodies the sentiment not only in its expression but its body language. The vantage point is significant as it is at eye level with us or in other words equal to us.  Anyone who sees this photo can relate because it represents the sort of loneliness of the human condition. Dogs are the only thing in this world that will love you unconditionally which in itself is a lonely sentiment and yet that is exactly what the dog represents. But it is hardly sentimental as it is defiant. There is a feeling in the eyes, its slightly hunched back, and stocky build like a boxer past his prime that one who had to struggle for anything can just simply relate to. It is truly an underdog and simply one of my favorite photos of all time.
His influence is undeniable, gear wise just ask Bellamy how hard it can be to source a Ricoh GR1 and the price difference in the camera that he made so popular and has skyrocketed since his exhibition at the Tate Modern (though he can get you one!). This book is easily obtainable from Amazon for about 35-45 USD and serves as a great introduction into Moriyama's art.
BTW the photos posted with this write up were taken with a Ricoh GRD, a Moriyama influence :)
Jesse Freeman is a friend, photographer and movie buff. He has a great knowledge of photography books and classic cinema. He can also be relied upon for decent music recommendations.
You can more of his work and passions at the following places:
http://jessefreemanportfolio.tumblr.com/
http://www.flickr.com/photos/imnothinginparticular/
http://imnothinginparticular.tumblr.com/
Thanks Jesse, you have done it again. Now I am going to have to go and get myself a copy of this one too. You are killing me.
Japancamerahunter