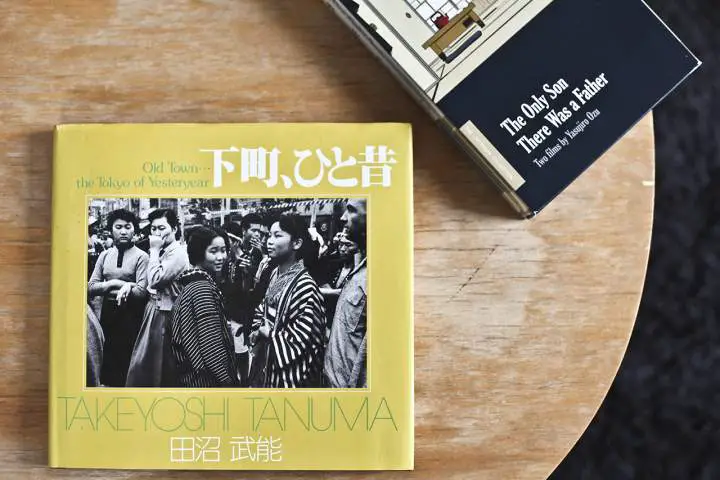 Jesse's book review, Old Town by Takeyoshi Tanuma
Jesse is back! After a nice little break, Jesse has been busy pounding the reviews and has sent a series of wonderful pieces which I shall share over the coming weeks. You want to learn more about Japanese photography? Then read a few of these reviews.
Continuing in reviews of this amazing book series of Japanese photographers that I have previously covered with Fukase and Watanabe, I recently picked up Old Town…the Tokyo of Yesteryear by Takeyoshi Tanuma. This is easily one of the better early Showa period (1926-1989) photo books I have flipped through, that unlike some of the others that proved to be a better historical document than art this one holds up. Yet its importance as a historical document can't be denied as the photos are all taking in what is described as Shitamachi (literally translating to downtown) which is the older eastern part of Tokyo primarily the merchants area during the Edo period.
Much of its timelessness had remained despite the 1923 earthquake, 1945 firebombing, and post war reconstruction. This book holds the unique perspective of being shot by a major photographer who is actually from the area. Today this area is still makes up the oldest area of Tokyo and personally for me is the most rewarding to shoot. Read a recent report saying it is the most dangerous area in Tokyo, not because of crime but because of its old construction that makes it extremely susceptible to natural disasters. Also, with the Olympics coming don't see it lasting too much longer.
The book is made up of about 100 photos from what is stated as 12 to 31 years ago (it was published in 1980). This time line and location roughly parallels, the period of the great Japanese filmmaker Ozu Yasujiro. I remember hearing in a documentary that came with one of his films, that Ozu loved location scouting in the same area of East Tokyo with his Leica because of its authentic timelessness and although not with the same aesthetic of Ozu, Takeyoshi's photos resemble a lot of the scenes of his films.
You can see it in the photo above with the exact same eye sign that also appears in Ozu's 1957 Tokyo Twilight or the photo below with the smoke stacks that are in a lot of films but closely resembles the ones in the 1936 feature The Only Son. There are a few scenes of movie houses and film posters cover the walls of a lot of his photos' backgrounds.
The book's afterward describes the photographer as the Japanese Henri Cartier-Bresson and while the photo below certainly resembles a HCB photo his body of work here comes of much more cinematic. Due in part not only to the atmosphere, but the careful composition and moments he captures that feel a lot less like fleeting everyday moments but like evolving personal stories. Really curious to see more of his work to try to get an idea where such a comparison would be made, although later in the book you do get hints with two or three more compositional minded, decisive moment shots.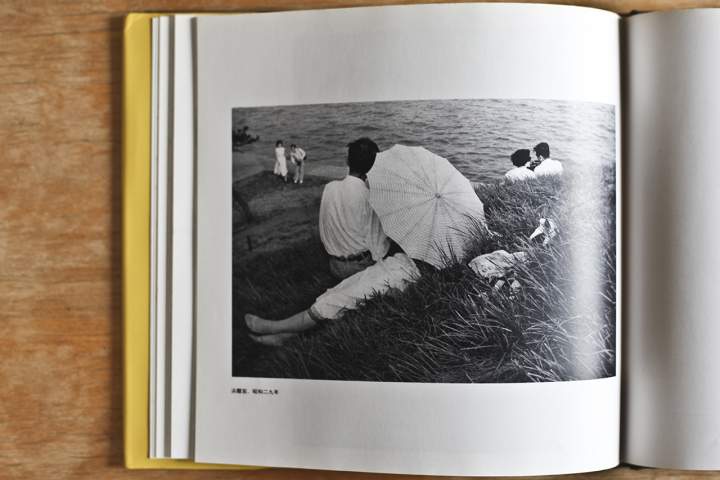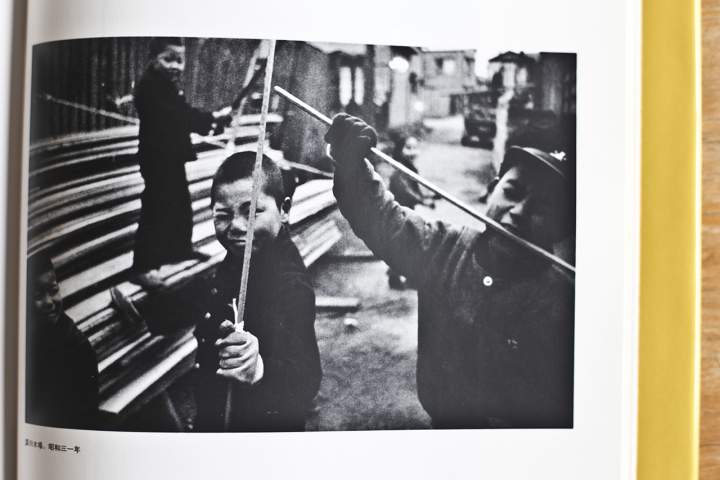 I like towards the end of the book the attention paid to the youth in the area. A lot like Gocho Shigeo, there is a bit of a preoccupation with children which as in that review I say you don't see a lot of anymore today because of the times and privacy concerns. There is a pair of photos I like in particular where a group of boys are playing with sticks. The photos are taking from various perspectives, the first of which is more observational at a distance. The composition incorporates the atmosphere where there is a vanishing point and the fence along to it that sees other kids looking on. The vanishing point is partly covered by a boy jumping into it thrusting his sword out giving the photo its sense of movement.
As always with these group shots I like how there is one child off to the left making eye contact with the camera giving the photo its tension. This is then offset with a considerably closer shot that now engages the kids as they are reacting entirely to the camera. This was of the moment one would gather since in comparison to the other photo, this photo is slightly underexposed. Two boys in the middle are holding their sticks toward the camera which create sold lines that break up the photo into three sections with the main boy's stick cutting the frame in half. I like the cinematic effect these two photos give having a long shot and then medium close. Too often I see a person shooting a scene from the same distance which is fine but unnecessary unless you offer us multiple perspectives which then give two different feelings.
Got lucky with this and picked it up from a photographer at the Totem Pole Gallery garage sale for ten bucks. Wanted to pick up a few more but ran out cash from buying the Arimoto prints on sale…needless to say I spent a lot of money. With this series, there are some serious collectors books and some other that can be had for as little as five bucks. This book falls more toward cheaper side, yet the quality of photos are on par with some of the best in the series…making it a steal.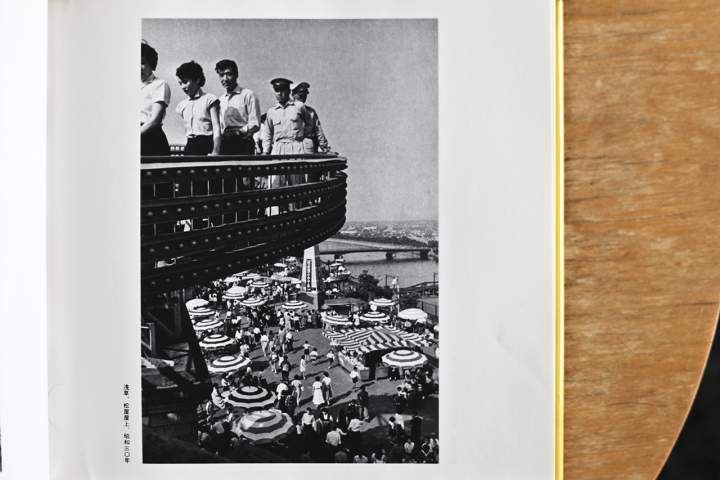 Thanks for this brilliant little gem. I love seeing these, the books that many would just walk past. Looking forward to the next ones.
Jesse Freeman is a friend, photographer and movie buff. He has a great knowledge of photography books and classic cinema. He can also be relied upon for decent music recommendations.
You can more of his work and passions at the following places:
http://instagram.com/NOTHINGINPARTICULAR
http://www.flickr.com/photos/imnothinginparticular/
http://imnothinginparticular.tumblr.com/
Want to read Jesse's other great reviews? Then click here to go to the archives.
JCH