Jesse's Book Review – I love Boras by Lars Tunbjörk
There was a pivotal shift in Swedish society when Prime Minister Olof Palme was assassinated in front of his home in February 1986. The goals of the Swedish Welfare State in creating a paradise of equality on earth where everyone has the same possibilities, rights, and obligations became dismantled that night in 86'.
No one captured this shift more than Lars Tunbjörk with his "medium format color daylight flash snapshot absurdity" depicting satirical empathetic images of a people who have made consumption their main goal in life. Here is one of his books depicting just this in I LOVE BORÅS.
The "medium format color daylight flash snapshot absurdity" adjective filled description of Tunbjörk could easily be ascribed to another 80s photographer just south of Sweden in Martin Parr. With the progression of color photography the choice of color seemed relevant to the times and their depictions reflect similar political landscapes of the 80s that could really only be seen as a natural reaction to the times. And in getting comparisons out of the way in terms of humor fellow countryman, Roy Anderson, captured the same sentiment in cinema.
Aesthetically, with the latter, desaturation and tighter compositions were a point of difference, but they share in common their portrayal of existential impotence that again to me should be viewed as a natural reaction to the times.
Tunbjörk is just good! In the canon of Swedish photography I could only place Christer Strömholm higher, especially in consideration of influence with the Fotoskolan academy he co-founded in 1962 that would really set in place Tunbjörk's generation of photographers.
And again going back to the times, Strömholm was the classic black and white photographer of the post war generation, while Tunbjörk was the new generation that utilized the improvements in color photography from the 70s on. But beyond that both were distinctively Swedish in their approach to their subject.
Composition
With 161 images, I LOVE BORÅS was aptly named after his hometown and shot between 1988-1995. The book however wasn't published until 2006.
It mostly consists of ordinary Swedish life, i.e supermarkets, small town streets, gas stations, landscapes, parties, etc. Shot during the economic recession of the early 1990s, the worst the country has faced since the 1930s and with that there is this dark almost manic view he takes that really could be generalized as westernization as a whole.
But photographically, this is all expressed. Compositions are usually off-centered, if not rushed. The colors really pop out of course, but the compositions!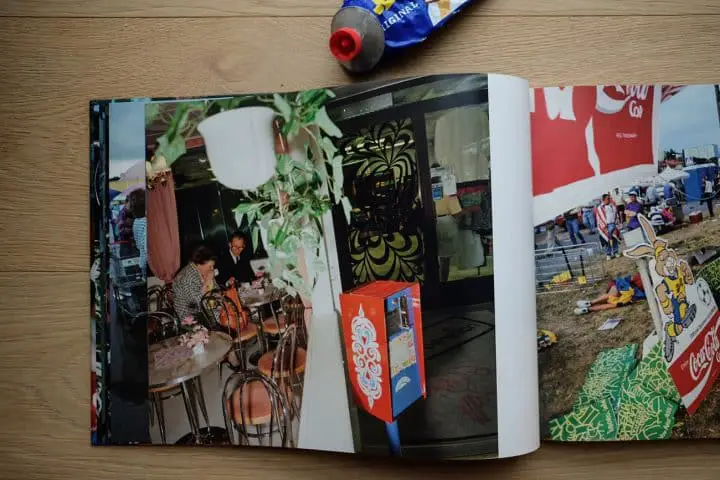 Color is incorporated into each photo as a Godard film with primary colors featured in almost every shot suggesting a plasticity to it all. Because often his compositions are strangely over composed when not loose in a snapshot style…this notion of everyday surrealism comes about. Triangles, squares, circles all hint to this uniformity of a national impotence stemming from 86'.
One thing I could point out the editing could of been tighter. Most of the photos are just as they  are shot; chaotically put together. For such random everyday photos I expected editing more akin to an Egglesteon or Kawauchi. I kept wanting to see more random juxtapositions that work together, but aside from perhaps a handful occurrences out of the 80 some odd pairs of photos…there really weren't any.
Which I guess harps back to the point I always make in past reviews about Japanese photo books in that most Japanese photographers shoot with a book in mind so there is an atmosphere and flow to the images. Western photographers almost seemingly take great photos and just give contact sheets to an editor for a book layout who in turn works with a set amount a pages in mind and narrows the best work accordingly.
With that said this is a Steidl book…the book cover and presentation are suitable…just felt there could be more play with the editing to suit a book layout.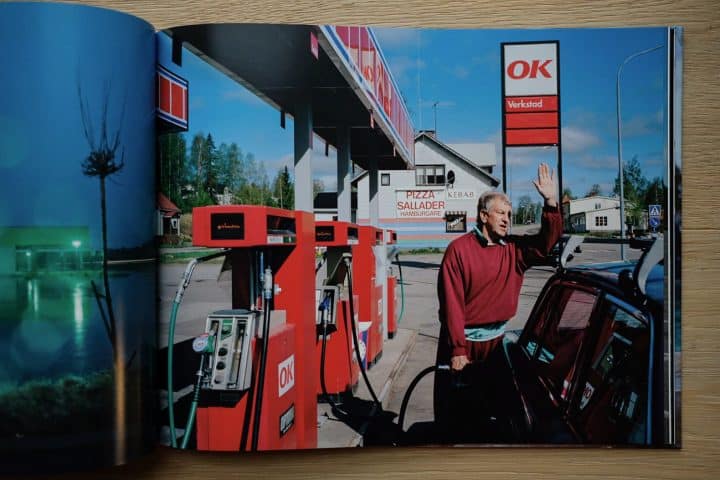 And with that, everyone should own at least one Lars Tunbjörk book! I haven't seen all of his books, but attended his retrospective at Fotografiska, so it is hard for me to recommend one in particular. His retrospective is perhaps the most purchased and all encompassing as he did pass away in 2015.
I think the most concise would be L.A. Office coming off of shooting the post-bubble economy offices of Japan. But either way if you come across one in a used bookstore just get it…this one can be purchased from most book retailers, although the prices are going up, yet for under a 100 USD.
Jesse Freeman is a friend, photographer and movie buff. He has a great knowledge of photography books and classic cinema. He can also be relied upon for decent music recommendations.
You can see more of his work and passions at the following places:
https://www.instagram.com/jesselfreeman/
http://www.flickr.com/photos/imnothinginparticular/
Want to read Jesse's other great reviews? Then click here to go to the archives.
JCH