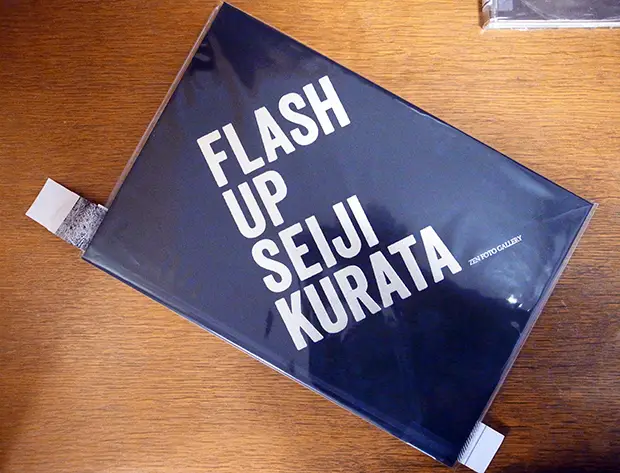 Jesse's book review, Flash Up by Seiji Kurata
They keep on coming thick and fast. Jesse shares with us a seriously raw Japanese street photography book. Come and check this one out. Some images may be considered NSFW.

Think this will be one a lot will like and unfortunately won't be able to purchase as it is limited to 750 copies. As the title suggests it is shot entirely at night by flash in the 1970s. The majority of the photos take place in my old home of Ikebukuro, Japan's second busiest station 7 minutes up the Yamanote line from Shinjuku. At the time of the book till about the early 90s it was considered the most dangerous area in Tokyo and all of once in my 5 years of living there was there a shooting. Coming from Baltimore, I found it quite tame and a blessing to be an area that gets one shooting every 5 years, but hey it's Japan. However, looking through Seji Kurata's work I can see where the reputation has come from as the 1970s was quite a different time. When people think of raw flash street photographer in Tokyo the only place that really offers anywhere near this level of feel is in Kabukicho Shinjuku, and I have seen it down so many times I can tell you exact locations, so for me it was interesting to see these types of photos outside of Shinjuku.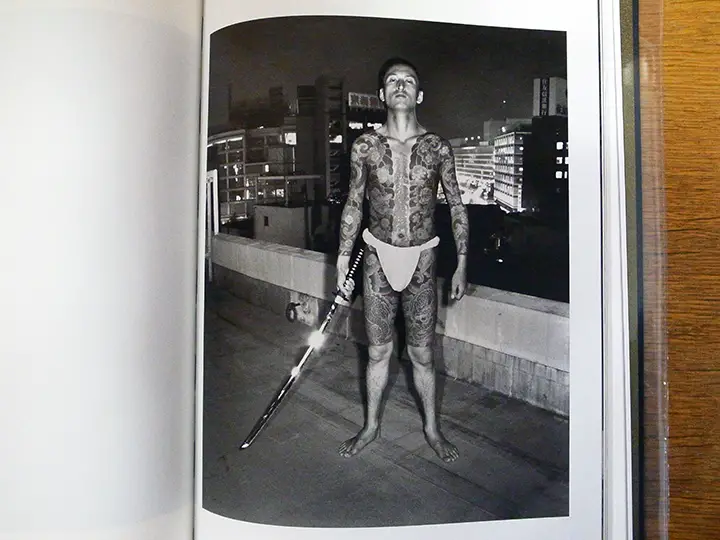 There really is nothing beautiful in this book except its honesty. Each photo is accompanied with a short description and in the back there are a few journal style articles that one can assume were written at the time by Kurata himself. The first of which muses on a portrait of a gang member and how he was told he would be paid in three days time and after four days is greeted by what he presumed to be a boss who grabs his camera and rips out his film…and of course doesn't pay him. It is the stories that give the photos a context that the authenticity of the photo already describes…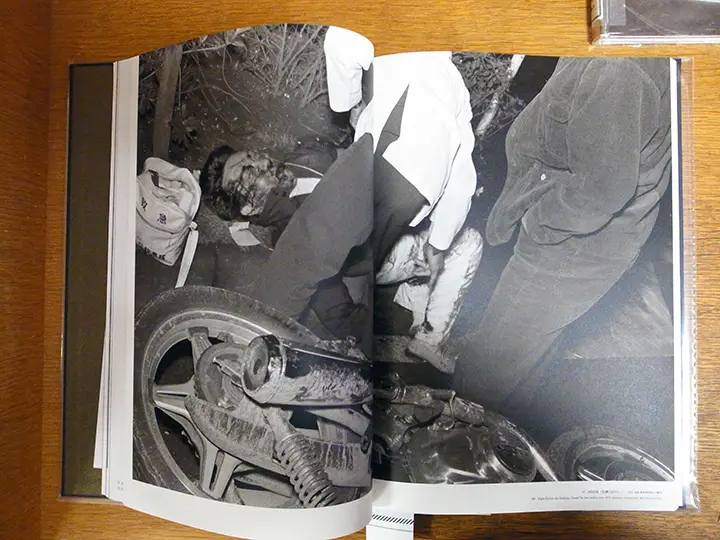 Take for instance the photo above; aesthetically it is in the vein of Wegee as it is a real photo taken at a crime scene, though reading the information in the back of the book, Kurata was not welcomed by the police and really had no access to police scenes but just happened to be in the right place at the right time. What is depicted is the result of a police chase that ended with the man on the motorbike crashing as he was chased by two cops one on motorbike and the other in a Mazda Rotary coupe (though not mentioned would more than likely be an RX-7, I really love those cars). These photos are raw. There is another I particularly liked of a Skyline GT-R that jumped a curb and crashed on to this woman's doorstep of whom looks on perturbed (below). The composition of the photo is quite sound with only the front of the car on the left and the circular road sign underneath and rectangular plastic awnings jutting out. There is a bike on the right side and if you can imagine as in a Fibonacci spiral there is the woman in the top right quadrant of the photo, i.e. the eye of the spiral.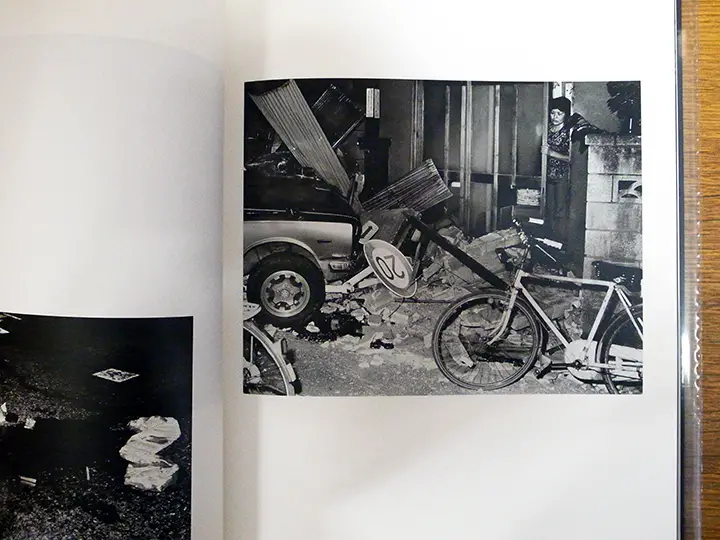 This corresponds perfectly with the 70s and the late 60s with the media and viewers' obsession with car crashes. At the time, crashes were shown on TV unedited for everyone to see. Andy Warhol made a series of screen prints playing to this obsession and the writer J.G. Ballard philosophized about them in his novels Crash and Atrocity Exhibition. It stimulated the viewer in the same manner that porn does. This book here, though not consciously combines the two perfectly. Most photos are taken during and after altercations and accidents focusing on the raw violence. This is juxtaposed with shots taken in "Snack Bars" which can offer sex as a lot of the photos that come later in the book depict.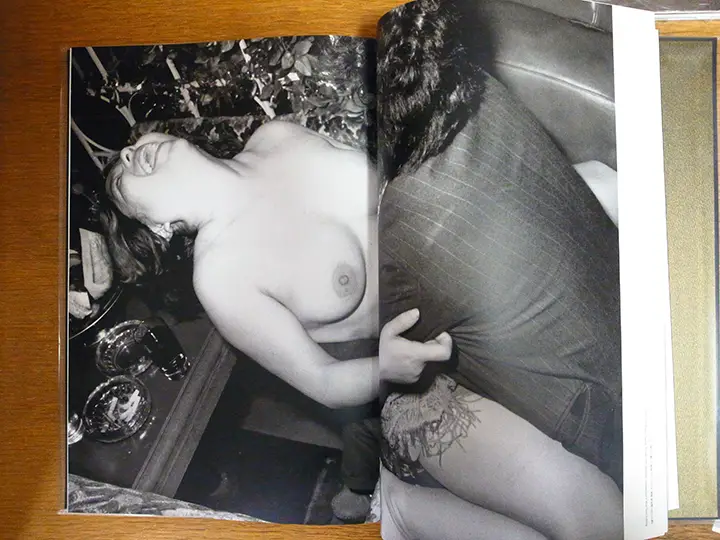 Flash Up was the artist's debut into the photography world coming out in originally in 1980. Because the information is given (and people on the site like this) he primarily shot this with an Asahi Pentax 6×7 and a Nikon F2 with three lenses on each 28, 35, and 50mm and the equivalent on medium format. He shot in Tri-X and Neopan 400 (soon to be discontinued). As stated before, his books are pretty hard to find, but certainly possible. This one in particular was even quite expensive when it came out. Good luck!
P.S. The library's copy was signed!
Jesse Freeman is a friend, photographer and movie buff. He has a great knowledge of photography books and classic cinema. He can also be relied upon for decent music recommendations.
You can more of his work and passions at the following places:
http://jessefreemanportfolio.tumblr.com/
http://www.flickr.com/photos/imnothinginparticular/
http://imnothinginparticular.tumblr.com/
Thanks for this one Jesse. Really cool. I have seen this book before but I din't realise it was that limited. I should have bought it.
Thanks
JCH