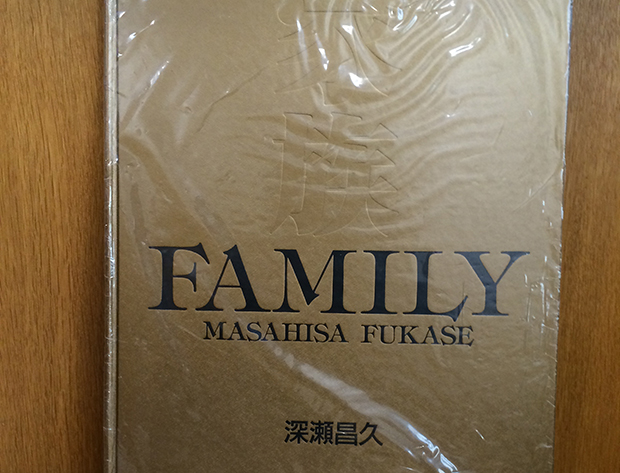 Jesse's book review, Family by Masahisa Fukase
Your chance to learn about the great work of a true master Japanese photographer. Jesse is back with another excellent review of a quirky yet brilliant book. Please not, in some places this may be considered a little bit Not Safe For Work.

The Fukases were photographers and had a photo studio that lasted for three generations ending with Masahisa himself. Family opens up with a photo of this very studio and the next 31 images are family portraits taken inside of that studio. It comes off simple enough and I think compared to Solitude of the Ravens or Yohko this is often overlooked.
I flipped through it and saw some quirks that were interesting and wondered what I could say about it off my initial impressions. Around that time Nuno Moreira walked into the library as we were going to the photo exhibition/book release party for Carson Lancaster's uncle called La Arizona Maravilla (review coming soon). He flipped through Family and I looked over it with him and gave some half assed interpretations that suddenly grew more honest with each page. By the end of it, a half hour had passed and we were just both in awe. Here is why…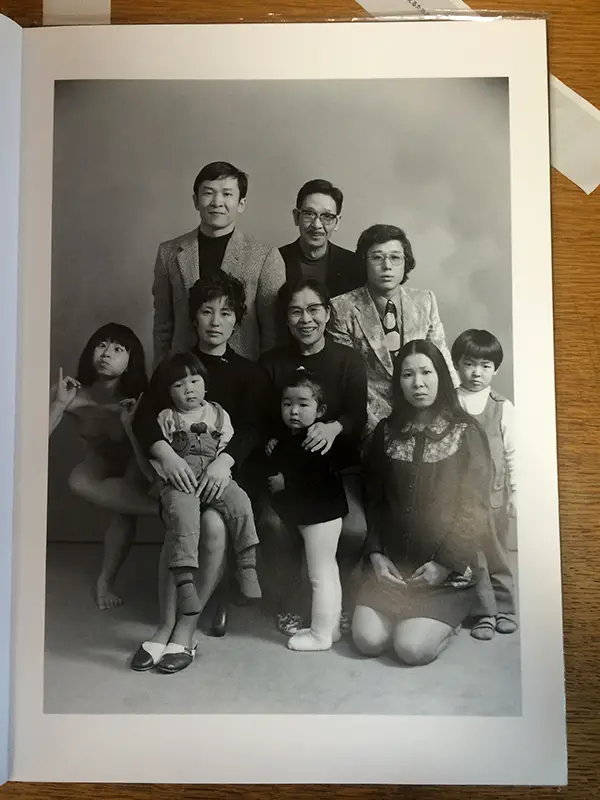 The images are taken in chronological order. The first image includes his family and off to the side is his wife Yohko topless. The next photo shows her with her back turned while the rest of the family is still looking forward, then vice versa, and finally everyone with their backs turned. The idea of having everyone posing traditionally yet with their backs to the camera matches the perversion of having his wife topless. Next we get a new set of family portraits where everyone is a little older and fashion and hairstyles have changed. Gone is Yohko as she is instead replaced by a random nude model that stands in right where Yohko was.
And yet in another session we see we are into the 70s judging from his brother's more flamboyant style. His sister who always takes the same bad picture with her forehead scrunched is now pregnant and there is a new nude model standing in for Yohko. As we get used to this, the model goes into a quirky pose on the next page while everyone remains oblivious.
Next we get portraits of his father and mother and after that I think most won't catch it but it is a portrait of two men in their underwear. The one on the right is the same as before his father yet the young man on the left is Masahisa himself. The photo serves to give the resemblance of father and son, yet the next photos contradict this in depicting the father with a nude model then Masahisa with the nude model.
Time passes and his sister has now had her child and there is a new nude model in the family portrait. We get more traditional single portraits of his father, mother, and himself. Everyone is older, the kids have grown up more, styles have changed, their weight has fluctuated, and hair has either become grayer or has thinned. This is their lives advancing with each turn of the page.
In comes a new family portrait with a new nude, yet something is different. His sister's young child died as she is no longer in the photo but instead her mother holds a picture of her. She has lost a lot of weight that we can gather from the grief she must have gone through. The father as well appears borderline senile and the other kids have grown. As if by premonition everyone turns their back except the model, the father, and the portrait of the deceased daughter and after another self portrait of father and son that clearly shows the passage of time..he is dead as well. Everyone wears black yet some are happy.
It is all quite offsetting and shocking at once. His sister has aged considerably still holding the picture of her deceased daughter and Masahisa himself is looking like his father in the first portraits. Yohko has left him by this time and you can see the severity in his face coupled with alcoholism. The kids have all grown up and one wears a wedding ring. This is the carnation of life that is capped in circular fashion as it began with a final photo of the shop or rather the remains. This is visual story of the photographer's family.
The book is abnormally large in size and features an extensive autobiography written by Masahisa himself. In all there are 34 largely printed photos. Can't recommend this enough, because every time you go back to it you notice certain things or focus on a certain family member in particular and almost subconsciously start making up their stories. Yet these are all from something as commercial as studio family portraits, we all have them and see them in others houses. It isn't something we would mix in with art…yet he did. Very difficult to find, So Books has a copy for 85,000 yen.
http://www.book-oga.com/wimages/family.html
Jesse Freeman is a friend, photographer and movie buff. He has a great knowledge of photography books and classic cinema. He can also be relied upon for decent music recommendations.
You can more of his work and passions at the following places:
http://jessefreemanportfolio.tumblr.com/
http://www.flickr.com/photos/imnothinginparticular/
http://imnothinginparticular.tumblr.com/
Want to read Jesse's other great reviews? Then click here to go to the archives.
This one is really inspiring, I just wish his books were not so expensive. I would love a copy of Ravens.
JCH