Jesse's book review, Drawing A Line by Wataru Yamamoto
This week Jesse shares with us a very Japanese photobook that draws your eye and gives you pause for thought. Come and check out this great review.

More often than not the demands we make on artists are not only absurd in their hypocrisy, but just ridiculously subjective. We say to them: be like this, no be like that, your old stuff was better, give us something new, be creative, this is a gimmick, etc. Only a very few say to an artist, create something beautiful in a way that best suits you according to your own artistic temperament. It is challenging to truly understand this. So with this review I present a challenge offered to us by photographer Wataru Yamamoto through his first book Drawing a Line.
The premise is simple. He got a large format camera, a lot of string, went out in the woods, and took black and white self portraits. There you have it… that is what the photo book is! It is easy to call it a gimmick and dismiss it. In this light it is easy to dismiss bebop or Ingmar Bergman as didactic…and most do. Wataru doesn't offer something for everybody instead goes off (symbolically) where no one is in the woods and brings back something beautiful that falls in line with his own artistic temperament. This is a personal photo book not to be confused with a private one. He did it for himself and really the best artists always do. He simply asks us to follow his lines…
The book itself contains 19 photos. There is an interesting publisher's note in both English and Japanese at the beginning, a short biography on the photographer in the back, and three paragraphs in Wataru's own words on the process and inspiration of this project. In it he expresses a wish to be one with a nature, a sentiment taken quite literally. Among the 19 photos there are essentially three points of interest. The first point is a bit obvious in the way the photos play out like Where's Waldo, leaving us scouring the lush large format depths of the forest from page to page asking where's Wataru. A lot of the pleasure of this book stems through this as at times he is closer to us while at other times he is further. He can be seen quite clear in a few of the photographs and in other he is almost one with nature. This leads me to the second point of interest and that is the white line. The flow of which more often than not is straight, but often it will zigzag itself through the compositions. The white contrasted against the black tones of the forest are the first thing to draw the eye as a literal leading line.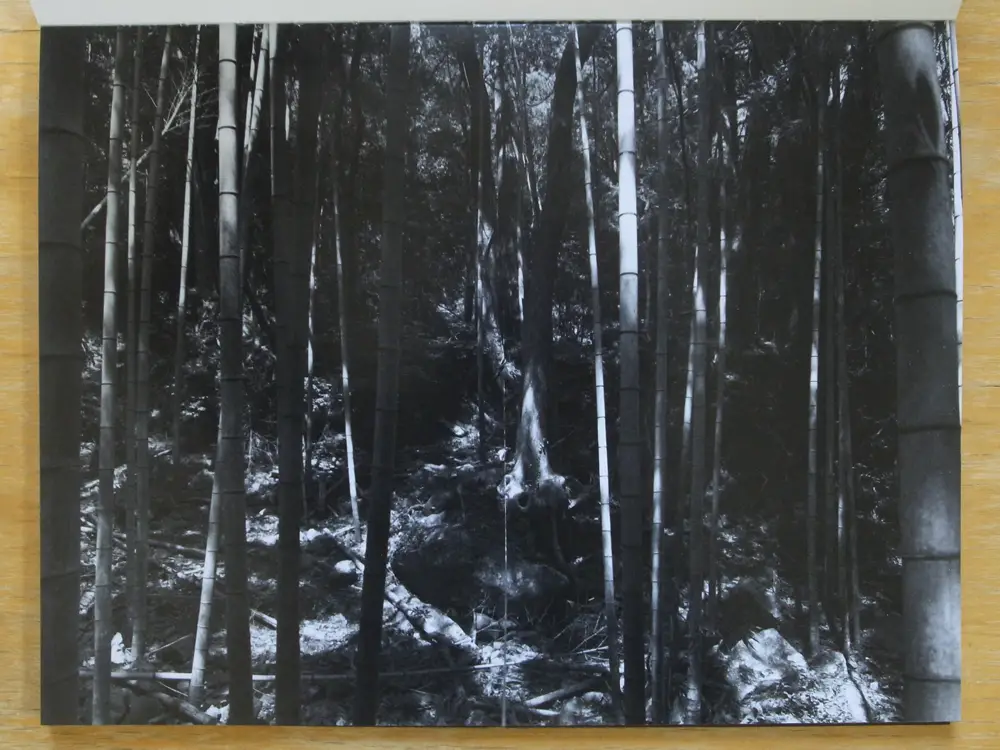 Initially when I came across the book, the image of the white lines came off disturbing to me. There is a forest here in Japan at the base of Mount Fuji called Aokigahara. It is known as the suicide forest having over 100 a year. Many of the suicide victims had reservation about the act and in doing so left lines of plastic tape so as not to get lost (also due to the forests own density) or more grim to guide the annual volunteers to easily find their corpse, when a yearly sweep of the forest is done to clear out the dead bodies. I couldn't help but recall this as I followed Wataru's lines…
The third point of interest is in the forest its self and compositions that Wataru selects. Using large format is almost necessary as the details of the forest are exacting. The book is quite large in size attributing to this fact. Settings for the most part are seemingly chosen at random points in the forest while pleasant variations include sections with only bamboo, a river, and a hillside. Often the bamboo's rigid symmetry compliments Wataru's line, or in other instances broken down trees assist as leading lines to the photographer. In this case not only does drawing a line refer to the shutter release, but the natural lines of nature that Wataru is possibly eluding us to.
A quick Google search and this book can be found through independent Japanese book stores for about
30 USD. There are only 500 editions, published through up and coming publisher MCV MCV. If you are in Tokyo, I recommend picking it up at So Books in Yoyogi Hachiman, just outside of Shinjuku. All editions there will be autographed, and So Books is really just a delight. The owner speaks enough English and every time I go there topics of conversation will range from jazz and Fukase, to Le Corbusier and Tom Ford. They carry extremely rare photo books and for those who have further interests fashion, architecture, and design books as well. Check the link below.
Well love it or hate it this is Drawing a Line. I look forward over the next few reviews to cover local Tokyo photographers of whom I feel will be a pleasure to expose to all of you outside of Japan. Thank you for reading.
Jesse Freeman is a friend, photographer and movie buff. He has a great knowledge of photography books and classic cinema. He can also be relied upon for decent music recommendations.
You can more of his work and passions at the following places:
http://jessefreemanportfolio.tumblr.com/
http://www.flickr.com/photos/imnothinginparticular/
http://imnothinginparticular.tumblr.com/
Many thanks Jesse, another brilliant and thoughtful review. thanks for sharing it with us Jesse.
Japancamerahunter