Inspired Eye Digital Magazine Vol: 14
A new issue of Inspired Eye has hit the digital shelves. If you have not got one yet, grab one now, you won't regret it.

Inspired Eye Photography magazine exists to showcase the work of the community, to learn, to teach, to inspire and to be inspired from it.
An eclectic mix of photography is in the 14th issue of Inspired Eye. To kick things off we have Francois Nadeau from Canada who loves cityscapes and street photography. Markus Lehr does beautiful urban landscapes at night and Dark Meyer has some gritty work from Asia. There's also two radical Visions of the same country: Burma. Ross Kennedy offers us a more colorful look while Chris Leskovesk has a more BW Street take.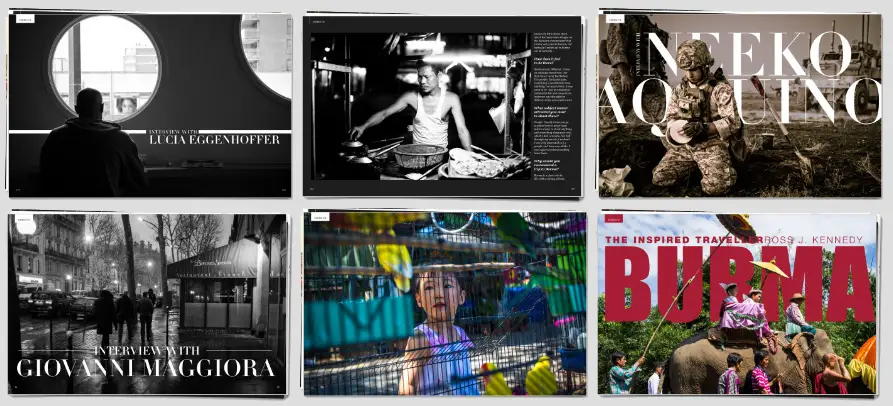 Neeko Aquino graces the cover, and offers us a look at his life at home and in the field. Giovanni Maggiora has nice work mostly from Paris, and Lucia Eggenhoffer comes to us from the Czech republic. Graham Alexander is from the UK while Sarah Gausas comes from the USA. All the interviews and more are beautifully laid out in 317 pages (160 spreads) all designed to develop your eye, heart and mind

Get a subscription, you save on 2 issues!
Follow the link and sign up for your copy now. And by clicking this link you are also supporting JCH too.
http://www.theinspiredeye.net/street-photography-magazine/?ap_id=jpnch
And now Inspired Eye is offering 1 on 1 photography sessions online.
Online photography sessions
Since everyone is unique in their photography walk, the photography sessions will be take into account where you are first and then fill any gap of knowledge you might have. Afterwards we will start teaching you about the photographer's eye, heart and mind….a whole new way of seeing.
Your learning will be accelerated with the Inspired Eye method, a method developed by Don Springer and Olivier Duong by mixing photography, philosophy & photography.
You can find out more about them here.
http://www.theinspiredeye.net/online-photography-lessons/?ap_id=jpnch
Thanks
JCH