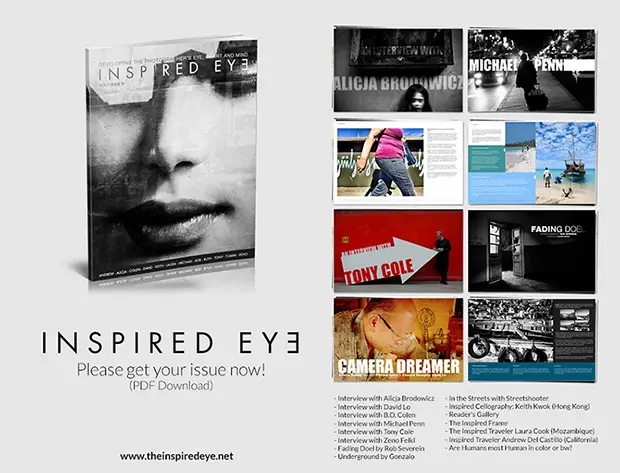 Inspired Eye digital magazine
The latest issue of inspired eye digital magazine is hot off the virtual presses, and there are some great features this time around. Come and check it out and get yourself a copy.

I am enjoying Inspired Eye more and more each time it comes out. Not just because they feature photographers and artist who have been on JCH, but also because they have such passion for photography, it really comes through very well when you read the magazine.
In this months issue there are some great features and interviews. One with Michael Penn, who if you remember was featured on JCH when he shared his photobooks with us….Which were awesome BTW. Now we get to find out a bit more about what makes this street photographer tick.
The Travel section this month has a feature on the west coast of the USA. California, by Andrew Del Castillo is a well put together piece and it has me wanting to go and shoot the west coast again. I shall have to plan a trip…
There are also load of other great features and discussions. 'Are humans most human in colour or black and white?' This piece by Ruth Nordenbrook really caught my eye and has given me pause for thought.

One I am really happy to see is the work of David Lo, who has been on JCH a few times. I love his work and it is so nice to see him featured here too. If you are not familiar with his work get a copy of Inspired Eye and find out a bit more about David's amazing theoretical camera designs.

The magazine is an interactive PDF designed to be viewed on anything with a PDF reader, which means you can take it with you on your phone or tablet. The guys have put a great deal of work into this and it really shows. It is very slick and looks great on a tablet.
I want to tell you more, as there are loads of interviews and features, but I don't want to spoil it for you. So go an grab yourselves a copy of this great interactive magazine. Olivier and the team work really hard to make it interesting and compelling each month, and each month it gets better. And the best part about it? It is as cheap as chips.
Follow the link to get the first issue for free, or sign up and subscribe to get 6 months.
If you want to get the full version of the mag you have to subscribe, which you can do by clicking here to subscribe.
Cheers
JCH