In your bag 304, Alva Christo
Today we have a bag from one of the younger followers of JCH. Alva may be young, but he has a great bag with an iconic camera inside. Come and have a look at this great bag.

Hi, I'm Alva Christo, 16 Years old senior high school student from Jogjakarta, Indonesia. I still learn photography and there are not too much teens in my town that like analogue photography. Street photography is my favorite photography line, beside that I like human interest and still life too. Using analogue camera is unique, quiet difficult at the first time, but it has a lot of fun. Films and processing lab are rare here, that's what makes me sad. There is no more slide films sold in my town.
Ok, so I use my old "Bumblebee" waterproof backpack for my camera bag. It's big and comfortable.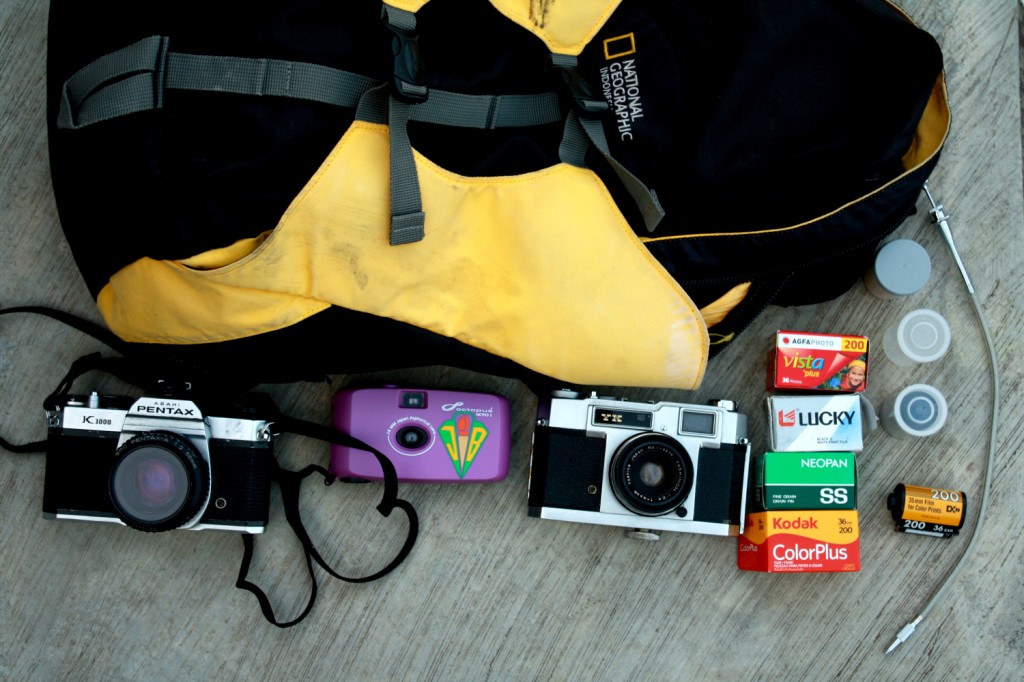 Let's see my cameras, I have 5 primary analogue cameras and a DSLR, but I only bring 3, because they are heavy.
From the left, there is my Asahi Pentax K1000 with SMC Pentax 50mm 1:2 lens. I buy Pentax because it's not too expensive, have a great durability, and the results are great.
And in the middle, there is my lovely Purple Octopus. The plastic toy-cam effects are great here, flares, vignettes. And the body color looks very prominent.
In the right side, there is my first camera, Yashica YK Rangefinder, given by my uncle. Like the other old rangefinders, the yellow patch in my rangefinder is slightly opaque, but I still can see it. Rangefinder camera is my favorite camera beside TLR, I hope I have Leica.
Move to the other equipments, I have an universal shutter release, the 30cm one. Great for bulb-ing and star trail.
Ok, now films. I use Kodak Colorplus as my primary film, but sometimes I use the other films too, like Agfa Vista, Fujifilm Superia, Lucky Color, etc. For me, Kodak Colorplus is a great color film, and not too expensive. I use Kodak Colorplus for redscale films too, the tone results are great, not too dark or too reddish.
For Black and White films, I use Lucky BW and Neopan SS. Lucky BW is the only BW film that sold in my town, very cheap, but the result not as good as Neopan. Lucky BW produce glowing effects.
Here is my links. You can add me on FB and Flickr, and follow me on Twitter and Tumblr.
Twitter : https://twitter.com/AlvChrist
Website : http://alvchrist.webs.com/
Facebook : http://www.facebook.com/AlliancePhotographs
Tumblr : http://alvchrist.tumblr.com/
Flickr : http://www.flickr.com/photos/christo1096/
Thanks to everybody who read this :)
Thanks for sharing your lovely bag with us Alva. The Pentax K1000 is a lovely camera, and quite hard to find now. Happy shooting.
Check out Alva's links and make sure you come and comment.
Keep them coming folks, we need more submissions, so get your bag on Japancamerahunter.com. Send me a hi resolution image of the bag (please make sure it is horizontal) and its contents, with some details about yourself and what you shoot. Oh and don't forget your contact details (twitter, flickr, tumbler et al). Send the bag shots here.
Cheers
Japancamerahunter