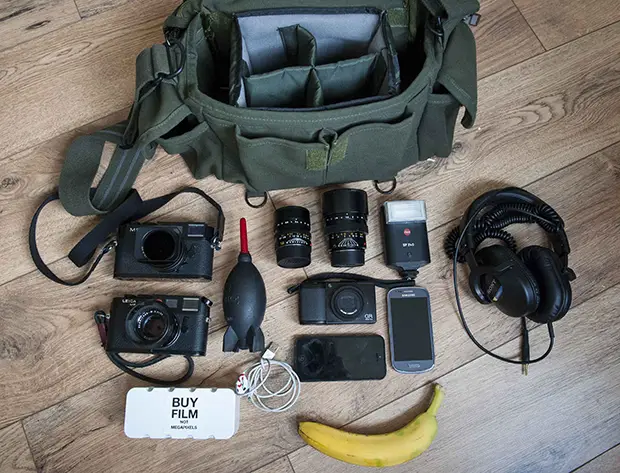 In your bag No: 655, Marc Ho
Wait a second, that is the 3rd German bag in a row…Well, that is the way the cookie crumbles. Or perhaps the banana in this case, as there is one in this bag. Check it out.

My name is Marc Ho and i am a Photographer/ Musician from Germany.
I had my first film camera at the age of seven but i did not start getting seriously into Photography until two years ago when i got myself an entry level DSLR.
Things evolve and after i discovered your site i started to get seriously into Rangefinders. Nowadays i do most of my shooting with my two Leicas, the things i
still use my DSLR for is Sports (Fisheye/Tele) and sometimes Marco Photos. Anything else is done with my trusty M9.
Whats in the Bag ?
Camera 1 : Leica M9, i got this second hand from a Friend when the new M was announced. It is such an amazing camera, i dont think i will upgrade anytime soon.
The Photos are just so special. The Lens is a 35 Lux with ND filter, i got it last week. I am broke now but the lens is simply amazing.
Camera 2 : Leica M6 TTL . My entry drug to the Leica World. waht a great solid camera. Usually shot with Kodak TX 400, my favorite Film. I have a Nikon F3 as a backup which is not
on the Picture. Lens : 80s Summicron that has a dent in the tube but still works great on a film camera.
Camera 3 : Ricoh GRD 3, my favorite Camera for street photography. Discreet, cheap, makes great photos.
Rocket Blower, essential to clean dust.
Japan Camera Hunter Film case, filled with Kodak Tx 400 and a soft release button that i never use :)
Lens 1 Summilux 50 ASPH what can i say about this lens ? its a mazing,the best 50 i have ever used. it had some backfocus which got adjusted to my M9 by Leica.
Lens 2 Summilux 75. Magical Portrait Lens. I got this one recently through a friend. Its from 1983, it paints with the light, i will use this as often as i can. Still need an ND filter to shoot wide open in the sun.
Phones, S3 Mini and Iphone.
Flash : Leica SFD 24. its not an SB910, but it does the job :)
Headphones to check my music mixes while on the road.
Banana : i am trying to stay away from chocolate, this is my alternative.
Cheers
Marc
My Weblinks :
facebook.com/marcholsteinphotography
www.flickr.com/photos/103photography
and for my music :
soundcloud.com/marcgarciamusic
Thanks for sharing your bag and your banana diet with us. And thanks for buying the film cases.
Check out the links and make sure you come and comment.
Keep them coming folks, we need more submissions, so get your bag on Japancamerahunter.com. Send me a hi resolution image of the bag (please make sure it is horizontal) and its contents, with some details about yourself and what you shoot. Oh and don't forget your contact details (twitter, flickr, tumbler et al). Send the bag shots here. Please understand that there is a long wait now as there is a backlog of submissions. Not all make the cut, so make sure yours is funny/interesting/quirky. And please make sure the shot is of good quality, as the ones that are not do not go up.
Cheers
Japancamerahunter