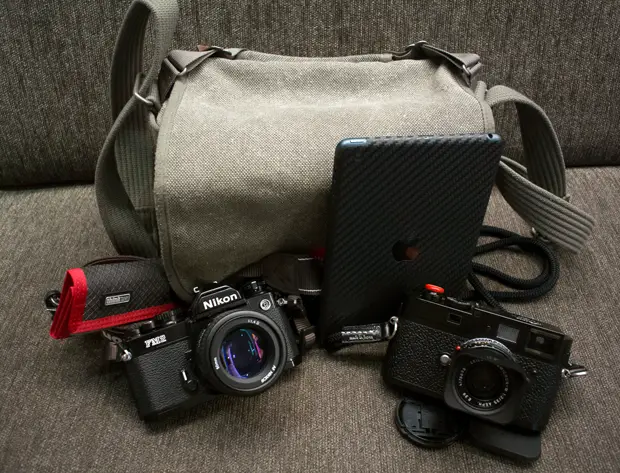 In your bag No: 627, Ricky Lai
Today we have a bag from Singapore. A nice simple one too. This is the sort of bag that I would carry around all day without a worry. Very cool stuff. Come and check it out.

My name is Ricky Lai and I'm based in Singapore.
This is my walkabout bag (retrospective 5) when I am carry 2 cams and iPad Mini. If I need to bring along my Macbook Air, I will be using my retrospective 10 (my first TT bag). Else, most of the time I will just sling my M9 and walk around.
Nikon FN2n with 50mm f/1.4
Leica M9-P with 35 summicron
Pixel Pocket Rocket (My SD card, mini cloth)
For Strap I'm using Nikon Strap for my FM2n and Artisan & Artist Silk strap for my M9.
Film that I have shot with
Kodak T-MAX 400,
BW400CN,
Agfa Vista 400
Bought some Fujifilm Velva 100, Neopan 400 and Provia 100 but have yet to use them yet.
Have been shooting with Nikon gears previously (D80, D300 & D700) and 1 day I decided I had enough fun with DSLR and try out rangefinder. Reason I gotten a Nikon SLR is because of the 50mm f/1.4, which was a gift to me.
My photos are uploaded to Flickr: http://www.flickr.com/photos/stitchohana/sets
Tumbler : www.rickyl.ai (still trying to find tune the layout)
Twitter: twitter.com/sir_rickylai
Thanks ~
Ricky LAI
Thanks for sharing your bag with us Ricky. I love the simplicity of the bag, and the cameras go very well together.
Check out the links and make sure you come and comment.
Keep them coming folks, we need more submissions, so get your bag on Japancamerahunter.com. Send me a hi resolution image of the bag (please make sure it is horizontal) and its contents, with some details about yourself and what you shoot. Oh and don't forget your contact details (twitter, flickr, tumbler et al). Send the bag shots here. Please understand that there is a long wait now as there is a backlog of submissions. Not all make the cut, so make sure yours is funny/interesting/quirky. And please make sure the shot is of good quality, as the ones that are not do not go up.
Cheers
Japancamerahunter