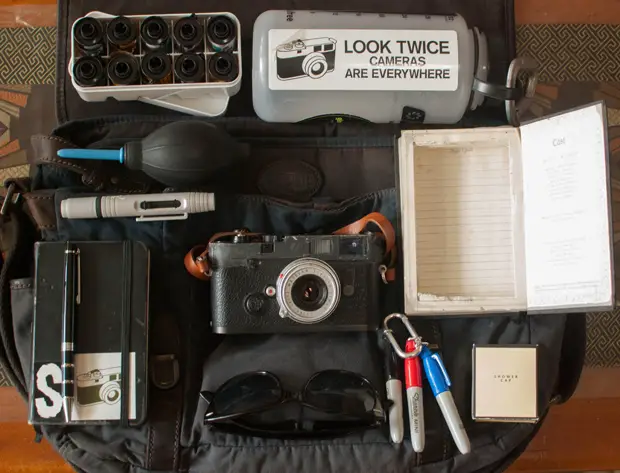 In your bag No: 624, Syafi Riduwan
Todays bag is cool for many reasons, but the main one for me is that there is a frikkin stash book in the bag shot! How cool is that? And if you are travelling around Cambodia it is not a bad idea either. Check it out.

My name's Syafi and I'm from Singapore though I spent a large chunk of my life growing up in Melbourne, Australia. Recently, I went on a month-long backpacking trip to Cambodia with the following bag:
– My trusted Leica M6 with an Elmar 50mm 2.8 (and a cheap strap I bought off evil bay. Does its job alright)
– Rocket blower, lens pen, and a bunch of Sharpies to label my films.
– Cheap notebook and an expensive looking pen (good for taking down contact details of people you meet, and also a photolog)
– JCH film case
– Sunnies
– Shower cap. Really good temporary rain protector till you scramble for cover.
– Bottle. Hydrate yourself people!
– A small book with its insides cut out. Stashed my money, passport, and whatever valuable things in here. No one takes notice of a seemingly boring book with a plain cover. (Just in case I'm being robbed or something like that)
All that stuffed into a Fossil bag. Nothing fancy, but its good enough.
It's really great meeting other people on your travels, and even more if you meet a bunch of dudes shooting with film too! JCH has quite a following I must say, all 6 of us had the JCH film cases in our bags and one of them actually got his bag featured, though I couldn't remember his name.
My photos can be viewed on my Tumblr and also my Flickr.
Cheers!
Thanks for sharing your bag with us Syafi. The book is cool and your setup is perfect for travel.
Check out the links and make sure you come and comment.
Keep them coming folks, we need more submissions, so get your bag on Japancamerahunter.com. Send me a hi resolution image of the bag (please make sure it is horizontal) and its contents, with some details about yourself and what you shoot. Oh and don't forget your contact details (twitter, flickr, tumbler et al). Send the bag shots here. Please understand that there is a long wait now as there is a backlog of submissions. Not all make the cut, so make sure yours is funny/interesting/quirky. And please make sure the shot is of good quality, as the ones that are not do not go up.
Cheers
Japancamerahunter