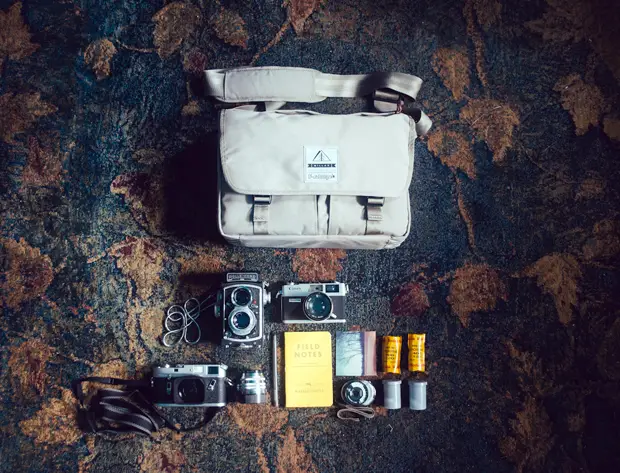 In your bag No: 619, Ki Choquette
A very cool name and a very cool bag too. Just look at it. And the carpet too. This is a stunning retro setup that anyone would be happy to use. come and check it out.

Hey everyone! My name is Ki Choquette and I'm an artist/musician living in Massachusetts. I'm currently a photography student at The Art Institute of Boston but I've shot in my spare time for a few years now. Most of my work is a sort of minimalistic landscapes and somewhat surrealist street photography. My intent with this bag is to have the least amount of gear and the most amount of flexibility, so I thought I would share it with you guys.
1. f-stop Millar Series Bandon: This bag is pretty much perfect for my uses. Relatively small size, fits all my cameras and accessories and even my laptop when I really need it to.
2. Rolleicord V: An absolutely wonderful 6×6 camera that I can't stop using. I got it for a steal on eBay and it only needed a simple repair to fix the low shutter speeds. Now it shoots perfectly and looks great. This will be in my bag for a very long time.
3. Canon Canonet QL17 GIII: A simple little rangefinder with a great lens. I generally just keep low speed film in this camera for when I need it. The viewfinder's a little fogged but the camera still produces a mean image.
4. Leica M4: This is pretty much the crown jewel of my bag, I think. I waited close to nine years before I could really afford to get one of these. A Carl Zeiss C-Biogon 35mm f/2.8 with a 3D printed hood is what I keep on it, unless I need the 50mm.
5. Canon Serenar 50mm f/1.8: I absolutely love this lens. It's in near perfect condition and is sharp as a tack with some insanely creamy bokeh. I don't use this one enough, but when I do, the results are near flawless. Great color representation and awesome ergonomics.
6. Notebook/ball point pen: I like to chart location data and exposure. Sometimes contact information if I've taken a street portrait and the person wants more information at a later date.
7. Business cards: Simple design featuring some photos I took on the back. Environmentally friendly paper, as well!
8. Sekonic Twinmate L-208: Just got this little meter off of eBay a few weeks ago. It's taken me a while to ween myself off of Sunny 16 and my iPhone's LightMeter App, but I'm thankfully I've done so. I'm very happy with the results and the size is absolutely great for my RF heavy bag.
9. Film: Various types, but mostly color as of late.
Hope you guys enjoyed it!
Website: http://kichoquette.ws
Tumblr: http://kichoquette.tumblr.com
Flickr: http://www.flickr.com/photos/kchoquette/
Thanks for sharing your bag with us Ki. I love the layout and the camera selection. Very cool.
Check out the links and make sure you come and comment.
Keep them coming folks, we need more submissions, so get your bag on Japancamerahunter.com. Send me a hi resolution image of the bag (please make sure it is horizontal) and its contents, with some details about yourself and what you shoot. Oh and don't forget your contact details (twitter, flickr, tumbler et al). Send the bag shots here. Please understand that there is a long wait now as there is a backlog of submissions. Not all make the cut, so make sure yours is funny/interesting/quirky. And please make sure the shot is of good quality, as the ones that are not do not go up.
Cheers
Japancamerahunter