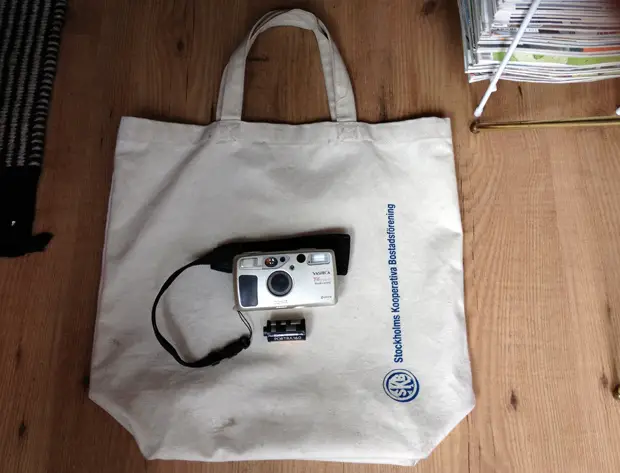 In your bag No: 617, David Jonsson
those Swedes sure do like to do things simple. With their simple furniture and design. Now David shares with us his simple bag shot with us. Check it out.

Hey guys,
I am David, 35 ys. old from Stockholm, Sweden.
I really enjoy the ´What´s in your bag´ section here at JCH, so I thought I´d send in my contribution.
My everyday bag is a regular cloth totebag, with whatever I need for the day.
I always carry my Yashica T4 with me together with some Kodak Portra film.
I have been into photography pretty much since 2006 and had a bunch of cameras since then, digital and film SLR´s, and point-and-shoot´s too… Nowadays I have sold all my digital stuff (except my iphone :), and kept a bunch of compact film cameras, but I tend to mainy use the T4 at the moment. It´s a brilliant little camera which allows me to take some sweet snapshots without considering too many settings.
Check my flickr for part of my work:
www.flickr.com/photos/davidjonsson
Thanks for looking.
David
Thanks for sharing your bag with us David. I love the total purity of the bag is very refreshing.
Check out the link and make sure you come and comment.
Keep them coming folks, we need more submissions, so get your bag on Japancamerahunter.com. Send me a hi resolution image of the bag (please make sure it is horizontal) and its contents, with some details about yourself and what you shoot. Oh and don't forget your contact details (twitter, flickr, tumbler et al). Send the bag shots here. Please understand that there is a long wait now as there is a backlog of submissions. Not all make the cut, so make sure yours is funny/interesting/quirky. And please make sure the shot is of good quality, as the ones that are not do not go up.
Cheers
Japancamerahunter