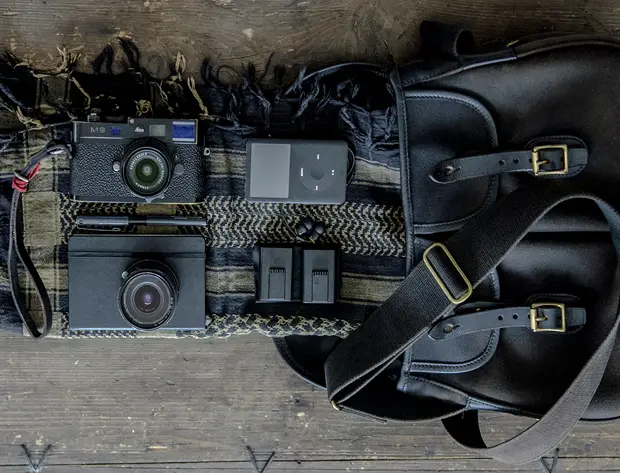 In your bag No: 608, James Hughes
Today we have a photographer who is based in Istanbul. This seems to be a really popular destination for photographers. The place must be swarmed with them by now. Anyway, James has a pretty sweet setup for us.

My name is James Hughes a photographer originally from Northern Ireland based currently in Istanbul .
The Bag ….
Small black Brady Ariel trout bag ( used a Billingham for 30+ years , this is similar but much lighter )
Leica M8.2 with Thumbie ( need the Thumbie for gripping)
Tap and Dye Legacy leather wrist strap ( does away with the need for a full strap , isn't so conspicuous when camera is in your hand )
Voightlander 21mm f4  ( 28mm equiv )
Voightlander 15mm f 4.5 ( 21mm equiv)
Spare batteries ( leica eats them  )
Apple cleaning cloth (best i've used  )
Apple 160gb ipod ( lifetime collection of tunes for waiting or mood changing )
Small squared Moleskine notebook ( for notes / thoughts /poems / sketching)
Pilot black V5 Hi-Tecpoint 0.5 pen ( tried and tested never fails)
Scarf / Keffiyeh  ( for wrapping camera gear / head / protection from the elements / or a place to hide :)
Also not shown are possibly as important as I walk all day in the city … a good pair of boots , especially in istanbul . A  toilet roll and baby wipes .. these can be a life saver not just in turkey!
http://www.flickr.com/photos/lostparables/
http://www.jameshughesphotography.com
http://j-harry-edmiston.tumblr.com/post/2993017729/featured-member-james-hughes
http://www.photographicmuseum.com/2013Grant/jameshughes/the-undeclared
Best Regards
James
Thanks for sharing your bag with us James. I am actually very jealous of you being in Istanbul, as I was hoping to go, but other things got in the way.
Check out the links and make sure you come and comment.
Keep them coming folks, we need more submissions, so get your bag on Japancamerahunter.com. Send me a hi resolution image of the bag (please make sure it is horizontal) and its contents, with some details about yourself and what you shoot. Oh and don't forget your contact details (twitter, flickr, tumbler et al). Send the bag shots here.
Cheers
Japancamerahunter