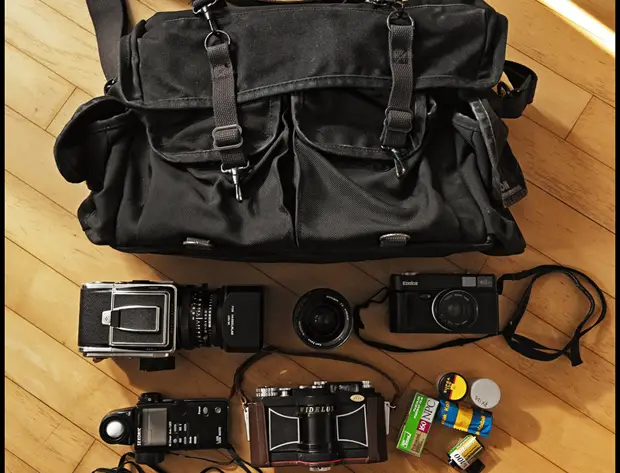 In your bag No: 595, Nick May
A very strong bag shot for you all today. Nick presents us with his bag from Beijing. A Beijing bag. And it is choc-a-block with great gear. Come and check out what is inside and how it is used.

My name is Nick, I'm from New York, and based in Beijing, China.
I like visiting japancamerahunter.com and checking out other peeps various and interesting gear.
I'm most often shooting with digital, but I really enjoy the old mechanical gear most.
I grew up with film and love the rich texture. There is something about this analog medium that I love, which is missing in its digital counterpart.
The magic of not knowing 100% what you'll see as you open the envelope from the lab or watch the image mystically appear in the red light and chemical bath of the dark room.
In a drunken discussion with a musician friend one night, we were trying to put to words the difference between digital and analog in both music and photography.
We concluded a certain warmth and imperfection pervaded both mediums in the analog form. The crisp, cool, all revealing perfection and convenience of digital lacked a certain indescribable soul that analog still has. I'm not putting down digital, it is amazing in its own way.
Anyway, what your looking at is a Domke bag, with the addition of a Domke shoulder pad which is barely visible at the top center part of the bag.
Left center is a Hasselblad 503CW with an 80mm  2.8 Zeiss lens. Middle is a Zeiss 50mm F4 Distagon, it's one of the cheaper 50's you can find for a Hasselblad, but its still a great lens.
Center right is a Konica Hexar AF which was made with more or less a 35mm Sumicron lens. Amazing camera, super fast, super quiet. A bit limiting with a max shutter speed of 1/250th, but a wonderful relic from the film era.
Bottom left is a Sekonic L-508 Zoom Master light meter. It's got incidence reading and spot meter reading. It's good, reliable and I haven't changed the single AA battery in it for at least 5 years.
Bottom center is a Widelux F8. Guess you guys in Japan may be familiar with these.
The Widelux is a Japanese 35mm panoramic camera with a rotating front lens. The lens is a 28mm (I believe) 2.8 lens, very sharp. This wonky little camera take fantastic images that represent a viewing angle of about 140 degrees or so. If your not careful, you'll photograph your fingers holding onto it. Its got three shutter speeds. If your looking for a precision panoramic go buy a Xpan or the Noblex. The F8 was the last model made by Widelux when their factory burned down in 1986 I believe.
Bottom right you've got mixed up film, I just grabbed whatever was handy and not in my fridge. I'm preferential to Kodak PlusX, TMAX 3200 for crazy grain, Fuji Reala for great color. I have a lot of old expired film stock in my fridge, I like throwing it into a holga and seeing what comes out after shooting one roll over the course of a few months. The months the film sits there in the camera gets all sort of interesting light leaks.
Not pictured because of my laziness, but always in my bag are lens cleaning fluid, lens tissue, a microfibre cloth, an antistatic lens brush, and a plastic bag in-case the rain starts to come down really hard.
Hope you enjoyed.
Feel free to check out some of my work at:  http://cargocollective.com/nickmayphoto
Bellamy, thanks for the great site,
Nick
Thanks for sharing your bag with us Nick. I love that Domke bag. The shoulder pad is essential on something of that size.
Check out the links and make sure you come and comment.
Keep them coming folks, we need more submissions, so get your bag on Japancamerahunter.com. Send me a hi resolution image of the bag (please make sure it is horizontal) and its contents, with some details about yourself and what you shoot. Oh and don't forget your contact details (twitter, flickr, tumbler et al). Send the bag shots here.
Cheers
Japancamerahunter