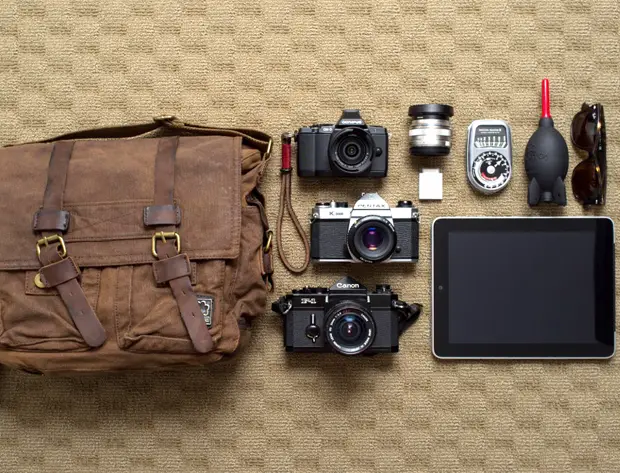 In your bag No: 592, Denis Lincoln
Wait, another bag from the U.S. of A? Yes indeed. Denis prowls the streets of SF with this multi-camera bag with a purpose, and that purpose is street photography. Though he should be careful, or he won't have those cameras for long…come and find out why.

I'm Denis from the San Francisco Bay Area.  Born and raised here, presently living in Oakland, CA but really I'm a once and future San Francisco resident (hey – at least my girlfriend lives there, so I have a ready excuse to spend an inordinate amount of time walking and shooting in the city).  I'm a long time fan of your tumblr page and yet have somehow resisted the urge to buy even ONE Leica or even of the 0.95 50mm Canons with which you tempt the planet.
I'm pretty much addicted to street photography and to chasing the shot, in whatever context that presents itself.
I mostly shoot digital with either my X100 (that isn't pictured because I shot this photo with it) or my OM-D which is a recent addition to the bag.  I find the OM-D to be a fantastic little camera – blazingly fast and great image quality from the little Micro-4/3 sensor.  I also use a lot of the manual focus glass I own on the OM-D and until recently on my now-departed X-Pro 1.   There's something to be said for the look that these lenses produce on digital bodies.
I tend to shoot much less film these days than I have in the past, but I still have and shoot the K1000 my Dad gave me on my 16th birthday that is loaded with TMAX or Tri-X. That camera means a lot to me and still produces great images.  Don't leave the lens cap off, though, else the meter battery will run itself into the ground.  You'd think I'd have learned that after all this time, heh.
I feed Portra 400 to the F-1 and will someday finish the roll that's been sitting in it for the past 3 months, patiently waiting its turn.  The F-1 is a great piece, but as I'm sure you're well aware the thing is as light as a truck bumper, so it tends to get left behind on days I'm walking a lot (read:  All the time).
Taking the kids out on film-only days is a fun way to pass on the love, though, and I'm committed to that.  My daughter is now the de-facto owner of the Pentax and my boy shoots with his AE-1 Program.
The bag is a Belstaff 554 copy to which I recently gave the waxed canvas treatment.  Nice little bag and holds everything nicely with the help of a padded insert.
Here are the addresses to my blog, tumblr, flickr and twitter.
gimletsandfilm.wordpress.com
gimletsandfilm.tumblr.com
flickr.com/photos/wupjak
@gimletsandfilm
Keep up the good work, Bellamy, and thanks for the consideration!
All the best,
Denis Lincoln
Oakland, CA
Thanks for sharing this lot with us Denis. Wonderful news to hear that your kids have picked up the film but and they are 'borrowing' your cameras. That is exactly how I started…by liberating my fathers camera.
Check out the links and make sure you come and comment.
Keep them coming folks, we need more submissions, so get your bag on Japancamerahunter.com. Send me a hi resolution image of the bag (please make sure it is horizontal) and its contents, with some details about yourself and what you shoot. Oh and don't forget your contact details (twitter, flickr, tumbler et al). Send the bag shots here.
Cheers
Japancamerahunter