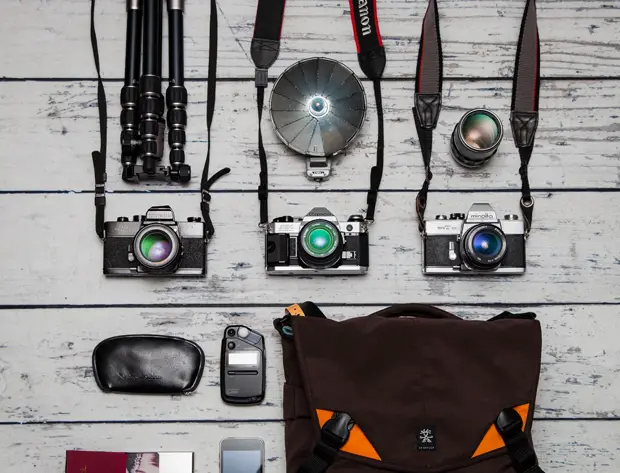 In your bag No: 575, Christopher Sartain
Check this out, today we have a twins bag. Christopher's brother was featured recently and now it is Christopher's turn to share his bag. Come and have a look.

A while back you featured my twin brothers bag, Brandon Sartain No. 528. He was the lucky one that got to my Dads camera before I could. Needless to say, since he has been stationed in Japan for the past few years and caught the film bug I had to do the same. We both started shooting a few years ago and found a hobby that truly identifies us as individuals. Living as a twin is fantastic and offers a unique perspective on life and photography, not to mention a built-in competitive nature and constant critiquing from the "better half".  He really has encouraged me to shoot with film and discover that "feeling" again. I found myself relying on my digital gear way too often and giving no regards to the fundamentals of photography, saying to myself, "Just grab shots and the rest I'll fix later".  I'm learning all over again and the feeling of slowing down and actually composing and thinking of each shot prior to putting my finger on the trigger has opened a whole new world…..again.
My normal bag will usual consist of one of three cameras and a handful of gear. I'll start from the top left:
-Tripod : My very portable and light MeFOTO.
-Old Flash : I have to be honest, this flash was included with the SRT101. I have never used it and I'm not sure if it really works, but I just love the way it looks.
-Minolta Tele Rokkor 135mm f/2.8
-Minolta SRT101 w/ Minolta Rokkor-X 50mm f/1.4 : The newest of the group. I picked it up at an estate sale with a few lenses and the Kenko filters.
-Canon AE-1 Program w/ Vivitar 28mm f/2.8
-Minolta SRT102 w/ Vivitar 24mm f/2.0
-Kenko filters w/ original case
-Sekonic 308s digital light meter : Not the most fancy or versatile light meter in the world, but it works.
-The Bag : Crumpler Six Million Dollar Home
-Business Cards with case
-iPod : I use the iPod to document my shots exif data
Thanks again for letting us share our stories,
Christopher Sartain
Our site : http://www.shuttertwinzphotography.com/
Flickr Page :  http://flic.kr/ps/NwK57
Thanks for sharing your bag with us Christopher. It is nice to see a twins bag, I don't think we have seen that before.
Check out the links and make sure you come and comment.
Keep them coming folks, we need more submissions, so get your bag on Japancamerahunter.com. Send me a hi resolution image of the bag (please make sure it is horizontal) and its contents, with some details about yourself and what you shoot. Oh and don't forget your contact details (twitter, flickr, tumbler et al). Send the bag shots here.
Cheers
Japancamerahunter