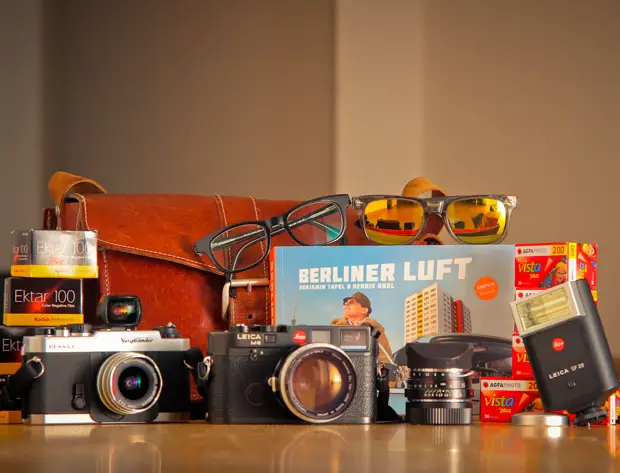 In your bag No: 566, Rob D
Check out this bag-shot. It looks like something from a travel magazine. And it kind of is a travel bag, as Rob put this together for a little trip around his home country of Germany. Check it out.

Heading to Berlin for a weekendtrip, i just wanted to share my travelbag with you.
Living in the south of Germany -Stuttgart-, the home of Mercedes Benz, me and my girlfriend have planed a trip to our capital city -Berlin- for this weekend. Therefore is just packed my bag with…
… first of all the cameras: My main-camera, the Leica M6 with the Canon 50 1.2 LTM + M39 to Leica M Adapter.
I will also carry a Voigtländer 35 1.4 Leica M, my second lens, with me. Mounted with a 3D-printed lenshood.
My second camera is the Voigtländer Bessa L with the Super Wide Heliar 15mm, for the wide scenes.
… the film: I chose 6 Kodak Ektar 100 (for the Leica) and 5 Agfa Vista 200 (for the Voigtländer), good weather expected.
…. my glasses: of course sunglasses, itʻs summer! And my normal glasses.
…a guidebook 'Berliner Luft', this is a photobook and guidbook in one.
I really recommand it, if you like the style of Martin Parr. A great book! (english and german comments)
….the rest: Of course a bag (the old one off my dad). A 15mm viewfinder. The Leica SF 20 flash.
Lenscaps for all lenses. A variable ND-Filter to shoot the Canon all way open.
Hope you enjoyed it! I will upload my pictures from the trip to my Facebook-Page. Feel free to like it and wait for them:
www.facebook.com/flashthestreets
From Germany, Robert.
Thanks for sharing your bag with us Rob. I love the layout and the description. I hope that you had a lovely weekend trip.
Check out the links and make sure you come and comment.
Keep them coming folks, we need more submissions, so get your bag on Japancamerahunter.com. Send me a hi resolution image of the bag (please make sure it is horizontal) and its contents, with some details about yourself and what you shoot. Oh and don't forget your contact details (twitter, flickr, tumbler et al). Send the bag shots here.
Cheers
Japancamerahunter