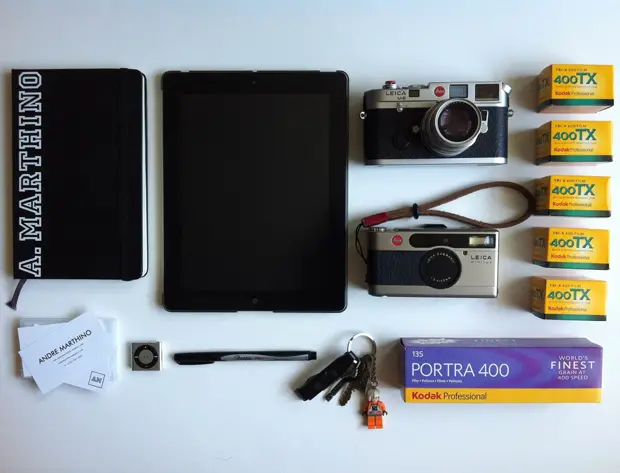 In your bag No: 552, Andre Marthino
Todays shot is perfect for a Sunday. Well laid out, and perfectly simple. The only thing missing is the bag! Seriously though, this is a lovely setup that anyone would be happy to use. Check it out.

My name is Andre. I'm originally from Jakarta, Indonesia but currently living in San Francisco to pursue my master degree in International Business. I'm a photo enthusiast and love taking street photography.
So what's in my bag :
Moleskine notebook, large plain paper
iPad
Leica M6 + Leica Summicron 50mm DR
Leica Minilux
Kodak Tri-X 400 and Portra 400
Keys (apartment keys, bike-lock key, USB flash disk, bottle opener, and Luke Skywalker Lego keychain)
Sharpie pen
iPod Shuffle
Business card
iPhone (used to take this photo)
Most of the time these guys are in my bag. Sometimes iPad change with my Macbook. I always have one of my cameras with me and shoot a lot during free time. I really enjoy shooting with rangefinder and film, a different feeling that I couldn't get while shooting digital. You can checked my photos at andremarthino.tumblr.com. Can't wait to go back to Indonesia, warm people and a lot of interesting places to shoot!
Best regards,
Andre Marthino
Thanks for sharing your gear with us Andre. Good luck with your studies and your photography. Next time maybe we can see the bag too.
Check out the links and make sure you come and comment.
Keep them coming folks, we need more submissions, so get your bag on Japancamerahunter.com. Send me a hi resolution image of the bag (please make sure it is horizontal) and its contents, with some details about yourself and what you shoot. Oh and don't forget your contact details (twitter, flickr, tumbler et al). Send the bag shots here.
Cheers
Japancamerahunter