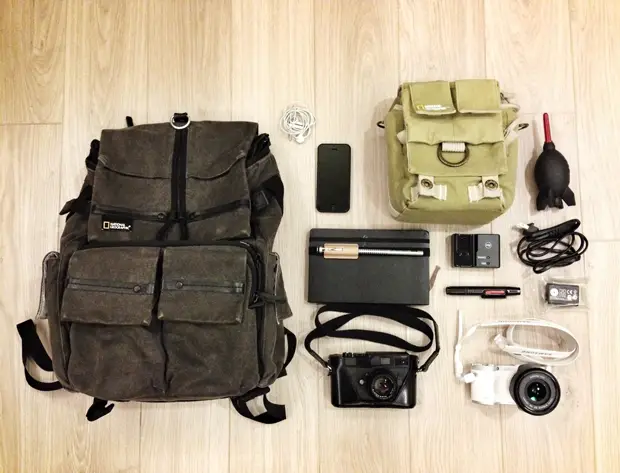 In your bag No: 535, Ethan Chiang
Todays bag is a very simple set of digital gear aimed primarily at street photography. And Ethan gets to shoot street in one of my favourite cities for it, Taipei. Come and have a look at this great setup.

My name is Ethan Chiang. I'm an Overseas Taiwanese born and raised in Seoul, Korea, now lives in Taipei.
This is my camera bag, a National Geographic NG W5070 Walkabout Rucksack, which I purchased from B&H New York during my visit there, and a small Earth explorer that I carry for daily casual photo walk in the city. the Camera at the bottom of the image is the gaffer-taped Leica M9. I did it on purpose so people won't go "wow! it's a Leica" when I walk on the street, next to it is a Samsung NX300.
I never take photography seriously until I fell in love with street photography. I took some photo classes back in college, at first I didn't find photography interesting because I didn't know what to take photos of, and the photography class back in college was all about "gears", which was about how to manipulate aperture, shutter speed, how to leverage filters and so on, the photography class did not inspire me at all, that's when I decided to completely drop photography from my life, even before I really start taking any photos. it didn't interest me.
About 4 years ago my son was born, so I bought a used DSLR just to have a faster shutter speed in order to take photos of my energetic non-stop moving-jumping-screaming baby, the only purpose of taking photos to me at that time was recording my son's growth, I didn't know what to do with my camera other then that.
What happen next was quite cliché. About 2 year ago I saw a Cartier-Bresson book on my friend's bookshelf (see what I mean by cliché? I guess almost 99% of the photographers out there were inspired by HCB :-)), which I totally got fascinated by those works, the photos are candidly amazing, full of story, beautiful juxtapositions, humorous scenes, as well as those mundane yet dramatic decisive moments, that's when I realized the photography form called street photography, that's when I fell in love with photography.
I decided to give street photography a try, then I couldn't get myself out of it since then. I now pretty much have my camera with me on daily basis, I have created a Facebook group called "Street Photography" to have like-minded photographers to share their street works, and also started a street photography blog to share my passion about street photography.
At this stage I am trying to pursue a deeper meaning of why am I taking photography other then just capturing those beautiful candid moments on the streets, I haven't find the answer yet, I guess the answer will reveal itself someday as long as I never stop taking photos. Hope you like my camera bag. Cheers.
Below are some of my website
http://www.thisisethan.com/sp
http://www.facebook.com/groups/streetphotographers
http://streetphotography.thisisethan.com
"Street Photography is not about what you see, but how you see it."
Thanks for the bags Ethan. Great to see Taiwan representing on the site.
Check out the links and make sure you come and comment.
Keep them coming folks, we need more submissions, so get your bag on Japancamerahunter.com. Send me a hi resolution image of the bag (please make sure it is horizontal) and its contents, with some details about yourself and what you shoot. Oh and don't forget your contact details (twitter, flickr, tumbler et al). Send the bag shots here.
Cheers
Japancamerahunter