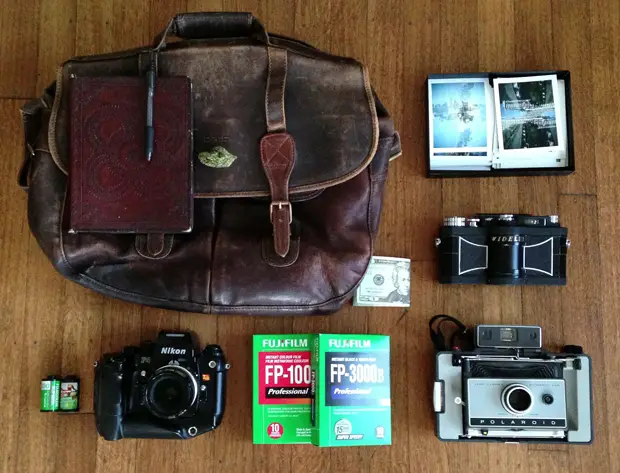 In your bag 511, Carson Lancaster
Well, I think this bag is a first. The first 420 bag that we have had on the site. And what a bag it is, check out that widelux. And the polaroid. Oh my, this one is lovely.

Greetings,
My name is Carson Lancaster and I own Book & Job Gallery in Downtown San Francisco.
I've been shooting photos since i was 11, introduced by my godfather who is still a commercial photographer in Los Angeles.
My style has changed over the years but I still get the same joy from photography as I did when I was 11.
For the last couple years I've been shooting multiple exposure architectural photos using Fuji instant film.
The contents of my bag are as follows;
1. Polaroid 230 Land Camera
2. Widelux F8 Panorama 35mm
3. Nikon F4 w/ 28mm 2.8
4. FujiFilm FP-100c
5. FujiFilm FP-3000b
6. Lomography 800 film – My buddy gets this stuff on the super cheap
7. Fujicolor Superia 200
8. Cold Hard Cash
9. Box for storing Polaroids
10. Notebook w/pen
11. Green
12. Bree leather bag
I'm including some of my polaroid scans below, enjoy!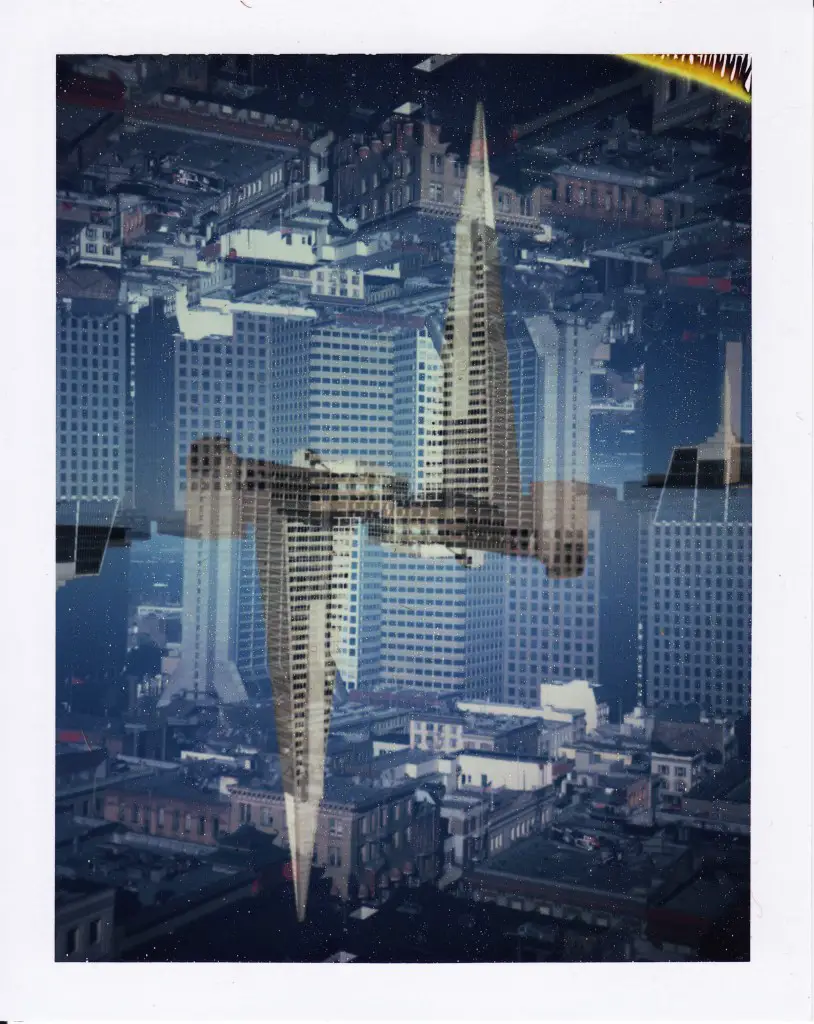 Thanks for sharing your bag and your shots with us Carston. Love the bag and the green too. That widelux is a stunner too, a camera I have always wanted to play with.
Keep them coming folks, we need more submissions, so get your bag on Japancamerahunter.com. Send me a hi resolution image of the bag (please make sure it is horizontal) and its contents, with some details about yourself and what you shoot. Oh and don't forget your contact details (twitter, flickr, tumbler et al). Send the bag shots here.
Cheers
Japancamerahunter