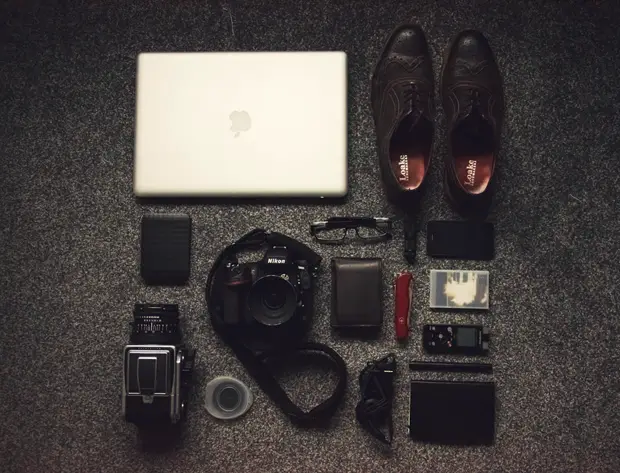 In your bag 489, Dan Williams
Another day, another Dan. But this Dan is different…He lives on a boat! So I am not even sure if he can see this at the moment. But you can, and it is an awesome setup. Including a lovely pair of shoes.

My name's dan I'm 25 and I live on a boat in and around the Atlantic. Pictures of old people pay the bills and all the money gets spent on travelling and occasionally camera stuff.
My main body's a D800 with a 35/2 AIS. I swear by the lens and is the only thing I'd replace without question out of all my gear. For stills the camera's a beast but the absurd megapixel count's somewhat wasted on me and the video suffers from it terribly at high ISOs. I was hoping the D800 would be to the D4 as the D700 was to the D3 (same sensor, cheaper body) rather than using it to weigh into the MP race.
I have a Hasselblad 500CM with a Zeiss 80/2.8 which I'm running a bunch of Provia 400X through, along with a Leica M4-2 and a Voigtlander 40/1.4 (not pictured) which is good friends with Tri-X.
Because I travel so much I sunk all (and a little bit more) of my money into a high-end 15″ MBP rather than a powerful desktop, and it serving me okay. Picked up the 1TB portable for cheap for using on my current trip as the D800's annihilating my hard drive.
I own glasses for seeing, a wallet for holding money should I ever come in contact with some, and a Quark Mini 123 because the strobe function's fun for causing seizures and it's handy for focus finding at night with the 'blad. I have an iPhone 4 for lazy photos (most of which get put through VSCO and stuck on instagram: @zerotwelve) and for listening to music and casual internetting.
I have a pair of Sennheiser PX100 IIi headphones which work a charm with the iPhone, fold up nicely and sound as nice as PortaPros but for less money. I like making field recordings for which I use the mental Olympus DM670. The thing's insane, albeit a bit too sensitive.
I have a Victorinox Outrider for cutting things, business cards for handing to people under the false assumption they're going to look me up later, and the obligatory Moleskine paired with a Mitsubishi Pin. I have a nice pair of shoes because I need to be smart for my job, and all of the above gets stuck in a Barbour messenger bag.
Ta
Thanks for sharing your bag with us Dan. What a life, travelling around on a boat. So many photographic opportunities. Nice shoes too, I am very jealous.
Keep them coming folks, we need more submissions, so get your bag on Japancamerahunter.com. Send me a hi resolution image of the bag (please make sure it is horizontal) and its contents, with some details about yourself and what you shoot. Oh and don't forget your contact details (twitter, flickr, tumbler et al). Send the bag shots here.
Cheers
Japancamerahunter