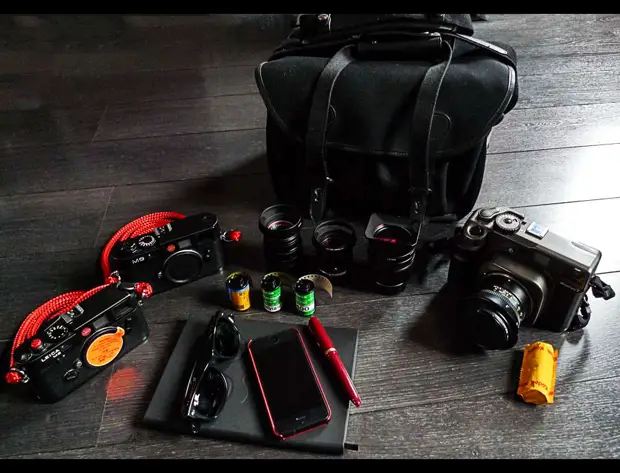 In your bag 488, Daniel Cuthbert
Daniel is about to go on his travels (at time of writing he is probably well through them now) and has selected a pretty cool bag to share with us. Come and have a look at this great setup.

About to head off to Bangkok, Hong Kong and Japan and after a long deliberation as to what would work, this I feel is the right combo.
The Leica's have been with me on numerous documentaries, they are rock solid workhorses. The Mamiya 7 is just one of those cameras that produce images that make you sigh whilst scanning. Leica might have the glow, the Mamiya has oomph.
In the Bag (Billingham 445)…
Leica M6 TTL
Leica M8
Summicron 35mm
Summicron 50mm
Summilux 24mm
Mamiya 7 + 80mm lens
Iphoney, notepad and 1940's Parker Duofold fountain pen
Film wise, I'm running low but the Mamiya has to be Ektar (sexiest film I've shot with) and for the Leica, Fuji Acros 100/400 with some sneaky Velvia thrown in there for good measure.
My main site is at http://danielcuthbert.com and my daily is at http://hmmm.co.za
Might see you on the streets in Tokyo!
Cheers
Daniel
Keep them coming folks, we need more submissions, so get your bag on Japancamerahunter.com. Send me a hi resolution image of the bag (please make sure it is horizontal) and its contents, with some details about yourself and what you shoot. Oh and don't forget your contact details (twitter, flickr, tumbler et al). Send the bag shots here.
Cheers
Japancamerahunter