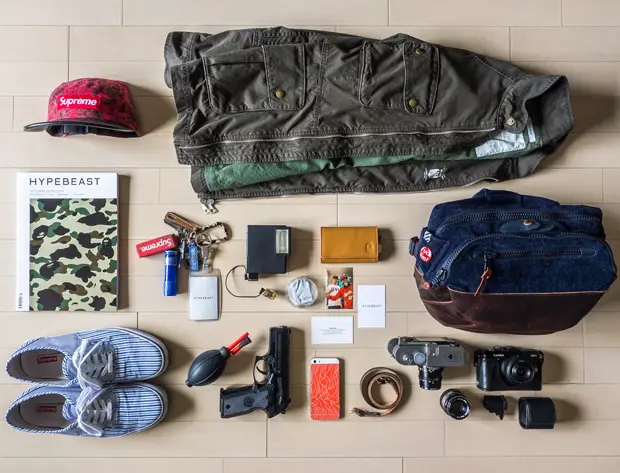 In your bag 486 – Eddie Eng
Wait, nobody move! This is a stick up! Gimmie all your film! Eddie has a pretty interesting bag. Come and see what I mean.

My name is Eddie Eng. I am a native new yorker born and raised, but for the last 6 years I have lived in Osaka, Japan. Consistently in the shadow of its older, larger and infinitely more incredible rival of a city Tokyo, Osaka has given me a home away from home while I make a living here as an English Teacher by day and professional photographer on the weekends and in my spare time.
I am a writer/contributer/photographer for the fashion website HYPEBEAST, an online (and recently quarterly-published) magazine focusing on culture, trends, technology, and lifestyle. The job grants me the chance to meet people, visit places and experience things previously unimaginable, to which I am incredibly grateful. As a photographer for fashion, it's important for me to be mobile at all times which is why I have chosen to go the route of the rangefinder camera. My work consists primarily of portrait photography outside of studio space, so the ability to carry all I need in one convenient bag is definitely a necessity.
Below is a list of my essential items, whether carried with me at all times or of significant and personal value (left to right, top to bottom)..
Supreme Liberty Fabrics F/W2012 Camp Cap
w)taps S/S2011 Ghillie Jacket (perfect for moderate weatherHYPEBEAST magazine vol. 3: The Impressions Issue (my featured photography on NIGO and SK8THING)
Keys and keychains (including an LED flashlight and ID tag)
Maxwell Manual Flash w/ trigger sensor (although I rarely shoot flash)
Microfiber cleaning cloth
A Bathing Ape card case
NIGO/SK8THING business cards (front and rear, 1 of 4 separate designs)
HYPEBEAST business cards
visvim LUMBAR 8L CORDUROY (not necessarily a camera bag with incredible quality and aesthetic)
Supreme x Vans x COMME des GARÇONS Shirt Authentic Pro Sneakers (the perfect shoe for all day commutes)
Air blower
Tokyo Marui M8000 Cougar G Beretta replica airsoft gun (my favorite prop from my first hired photo shoot)
iPhone 5 w/ Supreme Peter Saville "Joy Division" protective sheet
K002 custom-made cordovan leather strap
Leica M9, Steel Grey paint
Leitz Summicron-M 50mm v.4 lens (for portrait photography)
Canon 35mm f/2 LTM Screwmount lens (for street photography)
Panasonic Lumix DMC-GF1 w/ Panasonic leather half case
Panasonic Lumix 14mm f/2.5 pancake lens (for interior shots and product photography)
Leica LVF-1 electronic viewfinder
Thanks go to Bellamy and Japan Camera Hunter for their interest. For more information and samples of my work, please visit www.LocustDigitalProductions.com or www.HYPEBEAST.com.
Thanks for sharing your bag Eddie, it is interesting to see it after the write up you did for Mijonju's bag.
Check out the links and make sure you come and comment.
Keep them coming folks, we need more submissions, so get your bag on Japancamerahunter.com. Send me a hi resolution image of the bag (please make sure it is horizontal) and its contents, with some details about yourself and what you shoot. Oh and don't forget your contact details (twitter, flickr, tumbler et al). Send the bag shots here.
Cheers
Japancamerahunter